Knicks: Metta World Peace Hilariously Explains Triangle Offense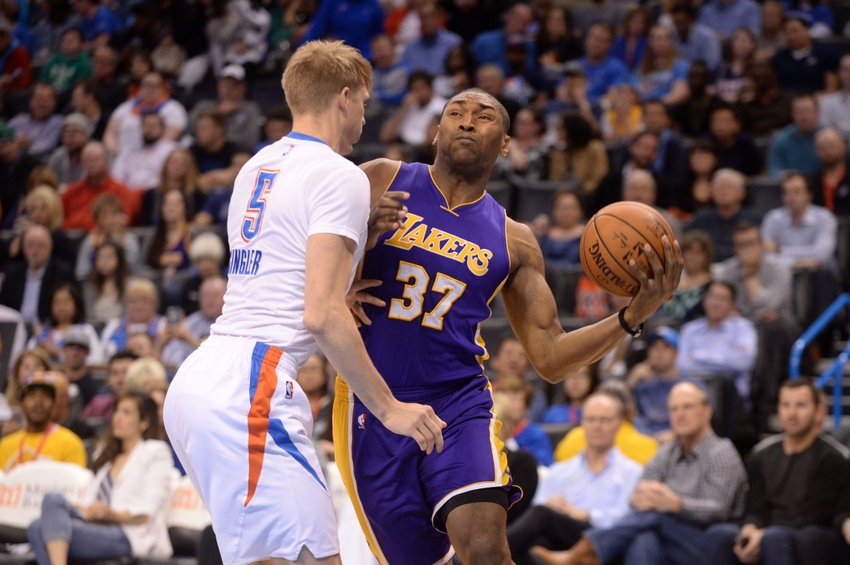 New York Knicks team president Phil Jackson has an affinity for the triangle offense. Metta World Peace gave his take on the system.
---
There are few words more polarizing in basketball circles than, "Triangle offense." The stars who have played in it credit the system with elevating them to new heights, while others consistently downplay the validity of its greatness.
Much to the appeal of the detracting masses, Metta World Peace gave his comedic take on the triangle offense.
World Peace played for Phil Jackson with the Los Angeles Lakers from 2009 to 2011. Peace helped Jackson, Kobe Bryant, Pau Gasol, and the Lakers defeat the Boston Celtics for the 2010 NBA championship.
As only he could, World Peace gave quite the breakdown of how the triangle offense works.
False, but hilarious.
If you're one of the many who believes that coaching is of minimal value, then you likely love what World Peace had to say. Players win championships without any structure whatsoever, even though the players who fail to win a championship use the excused of a lack of structure.
But I digress.
The title that World Peace won with Jackson was one of the 11 that The Zen Master secured while running the triangle offense. He clearly had help in the form of iconic all-time players such as Bryant, Michael Jordan, Shaquille O'Neal, and Scottie Pippen.
Those players also had help in the form of the winningest coach in NBA history.
As it pertains to the New York Knicks, recently hired head coach Jeff Hornacek will attempt to mold the triangle offense to modern standards. He won't run the system exclusively, but he will use elements of it in the system he designs.
Whether or not World Peace is correct—or serious—it's nice to have Carmelo Anthony and Kristaps Porzingis on the roster.
This article originally appeared on