Knicks: Carmelo Anthony, Lance Thomas Play Mortal Kombat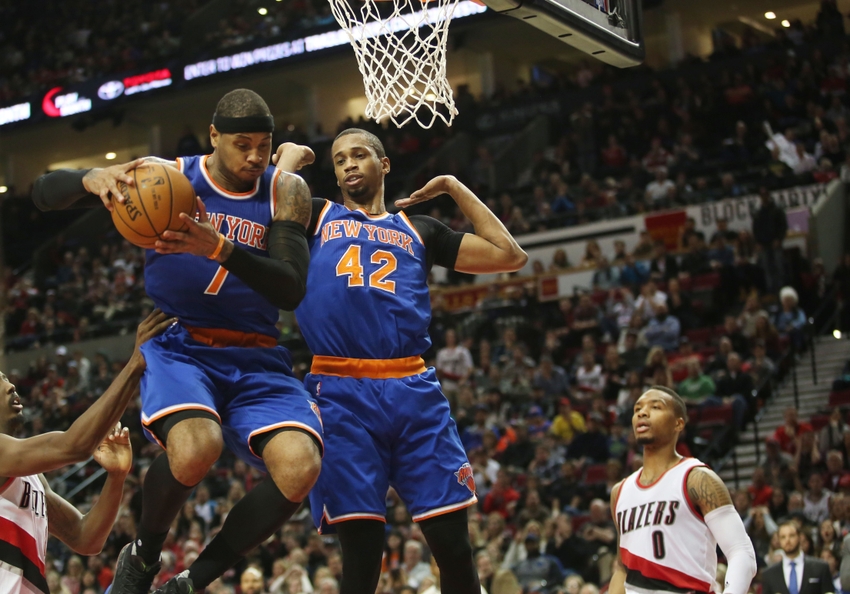 New York Knicks forward Lance Thomas is working to improve his handles. Hanging out with Carmelo Anthony taught him that he needs to work on something else.
---
Carmelo Anthony has gone out of his way to create something of a family environment with the New York Knicks. He took his teammates to Puerto Rico in 2015, has become a big brother to Kristaps Porzingis, and has invited players over to his home.
Lance Thomas learned the hard way that Carmelo Anthony isn't the only competitive person in his family.
Thomas has been working on his handles, which he recently referred to as, "Suspect." He may need to learn how to better handle a video game controller before he sees Anthony and his family again.
The Knicks' recent video game binge continued with Lance Thomas playing a game of Mortal Kombat against Anthony's son.
That wasn't Thomas' finest moment as a competitor.
All jokes aside, Thomas and Anthony spending time together is a promising sign for the 2016-17 season. They'll take the court together quite often, just as they did during the 2015-16 campaign.
Whether it's Anthony or Thomas at the 3, one of the two players will be spending minutes at power forward.
With both Anthony and Thomas likely to spend minutes at the 4, they'll need to be on the same page. Thomas will likely be the defensive 4 who can switch on the pick and roll, while Anthony will be the offensive power forward who can score from the post.
To be able to make those seamless switches and rotations, Anthony and Thomas must be connected on a deep level.
Thomas proved capable of defending multiple positions during the 2015-16 season. Anthony further established himself as one of the most unstoppable post players in the NBA.
Unless Anthony's son just ended his father's friendship with Thomas, this video game linkup a sign that progress is being made between the Brooklyn natives.
This article originally appeared on