Knicks: Carmelo Anthony Compares Willy Hernangomez To Marc Gasol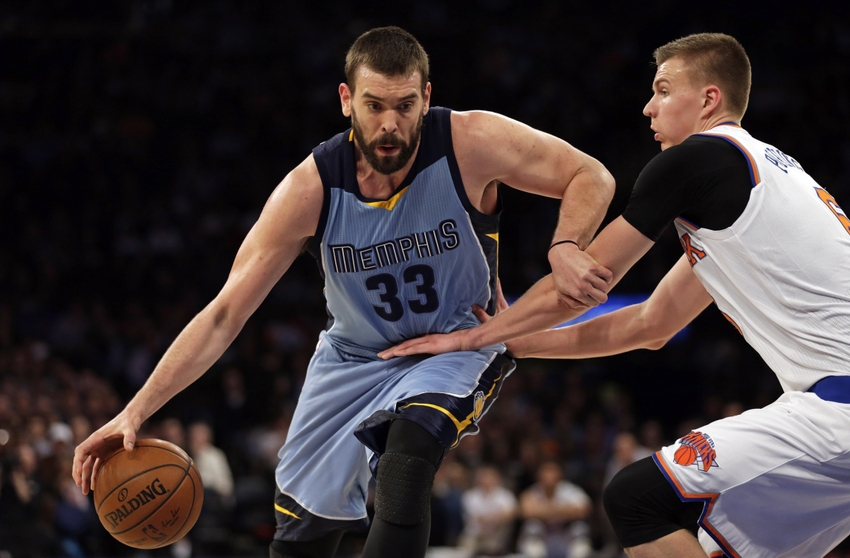 New York Knicks rookie Willy Hernangomez is turning heads in preseason action. Find out which All-NBA center Carmelo Anthony compared him to.
---
The New York Knicks may look back at the 2015 NBA Draft as the night when everything changed. Phil Jackson selected Kristaps Porzingis at No. 4 overall and traded to acquire Jerian Grant at No. 19 and Willy Hernangomez at No. 35.
Porzingis broke out in 2015-16 and Grant was included in the trade for Derrick Rose and Justin Holiday. Now, Hernangomez is having his moment.
Hernangomez is a 22-year-old rookie who has played professionally in Spain since 2011. He's performed at the highest non-NBA level—Spain's Liga ACB—and gained invaluable experience during the 2016 Summer Olympics.
According to Ian Begley of ESPN New York, Knicks franchise player Carmelo Anthony compared Hernangomez to one of the best centers in the NBA: Marc Gasol.
"I like the Big Baby. He's a guy who can score, he can pass, he can play D. He can do it all. I try to not make comparisons but I see a lot of Marc Gasol in him."
That's extraordinarily high praise.
Hernangomez made quite the splash during the Knicks' clash with the Boston Celtics on Saturday, October 15. He posted 12 points, 12 rebounds, and five offensive boards in 24 minutes of action.
That double-double is likely the first of many to come.
Having said that, any comparison to Gasol is one that shouldn't be taken lightly. Gasol made the All-NBA First Team in 2014-15, won Defensive Player of the Year in 2012-13, and has led the Memphis Grizzlies to three 50-win seasons.
The year Gasol won Defensive Player of the Year, he also led Memphis to the first Western Conference Finals appearance in franchise history.
Hernangomez hasn't yet flashed the defensive proficiency of Gasol, but his offensive upside is clear. He's an outstanding pick and roll dive man who can score with his back to the basket and facilitate from both the low and high posts.
Hernangomez's ability to score and facilitate from 16 feet and within certainly creates the foundation for intrigue.
If he can come anywhere close to matching the level of one of the Gasol brothers, then the Knicks will have landed an absolute steal at No. 35 overall.
This article originally appeared on