Knicks: Brandon Jennings, Joakim Noah The New Mason And Starks?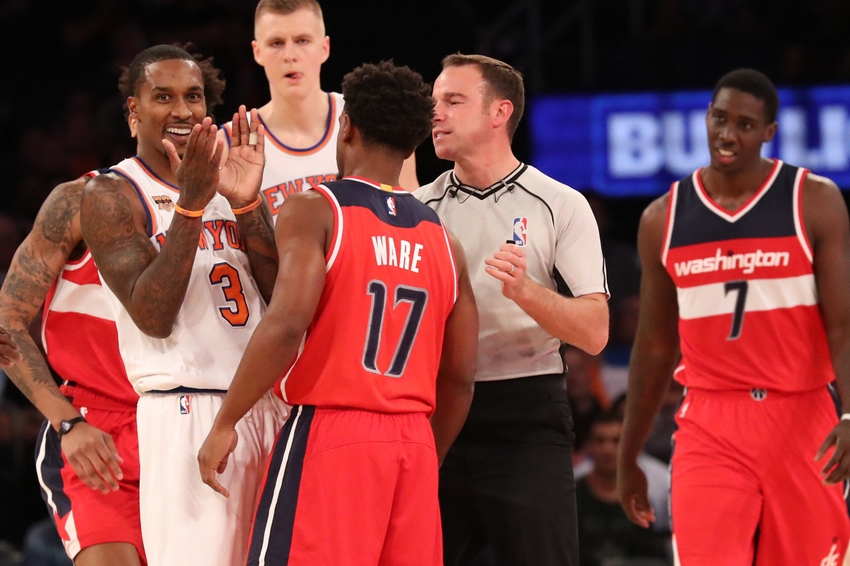 Brandon Jennings compared himself and Joakim Noah to one of the most revered duos in New York Knicks history: John Starks and Anthony Mason.
---
The 1970s were the greatest decade in New York Knicks history, but the 1990s are the most warmly remembered. Chalk that up to youth, if you will, but the Knicks of the 1990s represented New York City.
It wasn't always pretty, but those Knicks teams were blue collar workers with a desire for greatness and a willingness to do whatever it takes to achieve it.
Roughly 20 years later, team president Phil Jackson is building a team that blends the 1970s with the 1990s. Two of the players he brought in to facilitate that growth, Brandon Jennings and Joakim Noah, are already identifying with the Knicks teams of the 1990s.
During an in-game interview, Jennings compared himself and Noah to Knicks legends John Starks and the late great Anthony Mason.
"I see us as the old Knicks. I'm gonna be the one starting stuff on the court. Joakim is also. We're gonna be like Anthony Mason and John Starks. We're gonna be the ones who are always starting crap."
That's music to Knicks fans' ears.
Mason and Starks aren't just two of the greatest players in franchise history; they're two of the most beloved. Both played with an unfiltered passion for the game and a toughness that helped create New York's identity.
Both players won Sixth Man of the Year, as well, which is a goal that Jackson has set for Jennings.
Jennings began to show some similarities to Starks and Mason when he engaged in a trash talking bout with Casper Ware of the Washington Wizards. It was eerily reminiscent of a moment that included Noah.
For those who may have forgotten, Noah infamously did something similar with Chris Bosh and Mario Chalmers.
The Knicks officially have two new irritants on the roster.
If Jennings and Noah can come anywhere close to providing what Mason and Starks did, they'll be fan favorites. The latter two blended their tremendous work ethics with skill and big-game execution.
Both played defining roles in New York reaching the 1994 NBA Finals.
Much as it was with Mason and Starks, it's better to be with Jennings and Noah than against them.
This article originally appeared on