Klay Thompson will figure it out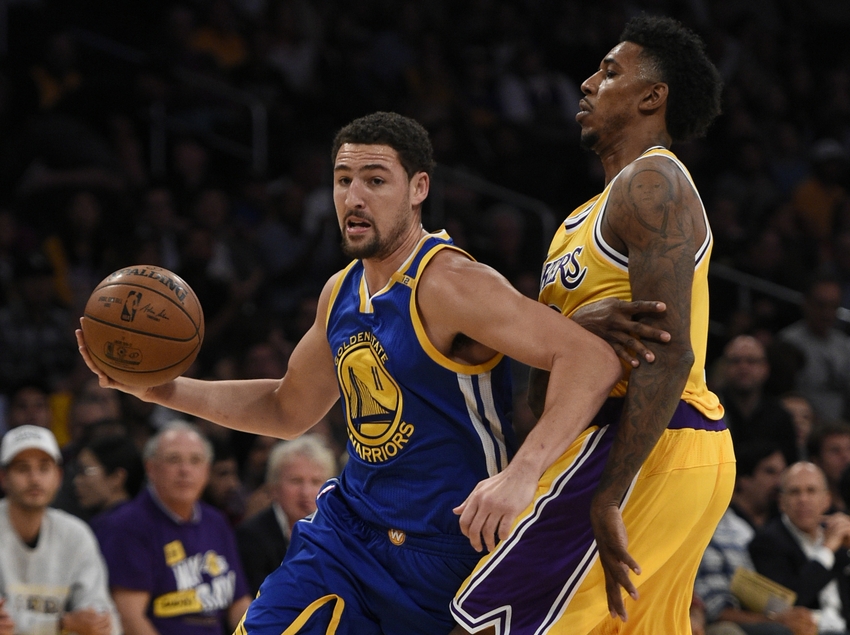 Klay Thompson is struggling early on, but he'll figure it out sooner than later.
Klay Thompson was guarding Lou Williams at the three-point line. The Lakers guard crossed over, shed the Warriors' star, and drilled a three-pointer. I'd say Williams hit it in his face, but Thompson was nowhere near the play at all.
In 11 less minutes, Williams matched Thompson's three-point total for the night. The second Splash Brother connected just two times from beyond the arc. He's shooting 19.6 percent from deep thus far.
Thompson is an All-Star caliber player. When he gets hot, there isn't much a team can do to save themselves. The Oklahoma City Thunder know all-too-well after he shattered their dreams of reaching the NBA Finals in Game 6 of the Western Conference Finals.  The Sacramento Kings have also been acquainted with Thompson when he dropped 37 on them…in a quarter!
He isn't playing right now. He's nowhere to be found. The electric Klay Thompson was taken hostage after the series against the Thunder and he was replaced by an imposter. He's not himself and it's been pretty tough to watch.
He doesn't look like one of the greatest shooters ever right now. He just can't find the range. And, while he's had moments of playing his normal great defense, the rest of his game is prone to lapses when his shot isn't falling.
There's a sect of Warriors fans that are panicking. In the darkest corners, there are even those that are uttering the word "trade." Kevin Durant ruined everything!
There's no need to freak out. Yes, he's struggling. Yes, he has looked poor. But he's going to put it together sooner than later.
Klay shooting:
Last Yr: 6.7 catch and shoot 3s, 6.1 3s defined as open or wide open
Now: 6.7 catch and shoot 3s, 6.0 3's open/wide open

— sam esfandiari (@samesfandiari) November 7, 2016
Thompson is an elite shooter. He's one of the best marksman to ever step on a basketball court. He also has a mentality that won't get discouraged with a few misses.
The narrative that folks want to push is that Durant's presence is disrupting Thompson. But that's not what's happening at all. He's just missing shots. He's in a slump. He told ESPN that he experienced similar struggles through the first 20 games of last season:
"So last year I struggled, then I went on a tear, so it's just like any other season. Obviously we have different players, but I'm still getting the shots I always got before he was here, so it's not on Kevin at all."
Durant is not the issue. Touches aren't the issue. Role is not the issue. The ball just isn't going into the basket. It happens to even the best players. Thompson isn't going anywhere. The Warriors are invested in him long-term and he's crucial to what they're trying to do. There will be no trade. He's not even going to go to the bench.
His shots will start dropping. And, when they do, teams are going to be in huge trouble.  And all that chemistry talk will turn to silence.
This article originally appeared on