King James Gospel Roundtable Discussion: Week 2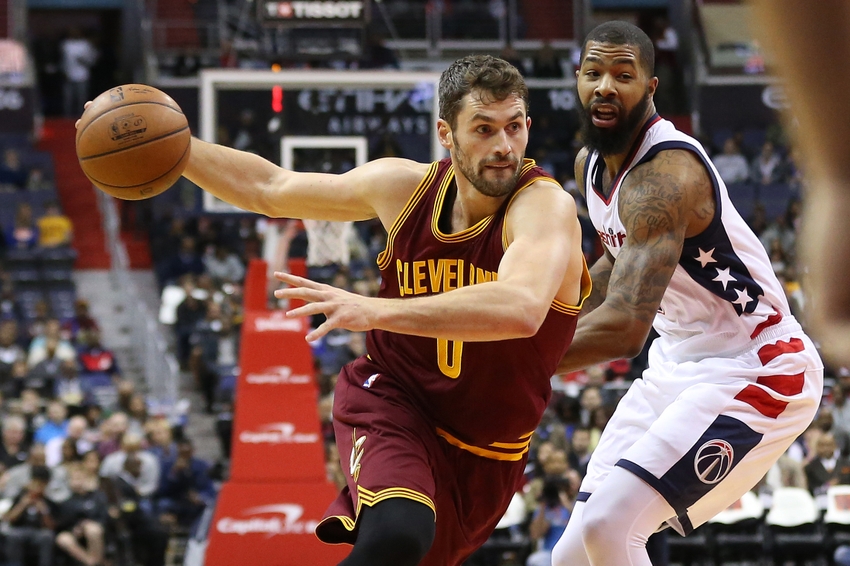 King James Gospel gives it's take on what they saw from the Cleveland Cavaliers first week in a roundtable discussion.
In our second installment of King James Gospel's Weekly Roundtable, a few KJG contributors (Omar Josef Guererro, Richard Scheuermann, Daniel Opacich and Jackson Flickinger) have answered a few questions about the second week of the Cleveland Cavaliers season.
Just for a quick recap, the defending champs are now 9-1, with their lone loss coming against the Atlanta Hawks. In this time, Iman Shumpert and Kevin Love have continued to play like men possessed, LeBron James is now two-for-two in Player of the Week awards this season and Kevin Garnett is still an option for the Cavs as a coaching consultant according to The Vertical's Adrian Wojnarowski.
My take on the Cleveland Cavaliers season is it's too early to put complete stock in anything we've seen, however, the champs look like they'll be rolling to a 65-win season. Plus the whole league might have to try to contain an angry LeBron after he took serious offense to Phil Jackson's characterization of James' friends and family in a recent interview with ESPN's Jackie MacMullan.
LeBron on Phil Jackson: "I had nothing but respect for him as a coach …"
Q: "Had respect?"
LeBron: "Yeah"
Q: "Until now?"
LeBron: "Yeah"

— Dave McMenamin (@mcten) November 15, 2016
Q: Is Iman Shumpert's play sustainable?
Omar: Yes it's possible. Last year, he was off and on unlike his first year with the Cavs. Now he just needs to be consistently confident and not get down on himself when things go bad. If he adopts J.R. Smith's mindset when it comes to shooting, look out!
Rich: I have to admit, I had my hesitations at first but it looks like he's hitting his stride with the Cavs. We've got to keep in mind that he's still only 26 and maybe hasn't found his ideal role in the league. Why not now? He's been facilitating the offense and shooting with extreme efficiency. Those percentages may very well go down, but I think Shumpert is a viable option for running the second unit. If it ain't broke…
Dan: Shumpert seems to have come into this year with a mission… to prove the doubters wrong. Personally, I think his play can still go to another level, so yes, he should be able to sustain his play.
Jackson: Shumpert is playing out of his mind right now. He's averaging 51.1 percent from the field, 44.4 percent from three-point range and 81.3 percent from the line. It doesn't get much better than that.
As much as I love the start, I don't think it's sustainable. At least it isn't to the level that he's at right now. What is encouraging is how much better he looks handling the ball and how he isn't forcing his shots. He is doing a great job of letting the game come to him.
Shumpert's numbers aren't going to be this good at the end of the year. But I don't expect him to drop down to the mess he was last year. When the Cavs acquired him from the Knicks he was the centerpiece of the deal and J.R. Smith was the throw in. He's playing like the player he was two seasons ago right now. He is becoming the ideal 3-and-D guy that the Cavs covet so much.
Q: Is LeBron James still the best player in the game?
Omar: Yes he is. The stats favor Russell Westbrook and Anthony Davis but LeBron has done more with less talented lineups than these two have right now. Replace them with the King and you can be sure that the Oklahoma City Thunder and the New Orleans Pelicans, respectively, will be playing much better. If not now then over the course of the season. James is a great leader. Coupled with his multi-faceted skills, he's still the most dominant player in the game even without the usual stats to back it up.
Rich: Absolutely. At this point it's a cumulative thing, too. His cunning skill-set is just becoming more refined, but his real value is elevating the team around him. The man is averaging 23-9-9, the Cavs are 8-1, and they haven't even hit their stride yet. James hardly needs to prove anything to cement his legacy, and that relief of pressure only makes him more dangerous. It would be foolish to say otherwise, anyways. Remember how that worked out last year?
Dan: LeBron James still has the tools to be the best player, but it seems at times (just like last year) he holds back and picks and chooses his moments. After going to six straight Finals it is something he has learned… hold back (somewhat) until the important times in a game or season so he is rested and ready for his seventh Finals appearance!
Jackson: LeBron is the best player in the game, and it isn't even close. He is cruising his way through the season and he's almost averaging a triple-double. That's unheard of.
He probably won't win the MVP because other players such as James Harden and Russell Westbrook are putting up gaudy numbers. But that doesn't mean those players are even on the same level as James.
LeBron is still in his prime. He has the body of a 19-year-old and he is slowly improving on his outside jumper. LeBron erased all doubts of whether he was still the best player in the league in last year's Finals. He isn't going to give up his spot on the throne anytime soon.
Q: Are we finally going to see more Kay Felder and Jordan McRae?
Omar: Felder no. McRae yes. Felder needs to earn his minutes much more than McRae, who has been playing in the fourth quarter of games of late. He hasn't done much but that tells you how confident Tyronn Lue is in his ability to play.
Rich: If I had to guess I'd say we'll see more McRae but maybe not too much Felder. McRae brings another shooting threat on the floor to run with the second unit and is also a capable slasher off-the-dribble. Felder will need to prove himself to earn the playing time, but he's young and hungry so I wouldn't put it past him.
Dan: We have seen Kay Felder the last two games and Jordan McRae played almost all of the fourth quarter on Sunday, so Tyronn Lue must be trying to get them established in roles with the team and find a place for them in the rotation. Don't be surprised to see DeAndre Liggins in a game or two also.
Jackson: It only makes sense to expand the rotation. The Cavs have great depth, and I think it is something that they should use throughout the season. It's important to limit the Big Three's minutes throughout the season. The best way to do that is by giving other players a shot.
Felder has gotten limited minutes so far this year. With Shumpert playing the way he is, I don't think Felder's minutes are going to increase dramatically.
McRae should be given more minutes for multiple reasons. The first being that he's the Cavs most expendable player and he's likely to get traded. However, it's hard to market a player who doesn't get time on the court. We've seen in the Summer League, the preseason and a little in the regular season what he can do. He is a pure scorer that isn't afraid to shot the ball. There is no reason for him not to play at least five minutes a game.
Q: What's your take on Kevin Love this season?
Omar: He's much more feisty on the boards this year with a tenacity reminiscent of his time in Minnesota. He's averaging a cool 20.4 points and 10.3 rebounds but he's shooting terribly. He needs to develop his low post moves and mid-range jumper so he can mix it up with his three-point shooting ability. The game will come easier for him when he shoots more consistently well from any range.
Rich: Kevin Love's been fantastic. He's staying aggressive on offense and crashing the boards as always. I'm excited to see his progression on defense this year. I think he understands how paramount that will be for him and the Cavaliers' success. I think Mr. Love is right where he needs to be.
Dan: Many including myself predicted a breakout season for Kevin Love. He has upped his play in all facets of the game, and appears to be able to break that 20,10 average that has eluded him in Cleveland. He has gotten tougher, stronger and is a more willing defender. It appears that the 2016 NBA Finals galvanized Love and finally gave him motivation to be his best.
Jackson: Kevin Love has been great this season. He looks much more like the player he was in Minnesota than he has at any point in time.
The key to Love's game is his aggressiveness. When he is playing aggressive and attacking the basket he is at his best. The most important stat to look at when evaluating Love is his free throw attempts per game. In Minnesota he averaged 6.4 shots from the line. His best years in Minnesota he averaged around 8 free throws per game. In his first two years in Cleveland, he averaged just over 4 free throws per game. So far this year he's averaging 7.6. That means he is being aggressive and actively looking for his shot.
After all the criticism he has gotten the last two years, he is finally fitting in. We don't have to hear about trade rumors to Boston anymore. We'll reserve those rumors for the third wheel out in Oakland.
Q: Should the Cavs push (harder) for Kevin Garnett to be a coaching consultant?
Omar: No. As valuable as Garnett's knowledge and experience is, he doesn't seem to be appreciative of LeBron as much as LeBron appreciates him. This goes back to their battles in the playoffs from 2008-2014 and the fact that James lured Ray Allen away from Boston while the former was with the Miami Heat. I love Garnett as a player but he holds grudges and I don't think he's over his grudges with LeBron.
Rich: I mean, as a fan, I'd love to see it. Who wouldn't? The thought of KG rallying the troops at half-time sends chills up my spine. Is it something the team needs to pursue aggressively? Maybe. I'm surprised he hasn't joined a team yet, and if the Cavs made a serious push for him, it might be enough. We already know T-Lue has a seat open for him.
Dan: I'm not sure is Kevin Garnett is even needed. Our bigs are already well developed. Tristan Thompson's defense and shot blocking has improved, so is it a necessity? No, I don't think so.
Jackson: Kevin Garnett was a great player. I love the intensity he brought to the game. He is truly a great mentor and I would love to see him as a coach. However, I don't think they should push harder for him.
Coaching is a tough job. It requires countless hours breaking down film, coming up with game-plans, and extensive traveling. It's something you have to be 100 percent committed to. Garnett doesn't appear like he's ready to make that commitment yet.
Maybe down the line he can be a good coach, but that doesn't seem to be the case right now.
What did you think of the Cleveland Cavaliers in their second week of the season? Let us know in the comments section or Twitter @KJG_NBA.
More from King James Gospel
This article originally appeared on