Kevon Looney needs more minutes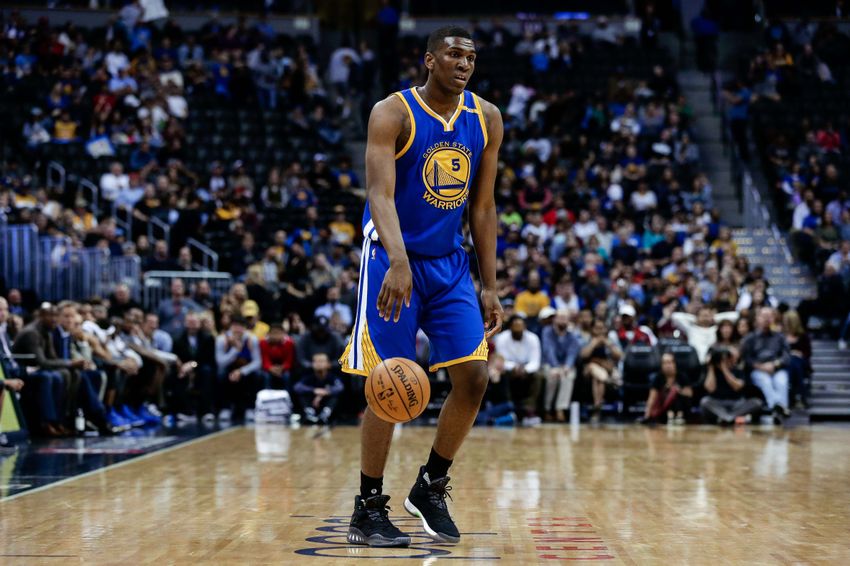 Kevon Looney, the Golden State Warriors' second round forward, has earned a chance to get more minutes with his rebounding ability.
The Warriors used their only first round pick following their championship season on a guy that wasn't going to play. Golden State selected UCLA forward Kevon Looney with the 30th pick. Looney played 5 games during the 2015-16 season following hip surgery.
His draft stock drastically fell after his hip became a genuine concern. Golden State took a chance on him. They were patient, waiting for him to get healthy and get into shape. Looney's healthy, contributing, and deserving of more minutes.
Steve Kerr wants to get everyone involved. He believes in "Strength in Numbers," the idea that each player on the roster will get an opportunity to contribute. Some days Looney will get good run and sometimes he won't.
The Warriors, with Kevin Durant and a new-look bench, are still figuring out their rotations. Kerr is assessing what units and lineups work best. There are competitions going on at a few backup positions and one of them seems to be Looney vs. David West.
West is a veteran presence. He's a former All-Star and a guy who, once upon a time, could bully his way to a bucket whenever he wanted. At the beginning of the year, he seemed like the clear choice to play a backup power forward or, even, center. He's currently playing 10.6 minutes.
Looney is playing 8.3 minutes and he deserves a few more. He probably should cut into West's playing time. West is more of a proven scorer with a decent midrange jumper than Looney. He's also shown flashes of being a good passer, working with well with guys like Kevin Durant and Klay Thompson.
But there's one factor that makes Looney deserving of more minutes: rebounding. In two less minutes, he is averaging the same amount of rebounds as West. In 75 less total minutes, West has only grabbed nine more boards. If you look at Per 36 and Per 100 possession numbers, Looney has him beat.
The second year player brings a quickness that the 37 year old West just doesn't have anymore. His total rebound percentage is higher, besting West 17 percent to 13.6 percent. Where Looney really excels is on the offensive glass.
Looney is a good and, most importantly, willing offensive rebounder. He has a better offensive rebounding percentage than Draymond Green. Few teams are better at making something happen on broken plays than Golden State.
Grabbing offensive rebounds can lead to put backs or wide open opportunities for the Warriors' playmakers. He's extremely active and physical on the glass. He's also fourth in free throw attempt rate, right behind Durant, proving that he can make things happen with his aggressiveness.
Looney is part of Golden State's future; West isn't. Kerr needs to continue to develop Looney for the long run. He has a very strong skill than can be beneficial to the Warriors right now.
Of course, it's also important to take situations into account when making rotation decisions. Sometimes West will be the better option (guys like James Michael McAdoo and Anderson Varejao will never be that). But Looney is a solid young player that has earned more playing time with his hustle and nose for the ball.
This article originally appeared on