Kevin Seraphin Provides the Indiana Pacers with Versatility in Front-Court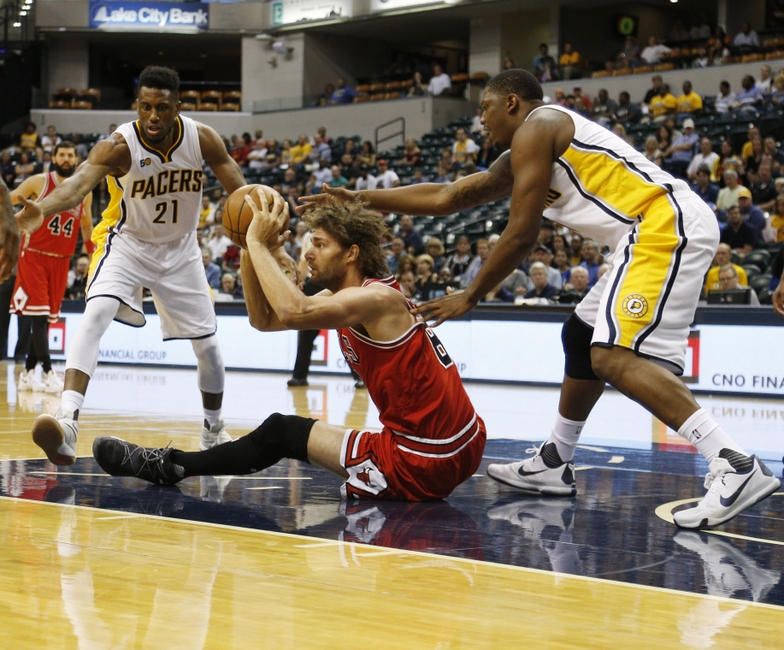 When Kevin Seraphin officially signed with the Indiana Pacers, no one really knew what to expect from him.
Kevin Seraphin is coming off the worst season of his NBA career since he was a rookie in Washington. During the 2015-16 season, Kevin played in just 48 games with the New York Knicks. He didn't show enough to get league-wide interest when he hit free agency during the summer. Larry Bird always liked him, though.
Seraphin figures to be the third-string center on the Indiana Pacers and perhaps make the rotation given the lack of high-level options in front of him. He's gotten some playing time over the last two games for a couple of reasons: the Pacers needed someone to guard post-players when Myles Turner was resting, and because they were losing embarrassingly.
Al Jefferson is getting older and has never been known for his defense. Brook Lopez ate him alive during the Pacers' loss to the Nets in Brooklyn on Friday. Myles Turner can't play 48 minutes, so Nate McMillan went deeper into his bench.
On Saturday night, the Pacers got dismantled by the Bulls in Chicago. Seraphin saw a little bit of action prior to garbage time being activated. He was impressive during garbage time — which, of course, you have to take with a grain of salt. He made a few good moves, finished strong, and looked like the Seraphin-of-old in the post.
He believes he can keep this up.
Seraphin has made it known that he's working hard and is motivated to get back to the type of player he was with the Wizards. "I am so motivated and ready to do everything for the franchise," he said right before the season on his personal website. "I worked hard this summer and I am in perfect shape to have a great season. Indianapolis is the perfect place to win!"
Back during his D.C. days, there were real signs that he would continue to be a quality rotation player who could contribute to a good team. He averaged 9.1 points and 4.4 rebounds per game in just 22 minutes a night.
He could have taken some big steps, but inconsistent playing time killed him. Right when it seemed he was primed to break out, the minutes were not there.
Now, he tries to rebuild his career in Indianapolis. It's good for the Pacers to know that they have a guy like Seraphin as insurance in case an injury occurs, or in case they want to match up differently.
Your starting center is a beast shot blocker with a smooth shooting stroke, your backup center is one of the better post players in the NBA, and your third string center is a more athletic post player. That's solid — if Seraphin can do his part.
Seraphin is never going to be a dynamic world beater. But he may be able to fill a role that the Pacers need going forward. We will see if he gets the chance that he believes he can earn.
More from 8 Points, 9 Seconds
This article originally appeared on