Kevin Love Proved How Much Cleveland Cavaliers Need Him
Zack Geoghegan/FanSided via Hoops Habit

Fansided
The Cleveland Cavaliers need Kevin Love if they want to repeat. On Monday night he showed just how valuable he is.
On Monday night, NBA fans had the pleasure of experiencing the most exciting and nerve-wracking game of the season. The Cleveland Cavaliers edged out the rising Washington Wizards by a score of 140-135 in a game that needed an extra five minutes to decide the winner.
The game had it all–dramatic moments, big time shots, a few questionable calls. The atmosphere rivaled an Eastern Conference Finals Game 7 and it may have been a sneak preview at just how eventful a full seven-game series between these two might be.
LeBron James led the Cavaliers with 32 points, 17 assists and seven rebounds, while also hitting one of the most difficult shots I have ever seen someone take and make, just moments after completely blowing a wide-open layup (he traveled before he missed the shot but it wasn't called. Ball don't lie).
Now hold on, did Kevin Love just launch a perfect chest pass to a guarded LeBron James from about 85 feet away?
You may have missed it due to the utter shock you're feeling after LeBron somehow managed to will that shot in off the backboard, but what Love did was just as spectacular.
Besides making one the more impressive passes I've ever seen — a pass that I'm fairly certain Carmelo Anthony couldn't execute if you gave him 30 tries — Kevin Love was shooting lights out all night.
Live Feed

nba trade rumors
Love went for 39 points, 12 rebounds and three steals against the Wizards' stiff front line while shooting 11-for-17 from the field and 6-of-10 from 3.
Love was also a perfect 11-for-11 from the free-throw line, including some big makes when his team needed them most (statistics via ESPN.com).
Kevin Love wasn't just the "third guy" last night. On Monday night he proved just exactly how much he means to this team and how much this team needs him.
Kyrie Irving was having a cold shooting night (until the overtime period began) and it was up to Love to help out LeBron and keep the Cavs in the game.
Love was oozing confidence and when that happens, he becomes an offensive juggernaut.
From grabbing offensive boards to scoring in the post to firing any and all open 3-point attempts, Love had the mindset to come out and win.
He was playing so well, in fact, he even managed to get this shot high off the glass to trickle in.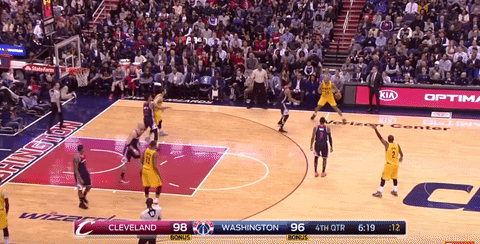 That's how you know things are going your way.
Love was putting on an offensive exhibition, but he also came up with some essential defensive stops as well, including one particular possession that may look somewhat familiar …
Here, Love switches onto John Wall off the pick and roll, stays in front of him and does a great job of contesting the shot.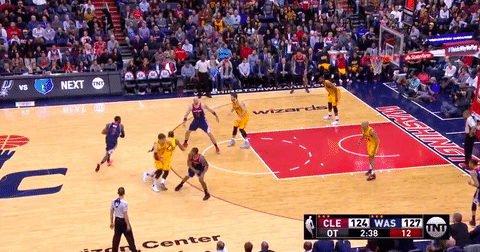 Love gets caught up in the defense, but recovers perfectly, intercepting the pass and setting up a fast break.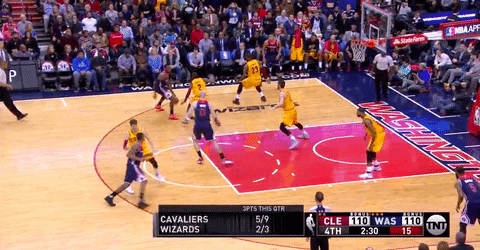 *I couldn't make the GIF long enough, but Korver drains that corner 3.
Love's performance couldn't have come at a better time, either.
Before Monday night's game, the Wizards hadn't done much to prove themselves as an obvious threat to the Cavs.
The Wiz are playing much better basketball than they were in their first month or so that had them near the bottom of the Eastern Conference standings, but they hadn't beaten (or even played, for that matter) any of the top teams in the league since they've broken out their impressive winning stretch.
Despite the loss, the Wizards finally proved they are the Cavs' biggest threat in the East and Kevin Love let everyone know that he's ready for them.
Although, perhaps the most interesting story line from Monday night's game was what was happening off the court.
An article in the New York Daily News reporting that LeBron was pushing the Cavaliers front office to trade Love for Carmelo Anthony gained some serious attention during the middle of the game, but without any legitimate sources being revealed.
After the game, LeBron told USA Today that he thinks the rumored article is "trash," among other things.
"It's trash. And the guy who wrote it is trash, too, for writing that. … It's always about outside noise, and that's just outside noise for us. We've got to focus on what needs to be done in order for us to continue to compete for a championship. We've got who we got. Our GM (David Griffin) will do a great job of figuring out if we need something else. But right now, we're in a good place."
The timing for the Daily News report couldn't have come at a more awkward point, honestly. The Knicks continue to plummet, as they lost to the Los Angeles Lakers 121-107 on Monday night while Kevin Love is thriving. It almost felt like a desperate cry for help for Knicks fans.
Any notion that the Cavs would want to trade Love, especially after what transpired on Monday, has been all but completely shot down.
Rumors will continue to circulate regarding Kevin Love (as they do every year, usually around this time, since he was traded to Cleveland) but he's going to be Cav for at least the rest of this year and hopefully plenty more to come.
Carmelo Anthony isn't the answer the Cavaliers should be searching for and Love's performance Monday night should make that clear to everyone.
This article originally appeared on