Kevin Love opts out, will become free agent on July 1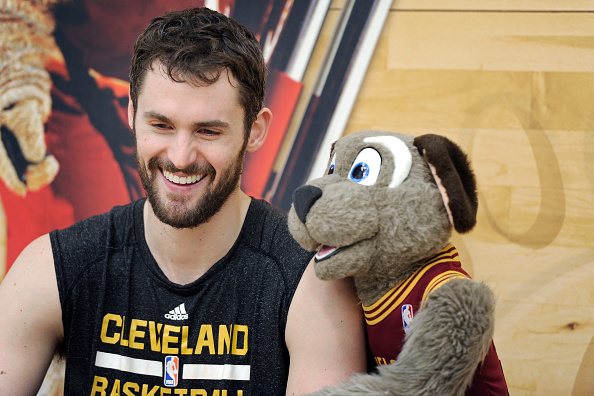 It doesn't mean he's signing with the Lakers, it doesn't mean he's unhappy, and it doesn't mean that we won't be seeing his handsome mug in a Cavs uniform ever again, BUT: Kevin Love opted out of the final year of his contract with the Cavs today, according to ESPN's Marc Stein.
This is no surprise. The NBA salary cap is going up, and Love stands to make more money signing a new deal than he could have by exercising the player option in his old one. As WFNY's Jacob Rosen wrote in breaking down the Cavs' future salary picture:
As a reminder, Kevin Love holds a $16,744,219 player option for the 2015-16 season. As a seven-year player, and given next year's expected $67.1 million salary cap, a new maximum contract would start at about $18,960,174 in year one.1 This means that Love would make just over $2 million more next season by not using his player option and signing a new max deal, even of the one-year variety à la LeBron this past summer.
The cap is expected to make a huge jump in 2016-17, so it would not be shocking if Love signed a new short-term deal with the Cavs that allows him to opt out again after next season so he could sign a mega-deal a year from now. LeBron James is widely expected to take that exact route.
Love could also decide to sign a new five-year max deal with the Cavs this summer, which would sacrifice some earning potential in exchange for long-term security. After ending the 2014-15 season with a shoulder injury and putting up less gaudy statistics compared to his last year in Minnesota, that may be a tradeoff Love and his camp are willing to make.
Love will be a true unrestricted free agent come July, so I suppose anything can happen, but no other team can offer him as much money (or as many LeBrons) as the Cavs. Don't expect Kevin to go anywhere, unless an offer like this one sounds better to him than playing with LeBron and Kyrie Irving.
I think the Cavs will take their chances.
How this was calculated: Max contracts are based off 42.14% of Basketball Related Income, as opposed to the 44.74% for the the salary cap formulation. Then, a seven-to-nine year veteran can receive up to 30 percent of that figure. ESPN Insider's Amin Elhassan projected this value for Love at $18,922,200, just slightly lower than my figure.
More from Waiting For Next Year: