Watch virtual Kevin Love hit Draymond Green with a Stone Cold Stunner in WWE 2K
Many professional athletes claim to be WWE fans. But no one's living the gimmick quite like Kevin Love.
Now, thanks to Twitter user @Shady00018 and the magic of WWE 2K, Love's stepping inside the video-game-based squared circle to give Stone Cold Stunners to the likes of Draymond Green (whom Love knocked off a ladder, no less), the referee, Russell Westbrook, Kevin Durant, and Michael Jordan, just for good measure:
Kevin Love 3:16 Stunners everybody! 😂 pic.twitter.com/Yia1742Cyj

— Shady00018 (@Shady00018) June 29, 2016
That video is an incredible piece of art, and you should absolutely take the 30 seconds to watch it. Once Love pulls MJ to the middle of the ring in his classic Chicago Bulls attire, you'll be looking around for someone to hit with Stunners of your own.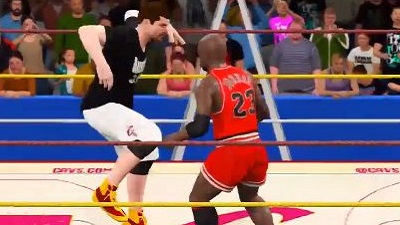 Love's affinity for professional wrestling came to a crescendo during the Finals, of course. When the Cleveland Cavaliers defeated the Golden State Warriors in Game 7, Love celebrated by throwing an old school "Smoking Skulls" Rattlesnake belt over his shoulder while rocking a Stone Cold Steve Austin T-shirt:
Kevin Love leaving the lockeroom with the Belt pic.twitter.com/3w7QsVrJdZ

— NFL Draft Diamonds (@DraftDiamonds) June 20, 2016
That was just the beginning for Love, though. After WWE delivered a custom championship belt to the Cavs, Love called dibs on that strap, too, and displayed both during Cleveland's championship parade:
For @kevinlove, #cavsparade was all about celebrating – complete with title belts (plural) & victory cigar. pic.twitter.com/3A1fS7ciTx

— FOX Sports Ohio (@FOXSportsOH) June 23, 2016
However, DO NOT DO THAT. If you're at work, it's a good way to get fired. Just leave the Stunners to the professionals, like NBA champion Kevin Love — whom wrestling legend Ric Flair wouldn't mind setting up with daughter (and women's champion) Charlotte.