Kevin Garnett's Top 5 Moments With the Brooklyn Nets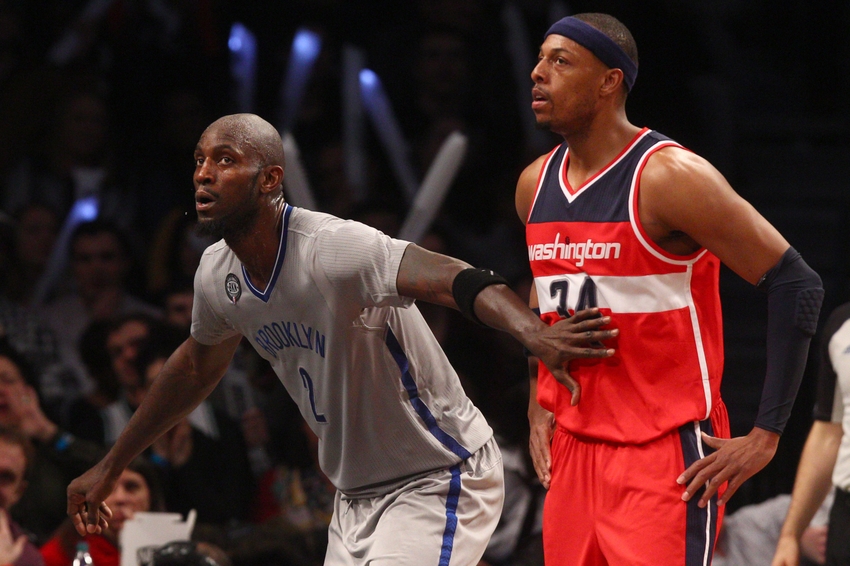 Kevin Garnett played for 21 seasons in the NBA. He provided intensity and toughness for every team he played for. Garnett's tenure at the Brooklyn Nets may have been short, but he definitely had his moments in Brooklyn.
More from Nothin' But Nets
Kevin Garnett calls it a career in the NBA. The game of basketball has never seen anyone like him, nor will we see another player like him. Garnett provided leadership, toughness, and his defensive prowess for every team he has played for.
What Garnett also brought to the table was his notorious trash talking and humor. Garnett trashed talk his opponents so hard that he altered their performances. That's the type of mind games that Kevin Garnett plays.
Garnett is a glorified bully and no one has ever seen anything like Garnett. Let's check out his top 5 moments as a Brooklyn Net.
5. Kevin Garnett Steals Mason Plumlee's Crab Cakes
As mentioned before, Kevin Garnett is known for being notorious to his opponents and his teammates. In one particular instance, Mason Plumlee, Kevin Garnett's former Nets teammate, explained on Highly Questionable how Garnett took his crab cakes away and gave his crab cakes to Reggie Evans. Then, Garnett told him to serve the rest of the team their crab cakes.
If there is anyone that is perfect for giving rookies their rookie treatment, Garnett is the perfect example. Check it out in the video below.
4. Kevin Garnett calls Joe Johnson "Joe Jesus"
On January 6, 2014, Joe Johnson scored 23 points and took over the game to secure a victory against the Atlanta Hawks. After the game, Garnett called Johnson "Joe Jesus." Garnett said, "he's not there there when you call him, but he's there when you need him."
Here is the post-game interview below.
3. Kevin Garnett Blows in David West's ear.
On December 27, 2014, in the first quarter of the game against the Indiana Pacers, Kevin Garnett fouled Indiana Pacers' David West. Garnett pulls a Lance Stephenson and blows in West's ears.
Check it out below.
2. Kevin Garnett's Tribute From the Boston Celtics
Kevin Garnett played for the Boston Celtics from 2007-2013. During that time span, he made himself a household name for the Celtics, as he and his teammate on the Nets, Paul Pierce, won their first championship together. On January 26, 2014, Garnett returned to TD Garden for the first time after departing the Celtics. The Celtics paid a touching tribute to Garnett, which was well-deserved.
1. Kevin Garnett and Dwight Howard's Confrontation
Net's fans remember this altercation. On January 12, 2015, against the Houston Rockets, Garnett fouled Dwight Howard. Howard shoved Garnett and he didn't respond too kindly from that shove. Garnett threw the basketball at Howard and headbutted him. Everything else escalated from this point and Garnett was ejected.
This article originally appeared on