Kevin Garnett redefined what it means to be an NBA superstar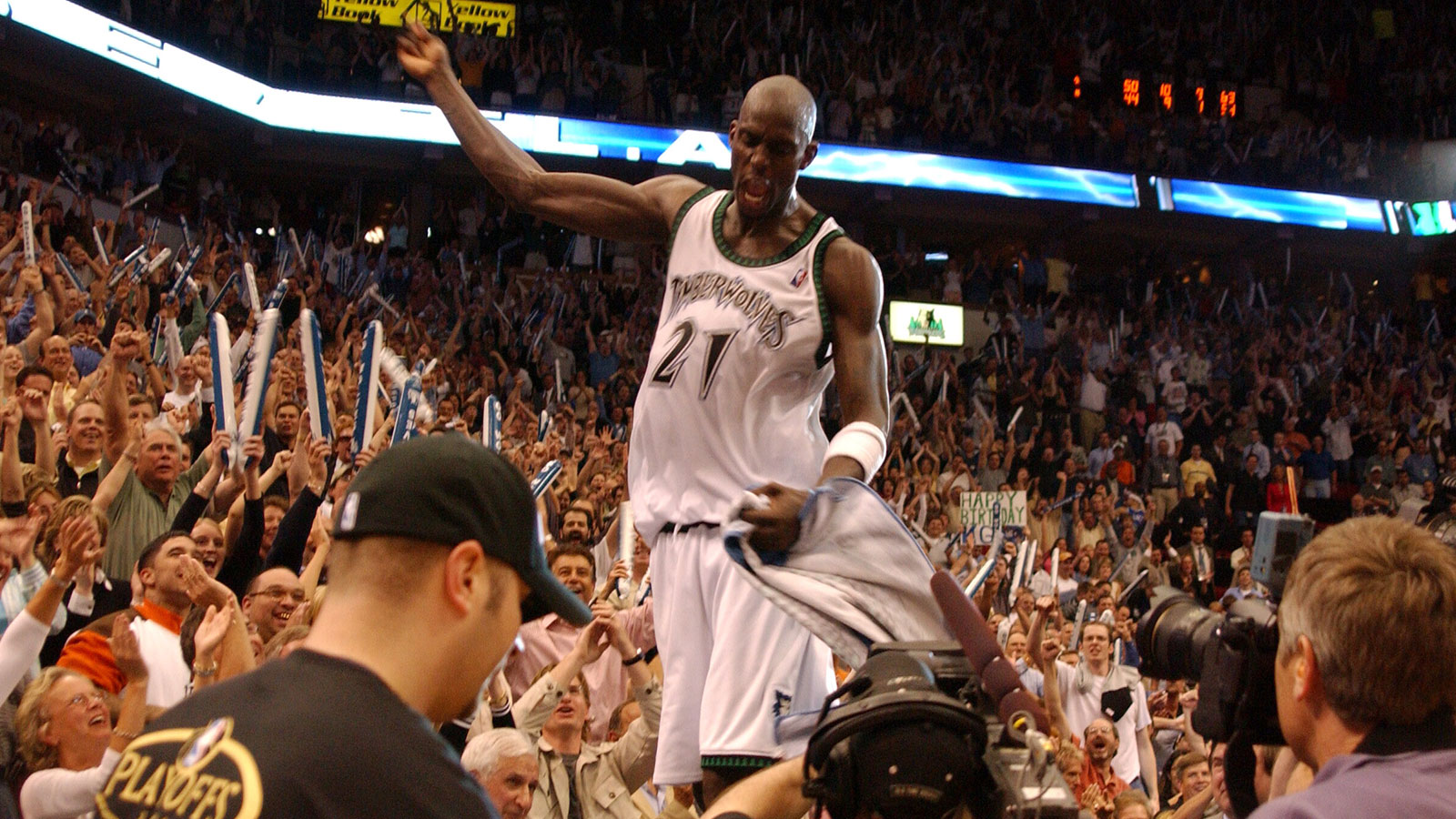 Father Time has proven, once again, that he is undefeated in professional sports –€" as he claimed another notable victim on Friday afternoon in the form of 15-time NBA All-Star Kevin Garnett.
For nearly two decades, I've internally-battled with what to think about KG and the legacy he would leave on this very day.
Part of me wants to believe he's genuinely mean. Like, a complete prick. Someone who finishes the milk and puts the empty carton back into the refrigerator type of person. He told Charlie Villanueva, who suffers from the skin disease alopecia, that "he looks like a cancer patient." He head-butted Dwight Howard and told him to "paint your face, clown." He flopped. He threw elbows. He swatted your shot after the whistle because he knew it made you angry. He even allegedly told Carmelo Anthony that his wife "tasted like Honey Nut Cheerios."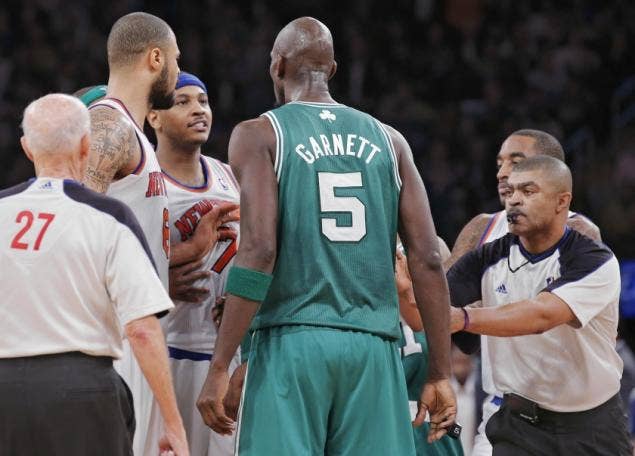 But for every instance in which Garnett overstepped the unwritten rules of trash-talking, he countered it with unlimited, authentic passion…
Leadership …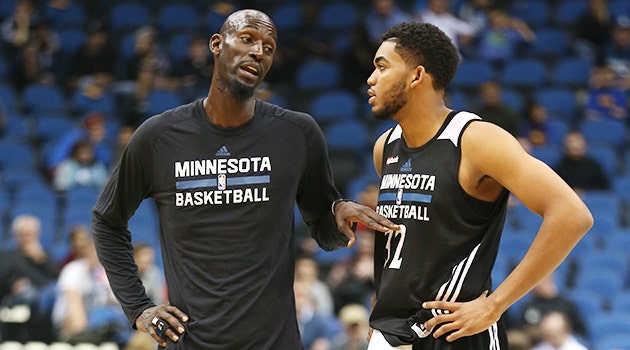 And vehement loyalty that suggests he'd take a bullet for you if you were inside his circle of trust.
Kevin Garnett is the quintessential "If he's on your team, you love him – if he's not, you despise him" OG. Basketball's version of NWA-era Ice Cube. Outside of Isiah Thomas and the 'Bad Boy' Pistons, no-one in the NBA has done this better than him.
But the only question that matters –€" the only one that ever matters –€" is: could he play? There are plenty of "get under your skin" guys in the league that surface ever year and fade away into irrelevance after their time is done: Lance Stephenson, Kendrick Perkins, Kurt Thomas, Bruce Bowen –€" just to name a few — but Garnett was different, he backed up every questionable act he committed and flabbergasting thing he said with sheer basketball dominance.
– League MVP (2004)
– NBA Champion (2008)
– 15-time NBA All-Star
– 4-time NBA First Team
– 3-time NBA Second Team
– 9-time All-Defensive NBA First Team
– NBA Defensive Player of the Year (2008)
– 4-time NBA Rebounding Champion
That's just the half of it.
We can sit here and debate who Kevin Garnett 'the person' is all day, but, as for his basketball prowess — it is unchallenged.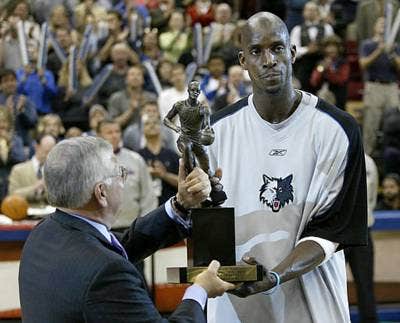 However, among this long list of accolades, one thing does stand out:€" one NBA championship in 20+ seasons played. How on Earth does Kevin Garnett have only ONE ring? We are talking about arguably the best defensive big man of all-time here. Why did he have to join a 'Super Team' to do it? And does the fact he was only able to hoist the Larry O'Brien trophy once take away from his greatness?
The answer here is pretty simple: Garnett's status as one of the game's greats has nothing to do with rings. Instead his greatest legacy is single-handedly elevating an otherwise unnoticed franchise to relevancy.
Any expansion team can expect to lose more games than it wins. Let's call it growing pains. When the Timberwolves made their NBA debut in 1989, this tradition continued as Minnesota went 22-60 in their inaugural season. The following year: 29-53. Progress! But then rock bottom: three straight campaigns of 15-67, 19-63, and 20-62 –€" even with highly-touted draft picks Christian Laettner and Isaiah Rider added to the roster.
Things got so bad so fast that owners Harvey Ratner and Marv Wolfenson attempted to sell the franchise to a New Orleans-based group in 1994, which was ultimately rejected by the NBA's Board of Governors.
Only a few months later: "with the 5th pick in the 1995 NBA Draft, the Minnesota Timberwolves select … Kevin Garnett."
After a 26-56 rookie campaign, the lowly Minnesota Timberwolves qualified for the NBA playoffs every single season from that point forward through 2004.
Every conversation nowadays is about rings. Sorry, I meant #Ringz. Some of my favorites include: "Tom Brady is a better quarterback than Peyton Manning because he has twice as many rings." "Dan Marino shouldn't be in the hall of fame." "Patrick Ewing and Charles Barkley, nope, they can never be considered the best big men of all-time ever because they never won the big one."
We live in a society where the number of championships you have won deems your status like how high up in the Hollywood Hills your house is vs. everyone else's.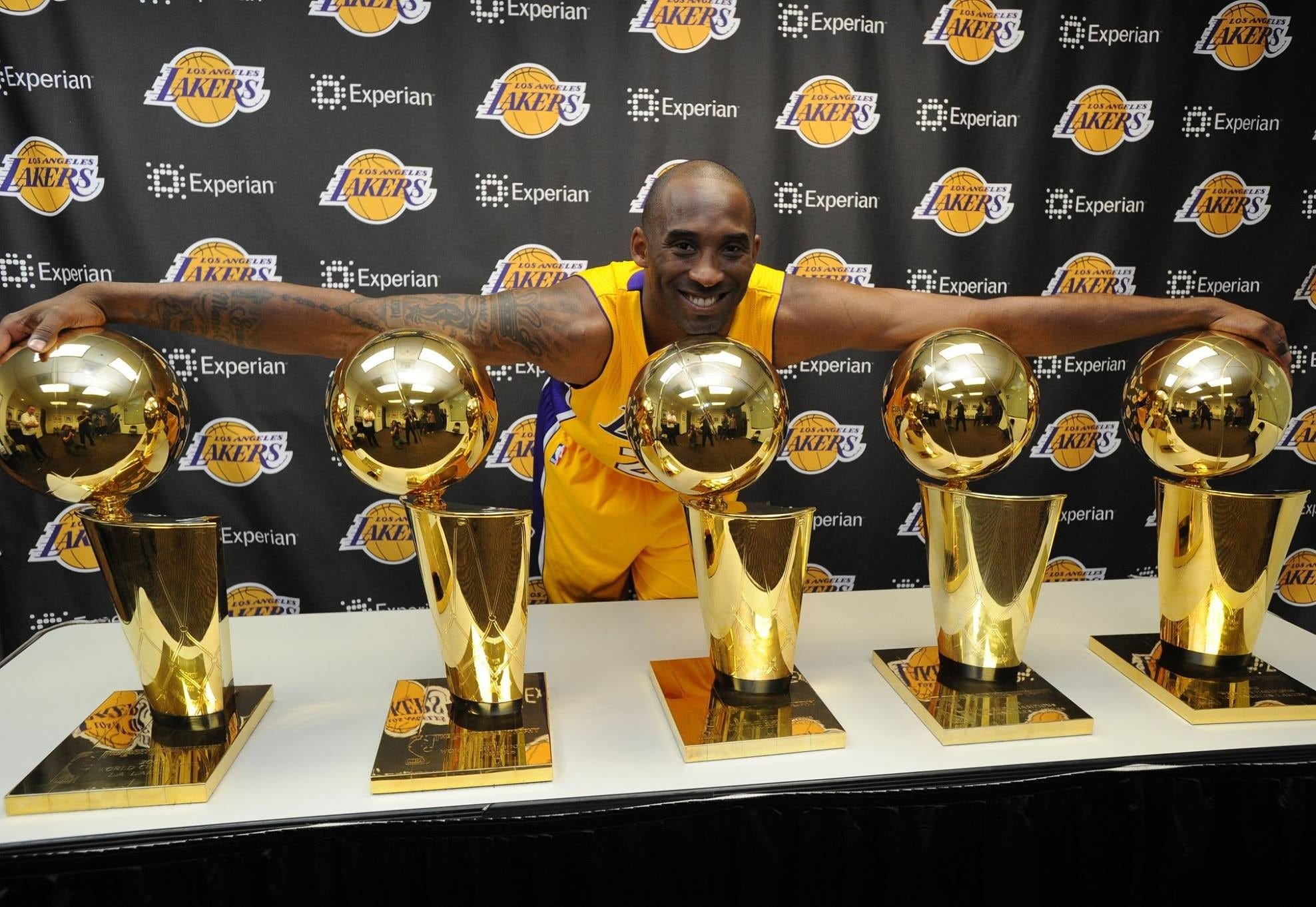 Don't let this notion undermine what Kevin Garnett accomplished. He was so good that the Minnesota Timberwolves, on July 31, 2007, traded him to the Boston Celtics in exchange for Al Jefferson, Ryan Gomes, Sebastian Telfair, Gerald Green, Theo Ratliff, cash considerations, the Celtics' 2009 first-round draft pick, and the 2009 first-round pick which Minnesota had traded to Boston as a part of the Ricky Davis-Wally Szczerbiak swap back in 2006. The 7-for-1 deal constitutes the largest number of players traded for a single player in league history.
In 2013, the Brooklyn Nets — in an attempt to make a legitimate run at the NBA championship — traded Gerald Wallace, Kris Humphries, MarShon Brooks, Kris Joseph, Keith Bogans and THREE future first round draft picks (2014, 2016 and 2018 as well as the right to swap first round picks in 2017) in exchange for Kevin Garnett (and Paul Pierce).
Even at the age of 37 … THIRTY-SEVEN … with almost 20 seasons of NBA tread on his tires at the time (which carries the same multiplier as dog years), Kevin Garnett was still good enough that NBA franchises were willing to mortgage their ENTIRE future for a short-term stint of his services.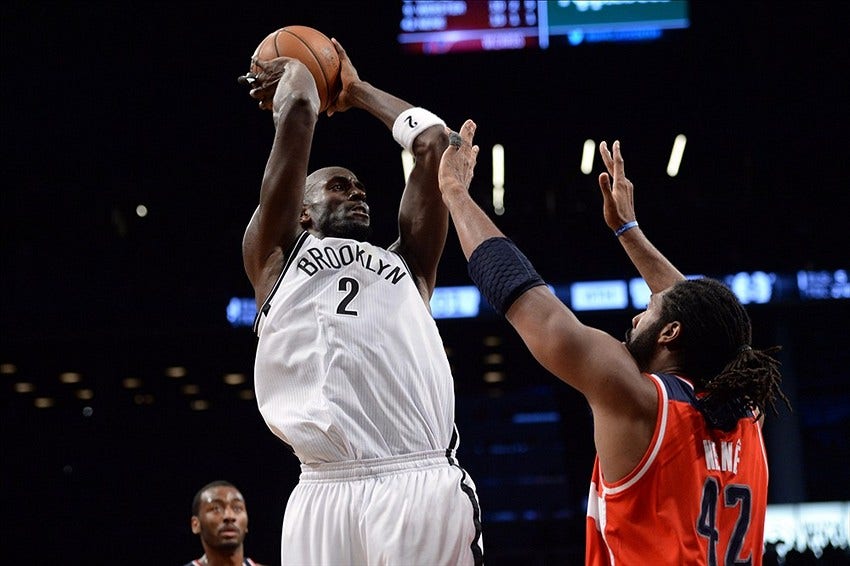 THAT is what makes Kevin Garnett one of, if not the most memorable players of all-time. During the post-Jordan era, we have never seen anyone TWICE be the focal point of a "we are willing to liquidate everything we have right now in exchange for one player" blockbuster trade of this magnitude.
He's not going to be on the Mount Rushmore of the NBA's greatest ever…
He's not going to get the same recognition as Bill Russell, Michael Jordan, Kobe Bryant, or any superstar who has at least 5 championships to their name…
He didn't pomp & circumstance his retirement around the NBA for a year…
He didn't Irish exit out the back door like Tim Duncan did a couple months ago…
He left the NBA as Kevin Garnett: the man who you wanted nothing more than to hate, but, couldn't help respect.