Kevin Garnett Leaves Minnesota Timberwolves In Good Hands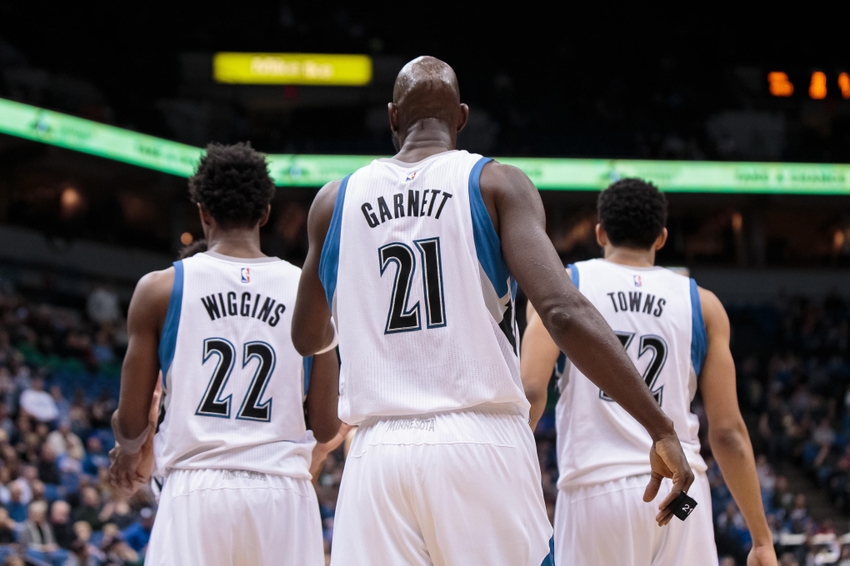 Kevin Garnett's retirement won't be easy to cope with in the short-term, but he's left the Minnesota Timberwolves in good hands.
---
With mere days remaining before the commencement of training camp, Kevin Garnett shocked the NBA with his sudden retirement. Mere months after fellow NBA legends Kobe Bryant and Tim Duncan walked away from the game, Garnett chose to do the same.
Though his departure is shocking and heartbreaking, Garnett has left the Minnesota Timberwolves in a much better place than it was when when he returned.
Garnett is retiring after a 21-year career that's booked him a first class ticket to the Hall of Fame. He won an NBA championship and the Defensive Player of the Year award in 2008, MVP in 2004, and received nine All-NBA nods, 12 All-Defensive Team selections, and 15 All-Star Game bids.
Most importantly, Garnett made the Timberwolves an organization worth talking about.
Garnett took Minnesota to its first ever postseason appearance in 1996-97. He led the Timberwolves to the playoffs in eight consecutive seasons, including his unforgettable MVP campaign in 2003-04.
During that legendary 2003-04 campaign, Garnett led the Timberwolves to the first and only Western Conference Finals appearance in franchise history.
Minnesota has never made the playoffs without Garnett on the roster.
Garnett is Minnesota's all-time leader in points, rebounds, and assists—a testament to his incomparable versatility. Before the stretch 4 was dominating the NBA, he was an anomaly at power forward.
An elite all-around defender, dominant rebounder, lethal scorer, and gifted ball-handler and facilitator, Garnett did it all.
Between 1999-2000 and 2004-05, Garnett averaged 22.6 points, 12.7 rebounds, 5.3 assists, 1.7 blocks, and 1.4 steals per game. He's No. 17 on the NBA's all-time scoring list, No. 9 on the all-time rebounding list, No. 17 in blocks, and No. 16 in steals.
He's even No. 47 all-time in assists.
Though his departure may be devastating, Garnett has left the keys to the Timberwolves' kingdom in the hands of two players who could one day join him in the Hall of Fame.
Minnesota has the No. 1 overall selections from both the 2015 and 2016 NBA Drafts: Andrew Wiggins and Karl-Anthony Towns. Both players won Rookie of the Year, and both have the look of future NBA superstars.
It's Garnett's mentorship that could help both players achieve their all-time potential.
Whether you love or hate Garnett, his leadership has never been questioned. He was the heart and soul of the NBA champion Boston Celtics, the emotional leader of the Timberwolves, and the voice of reason for the Brooklyn Nets.
Towns took to Instagram to thank Garnett and inform him of what the future holds.
"We talked. I know what I must do. I'll take it from here."
Powerful words from the new face of the franchise.
After just one season, Towns has already earned his place as one of the best players in the NBA. He unanimously won Rookie of the Year by putting forth one of the best debut seasons in league history.
According to Basketball-Reference.com, Towns became the first rookie to average at least 18.0 points, 10.0 rebounds, 2.0 assists, and 1.5 blocks since Tim Duncan in 1997-98.
The only other player in NBA history to average those numbers as a rookie was David Robinson, who was a 24-year-old rookie in 1989-90.
It's safe to say Towns has the talent to complete the process of leading Minnesota back to the playoffs.
Working alongside Towns will be Wiggins, who averaged 20.7 points per game in just his second NBA season. He still has a lot to learn about being an all-around basketball player, but his freakish athleticism and prototypical build present elite upside.
Wiggins took to Instagram to thank Garnett for his words of wisdom.
Much like Towns, Wiggins has been heavily influenced by Garnett's presence.
Minnesota has a number of other intriguing young players, including Gorgui Dieng, Kris Dunn, Zach LaVine, Shabazz Muhammad, and Ricky Rubio. The foundation for Minnesota's success will be its stars, but its championship aspirations will be heavily influenced by its balance and depth.
One simply can't help but think any success this team experiences will be a direct result of Garnett's return to Minnesota.
When Garnett came back to the Timberwolves, he immediately held everyone accountable. From yelling at players for taking plays off during practice to teaching the young rising stars the proper work habits, Garnett has been an invaluable asset.
It's no coincidence that the man whom Minnesota recently hired as head coach, Tom Thibodeau, is cut from the same cloth as Garnett.
Don't forget: Thibodeau was an assistant coach for the Celtics when Garnett helped Boston win the NBA championship in 2008.
Kevin Garnett will be missed on the court in Minnesota, but he's left a lasting legacy as the greatest player in franchise history. More importantly, he's the leader who has ushered in the new era.
Enjoy retirement, KG. The Hall of Fame will be waiting for you.
This article originally appeared on