Kevin Garnett Had Spot With Los Angeles Clippers, Says Doc Rivers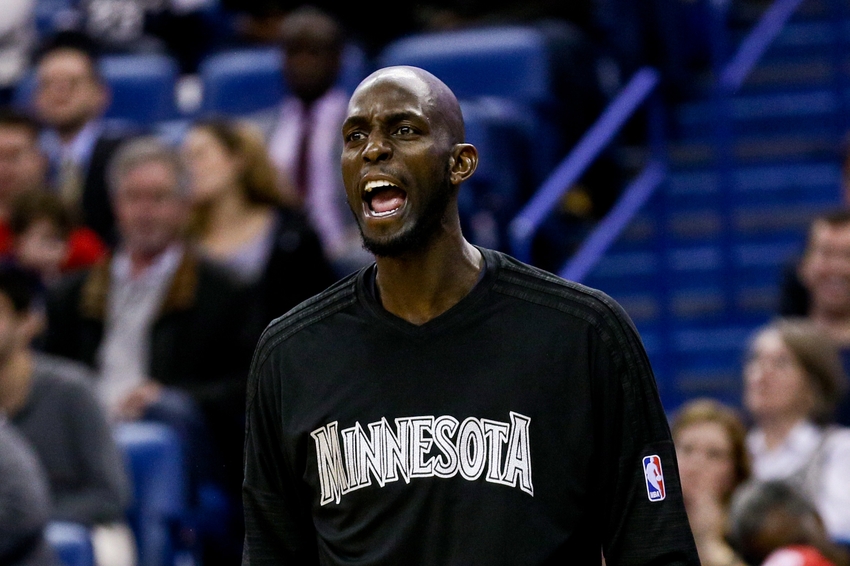 Kevin Garnett has retired from the NBA, but had he wanted to continue his career, the Los Angeles Clippers would have welcomed him with open arms.
Kevin Garnett announced his retirement from the NBA last week. The 40-year old decided it was time to walk away from the game that he has played at the highest level for more than half of his life.
Garnett and the Minnesota Timberwolves worked on a contract settlement to part ways, as he had one more year left on his contract. A buyout was agreed upon, ending his second stint with the Timberwolves and his playing career.
But, had Garnett decided that he wanted to keep playing, it sounds like he had at least one place he could have signed with. Had Garnett decided to play, the Los Angeles Clippers would have gladly added him to their roster.
Clippers head coach and general manager Doc Rivers told ESPN.com on Friday that he was willing to add Garnett to the roster had he wanted to play. While Rivers has shown his admiration for Garnett, calling him his favorite player to coach, Garnett just no longer wanted to play.
"He [Garnett] doesn't want to play," Rivers said. "I'm sure he won't play again. I think he realized, 'Why am I doing this?'

"I would have absolutely been interested in bringing him here. You always find a place for a guy like that, whose voice in the locker room is so strong, so clear, so impactful.
After Garnett was traded to the Timberwolves at the NBA trade deadline in February 2015, it was clear why he was doing it. Garnett was convinced by his friend Flip Saunders to waive his no-trade clause and return to the first organization he called home.
Saunders was able to convince Garnett to sign a two-year, $16 million deal with the Timberwolves last season with an end goal in mind.
Saunders was the head coach for the team, but the two planned on teaming up to be a part of a group to purchase the Timberwolves from owner Glen Taylor.
Unfortunately, that plan was derailed when Saunders was diagnosed with Hodgkin Lymphoma. Saunders would pass away three months after the diagnosis, as Garnett lost more than a head coach.
Saunders was a friend and ally for Garnett, who saw his already strained relationship with Taylor continue to deteriorate after the season.
Saunders was replaced by Sam Mitchell, another person that Garnett liked. But, after the 2015-16 season, Mitchell was fired along with general manager Milt Newton.
It was a relationship that was beyond fixing, as Taylor admitted that he had not talked to Garnett in an extended period of time.
"It wasn't a great ending," Rivers said. "I'm not going to say too much about it, but once Flip passed away it threw a wrench into everything."
Rivers also said that Garnett told him he was feeling great when they talked and that he was working out as recently as a few weeks ago. Nagging knee issues could have played a part in Garnett's decision, as he played in only 38 games, averaging 14.2 minutes per game.
But, Rivers believes that the knee issues could be handled if a correct schedule is followed.
"The sad thing is he could play another year if he wanted to," Rivers said. "Maybe that's why he's retired but not retired. He loves the young guys on that Minnesota team. They're great listeners and he loved working with them. It's too bad it's ending like this for him."
Rivers said that he would offer something to Garnett to try and get him in the fold with the Clippers. He was a great mentor last season with a young Timberwolves team, namely with Rookie of the Year Karl-Anthony Towns.
Towns posted a message on his Instagram account when Garnett announced his retirement, saying he would miss playing alongside him.
"You know how much I'm gonna miss playing with you and just simply having you around. "Congrats on having one of the greatest careers the game has ever seen. We talked. I know what I must do. I'll take it from here."
Being a mentor would be a great role for Garnett, as he is an excellent leader. He has a lot to teach young players, as he entered the NBA as a 19-year-old straight out of high school.
Garnett–who was a 15-time All-Star, MVP and NBA champion–has a wealth of knowledge he would love to share and it would be dumb for any young player to ignore it.
This article originally appeared on