Kevin Durant voices support for Colin Kaepernick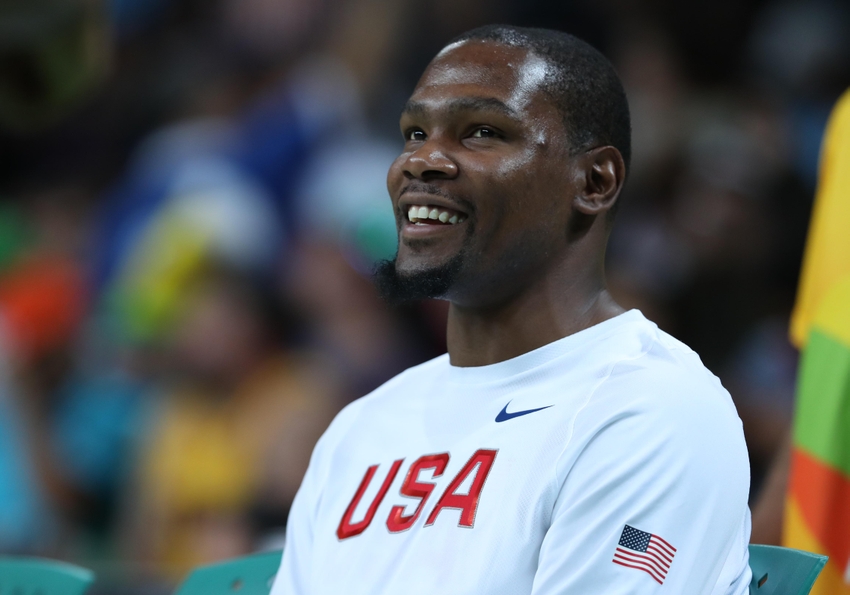 Kevin Durant voiced his support for 49ers' quarterback Colin Kaepernick. This comes days after Steph Curry said that he applauds Kaepernick for his actions.
Days after reigning the MVP Stephen Curry said that he applauded San Francisco 49ers' quarterback Colin Kaepernick for his actions, Kevin Durant has weighed in. Kaepernick has been protesting systemic racism by sitting or kneeling during the national anthem. Obviously, not everyone has been supportive.
But athletes have begun to weigh in. Durant spoke from a leadership gathering in Austin, Texas according to the San Jose Mercury News' Anthony Slater. He voiced his support for Kaepernick, saying:
"I'm behind anyone who stands up for what they believe in. Colin Kaepernick is standing up for what he believes in. That's what makes our country so great, right? You have the luxury to do so. He was unapologetic about it and, in his defense, I don't think he was trying to disrespect anyone. I think he was trying to get his point across. I'm all for anyone who wants to do that. As athletes, we have this huge platform. A lot of people are watching at all times. Sometimes it may not be what you do, they like. But if you feel like it's gonna be impactful, that's on you. I feel like everyone should stand up for what they believe."
Durant acknowledged his platform. After hearing the backlash from Curry's comments, it's a bold statement for the newest Warrior to make. But he practiced what he preached and gave his true opinion, regardless of how unpopular it might be for some.
The former MVP had a busy summer, winning gold as he represented the United States at the Rio Olympics. Now two Warriors have spoken up. It will be interesting to see if any more do and if they organize their own protest.
More from Blue Man Hoop
This article originally appeared on