Russell Westbrook played a big role in Kevin Durant's decision to sign with Golden State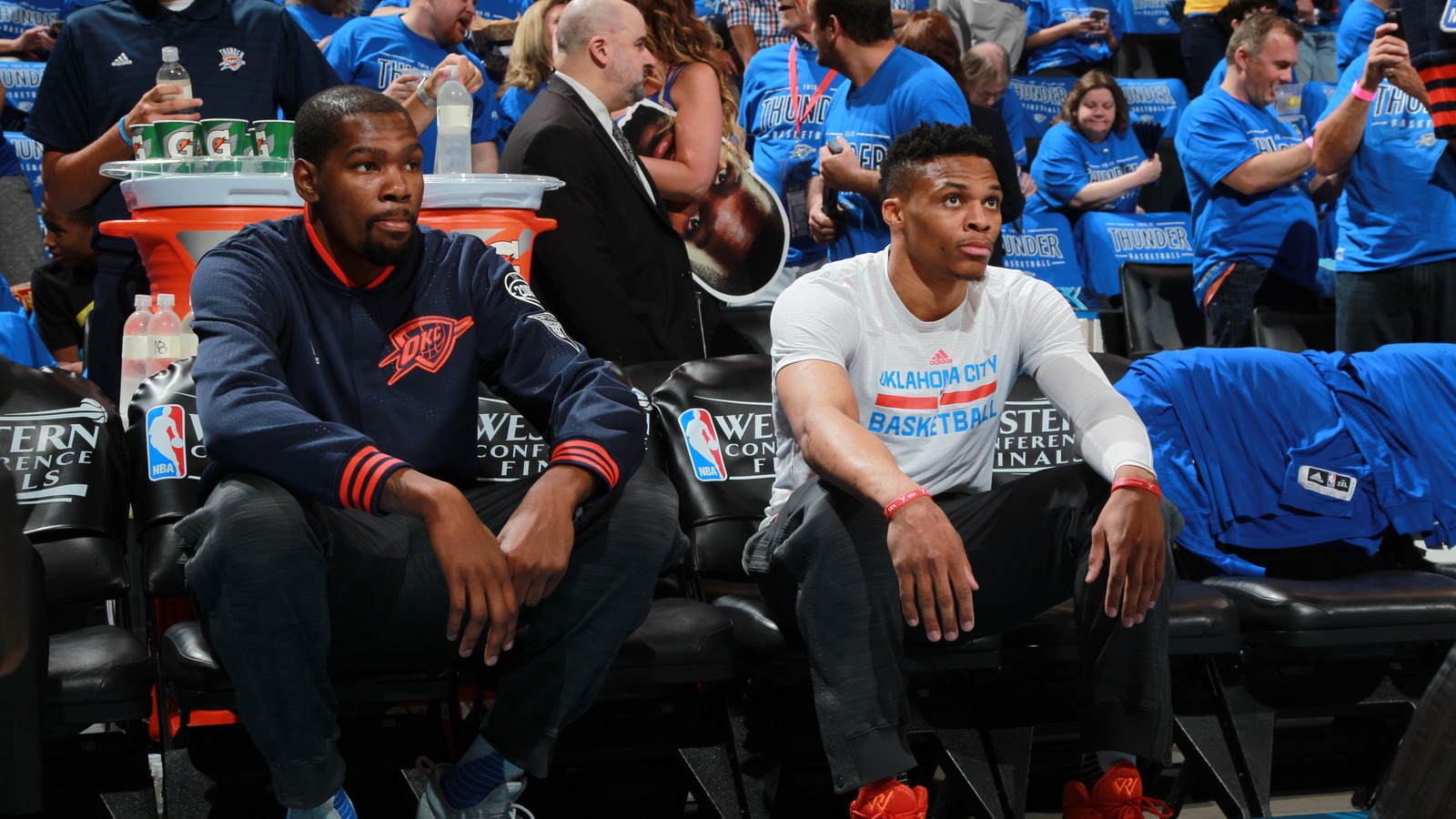 Do you know what Oklahoma City guard Russell Westbrook is going to do when he becomes a free agent next summer?
There's almost no chance that he returns to Oklahoma City —€" not now that Kevin Durant is a member of the Golden State Warriors and the Thunder are no longer title contenders.
Where he goes, what he wants, how this all goes down —€" no one knows —€" and that is not a new development.
Durant is one of the best scorers in NBA history, and he has a chance to go down as one of the sport's all-time great players. As evidenced, where he plays changes the NBA landscape in a seismic way.
Durant knows how much impact he has on the league as a whole. He knows how important he is to the NBA —€" to the sport —€" and understands that his prime years and his legacy are not things to be trifled with.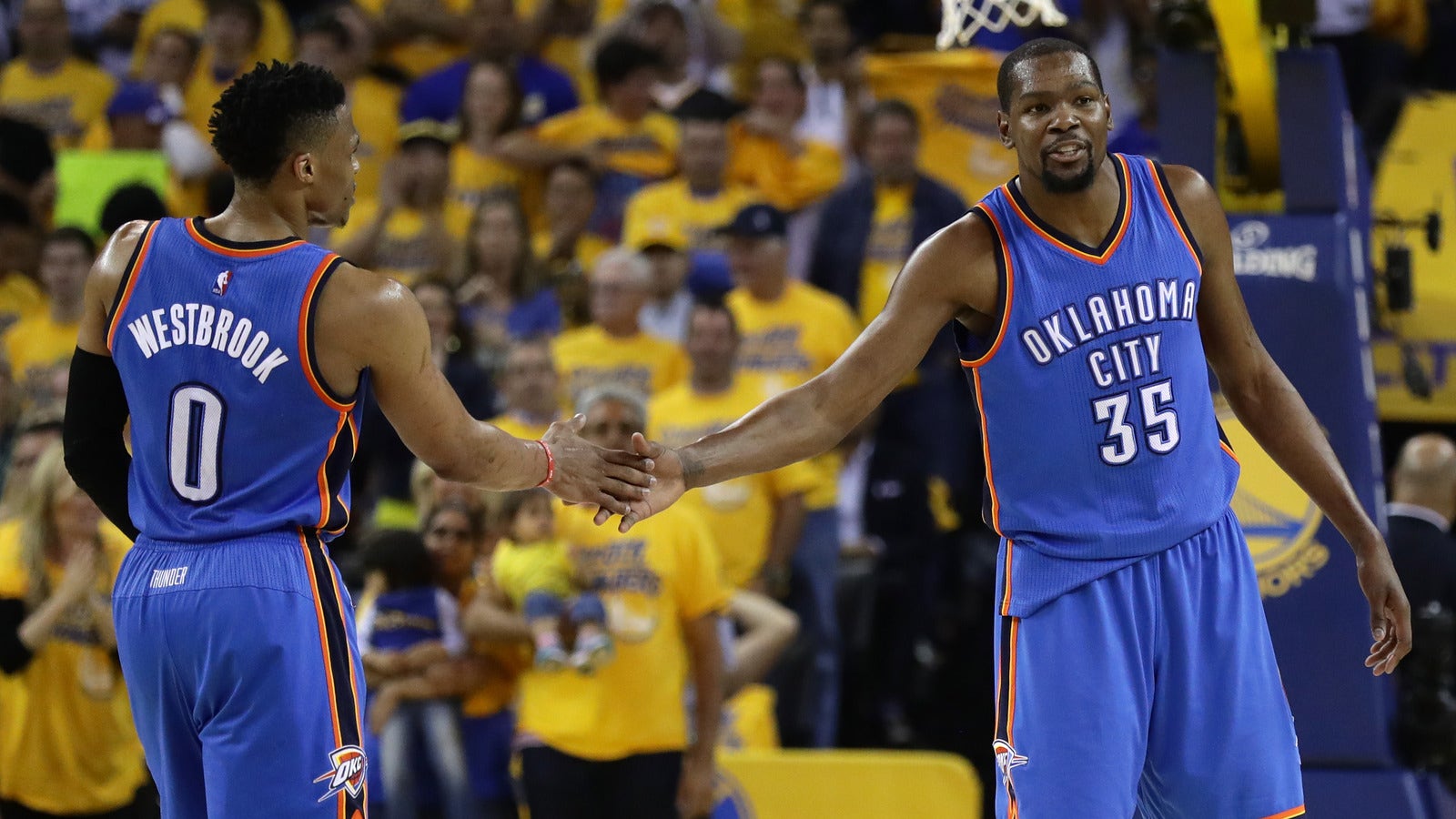 Durant faced a tough decision this summer. Golden State was, by far, the most attractive landing spot for the free agent, but the opportunity to join the Warriors only existed this summer.
Thanks to a $24 million jump in the salary cap and a bit of cosmic luck with the contracts on their books, the Warriors were able to create enough space to add a max-level player this July. Next summer, when Stephen Curry is due what will be the largest contract in NBA history, that space will not exist —€" especially not after the Warriors matched Harrison Barnes' max offer sheet following Durant's pass, as was the plan.
No, if Durant wanted to go to the Warriors, it was this summer or never.
The other options on the table this year were re-signing for a year with the Thunder, which would put Durant and Westbrook on the free-agent market in the summer of 2017, or Boston. In terms of realistic (or, more accurately, attractive) options, that was it.
In 2017, the options expand, but looking into the future, none of those options appeared more attractive than Golden State was this summer.
In essence, Durant couldn't delay his choice with a one-year deal with OKC —€" not if he wanted to increase his chances of winning a title in his prime. He had to decide this summer if his future, his prime, was going to be spent in Golden State or Oklahoma City.
And so we get back to the original question —€" do you know what Westbrook is going to do next summer?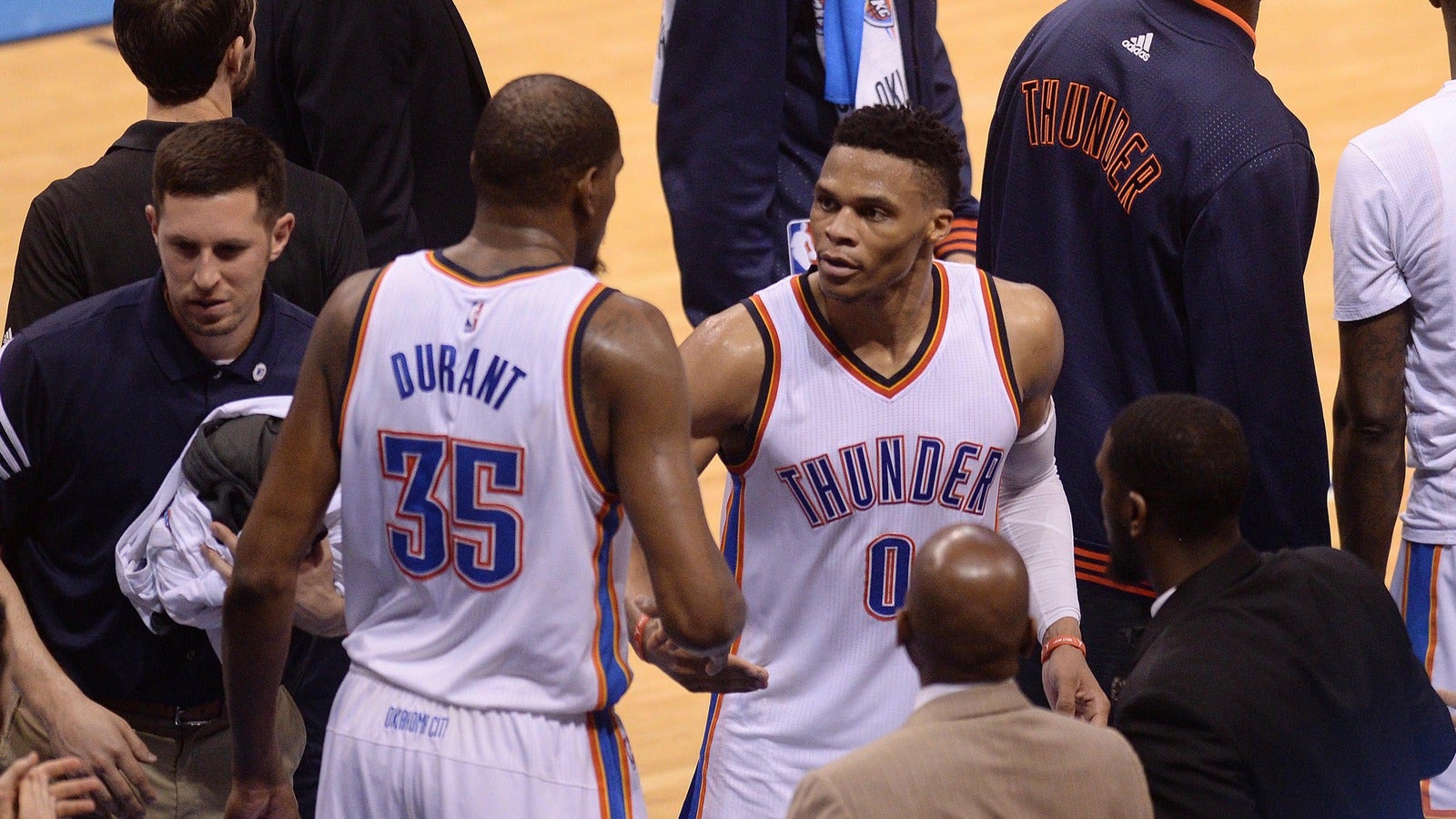 Knowing the answer to that question is everything. Oklahoma City isn't a title contender unless both Durant and Westbrook are there. Oklahoma City just isn't an attractive option for a free agent without Westbrook, just as it isn't a title contender without Durant.
That was a problem –€" according to people close to the situation — Westbrook couldn't guarantee Durant or the Thunder that he would stay in OKC if Durant did. He was noncommittal, flippant, and that scared Durant.
Westbrook is an amazing player, but he's a notch below the 2014 MVP. Yet, in a way, Westbrook was in control of Durant's future.
That didn't sit well.
Westbrook and Durant have a complicated relationship, but Durant's free agency highlighted that the relationship was one of convenience and not a real bond.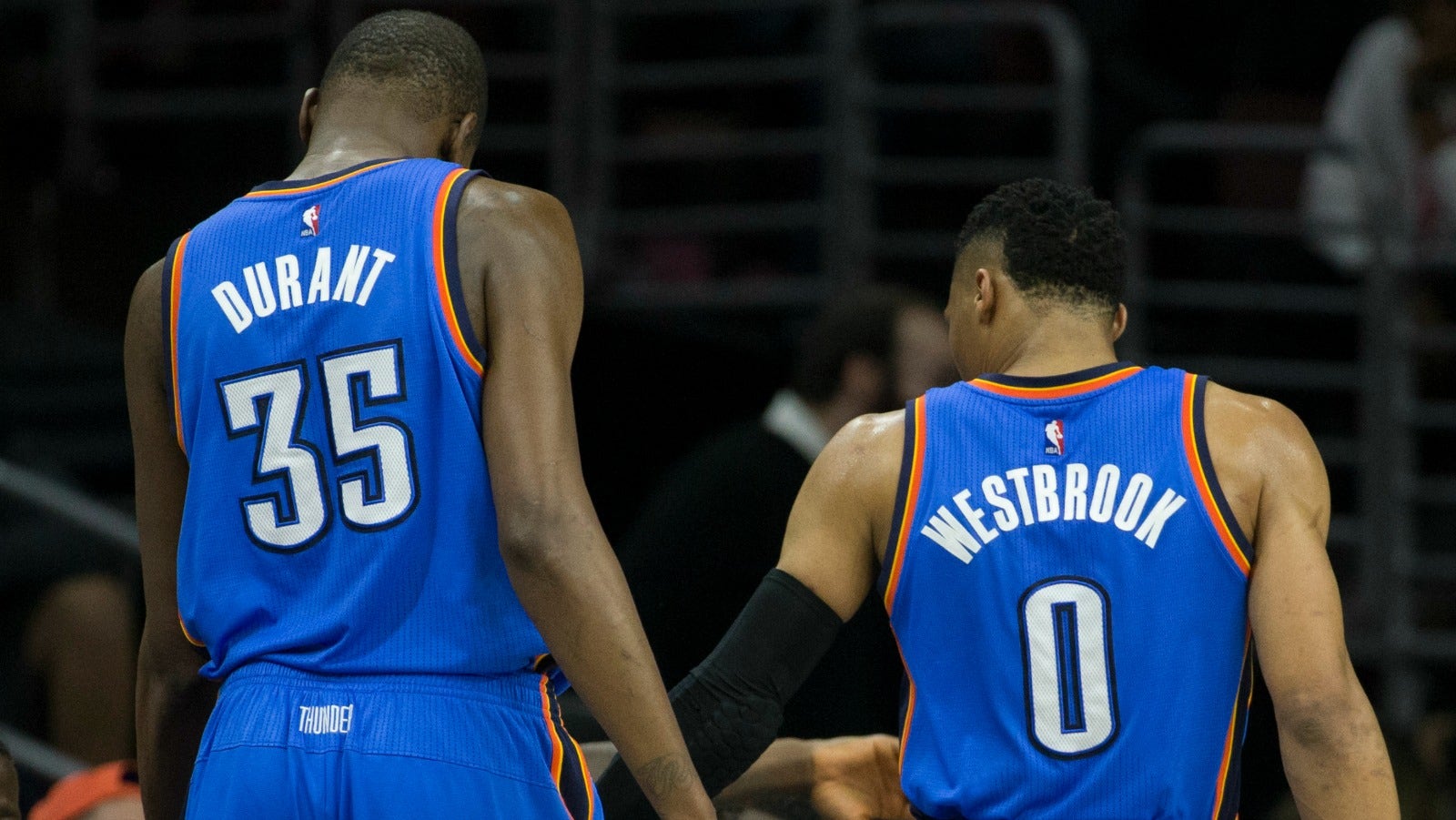 There are dozens of factors that brought us to Thursday, when Durant officially signed with the Warriors and was introduced in Oakland —€" including the trade of Serge Ibaka to Orlando for Victor Oladipo, Ersan Ilyasova, and Domantas Sabonis, a move that makes the Thunder better in the long run but was viewed as putting a slight dent in the Thunder's 2017 title chances.
But above all else, it was Durant buying into what the Warriors were selling and not having a solid understanding of Oklahoma City's future, which is directly tied to the decision of one of the league's most inscrutable characters, Westbrook.
The point guard will leave Oklahoma City at some point in the next year, either through a trade or free agency, but no one will be able to blame him for doing so. Perhaps that's why he wasn't forthright with Durant or the Thunder. Or perhaps he doesn't know what he wants to do. The suggestion that, even if Durant returned to OKC for one season and the Thunder won the title, Westbrook might still leave in free agency wasn't out of the question. Durant had to trust that possibility wasn't in play, and yet he never received that reassurance. No one knew what Westbrook was going to do.
Durant didn't take the risk. He's too good a player to push his legacy to the middle of the table like that. He went to the West's other title contender, and a team that will compete for titles —€" with or without Durant —€" for at least the next three or four years.