NBA players react to Kevin Durant signing with the Warriors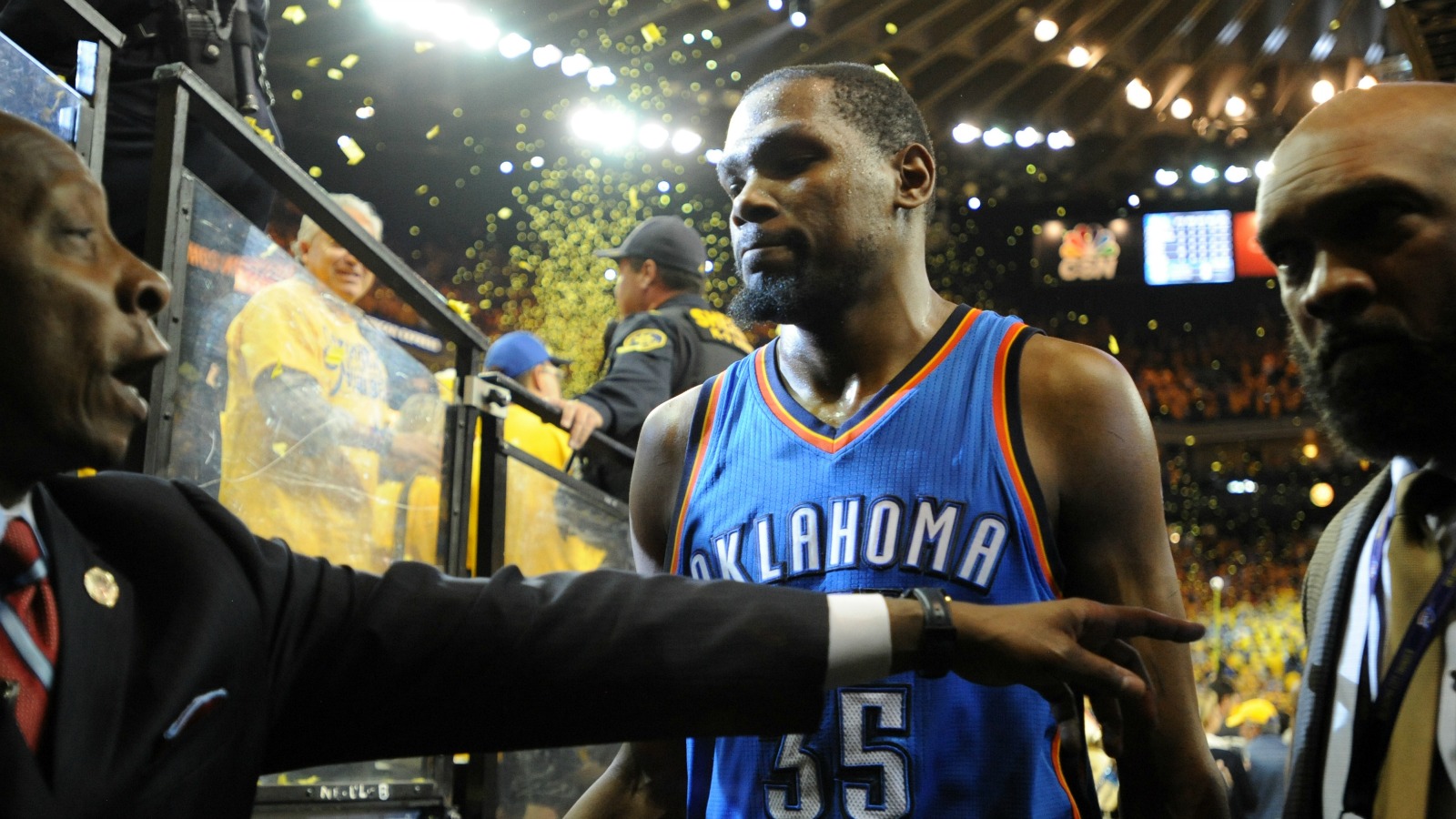 Kevin Durant announced Monday that he'll be playing with Stephen Curry, Klay Thompson and Draymond Green in Golden State next year on what is, on paper, one of the scariest teams of all time. After meeting with a number of teams over the weekend, Durant chose to leave Oklahoma City and join a team that won a record 73 games in the regular season and made a repeat trip to the NBA Finals, only to fall to LeBron James and the Cleveland Cavaliers.
The Thunder were considered by many to be the favorite to land Durant, but his decision sent shockwaves around the NBA.
The game has really changed. #happy4thofjuly

— Damian Lillard (@Dame_Lillard) July 4, 2016
Whoa…

— Jeremy Lin (@JLin7) July 4, 2016
Thats crazy!!!! KD in GSW???? …. R they gonna score 200 points a game😂😂

— Marcin Gortat (@MGortat) July 4, 2016
Looks I just turnt the gogo wifi on at the right time…

— Andre Iguodala (@andre) July 4, 2016
WOW… Really?

— Evan Fournier (@EvanFourmizz) July 4, 2016
Welp now we know there's one illegal team on 2k..

— Spencer Dinwiddie (@SDinwiddie_25) July 4, 2016
Sigh

— Ekpe Udoh (@EkpeUdoh) July 4, 2016
woah

— Sam Dekker (@dekker) July 4, 2016
That just shook the NBA world lol crazyyyy

— Shane Larkin (@ShaneLarkin_3) July 4, 2016
Don't sleep on Jerry West and his Impact on Durants decision.

— Chris Webber (@realchriswebber) July 4, 2016
These the people yall wanna be huh..

— Jordan Crawford (@jcraw55) July 4, 2016
Looks like I will be going up to the Bay a ton this year to watch @StephenCurry30 & @KDTrey5 . #KillerSquad

— Jay Williams (@RealJayWilliams) July 4, 2016
This makes the @warriors the HEAVY favorites to win it all next year duh…what happens next season if they don't? Hmm

— Greg Anthony (@GregAnthony50) July 4, 2016
Wow……smh

— Austin Rivers (@AustinRivers25) July 4, 2016
Man crazy!!!! Golden state gunna have to move the 3pt line back at home to make things fair!! https://t.co/82SCiZzxbx

— Austin Daye (@Adaye5) July 4, 2016