5 teams Kevin Durant should consider in free agency, but isn't
We know the frontrunners in the pursuit of Kevin Durant's basketball services this summer. But what about the underdogs?
Durant will reportedly meet with six teams when free agency begins at 12:01 a.m. ET early Friday morning — the Boston Celtics, Golden State Warriors, Los Angeles Clippers, Miami Heat, Oklahoma City Thunder and San Antonio Spurs. All six teams make a lot of sense for Durant heading into next season and the years beyond.
They're not the only teams that could give Durant what he's looking for, though. If KD's smart, he should line up meetings with these five teams before he makes a decision.
Durant's intrigued by New York, thanks to the Knicks' trade for Derrick Rose, the presence of Carmelo Anthony, and the possibility that Kristaps Porzingis turns into the next Hall-of-Fame NBA big man.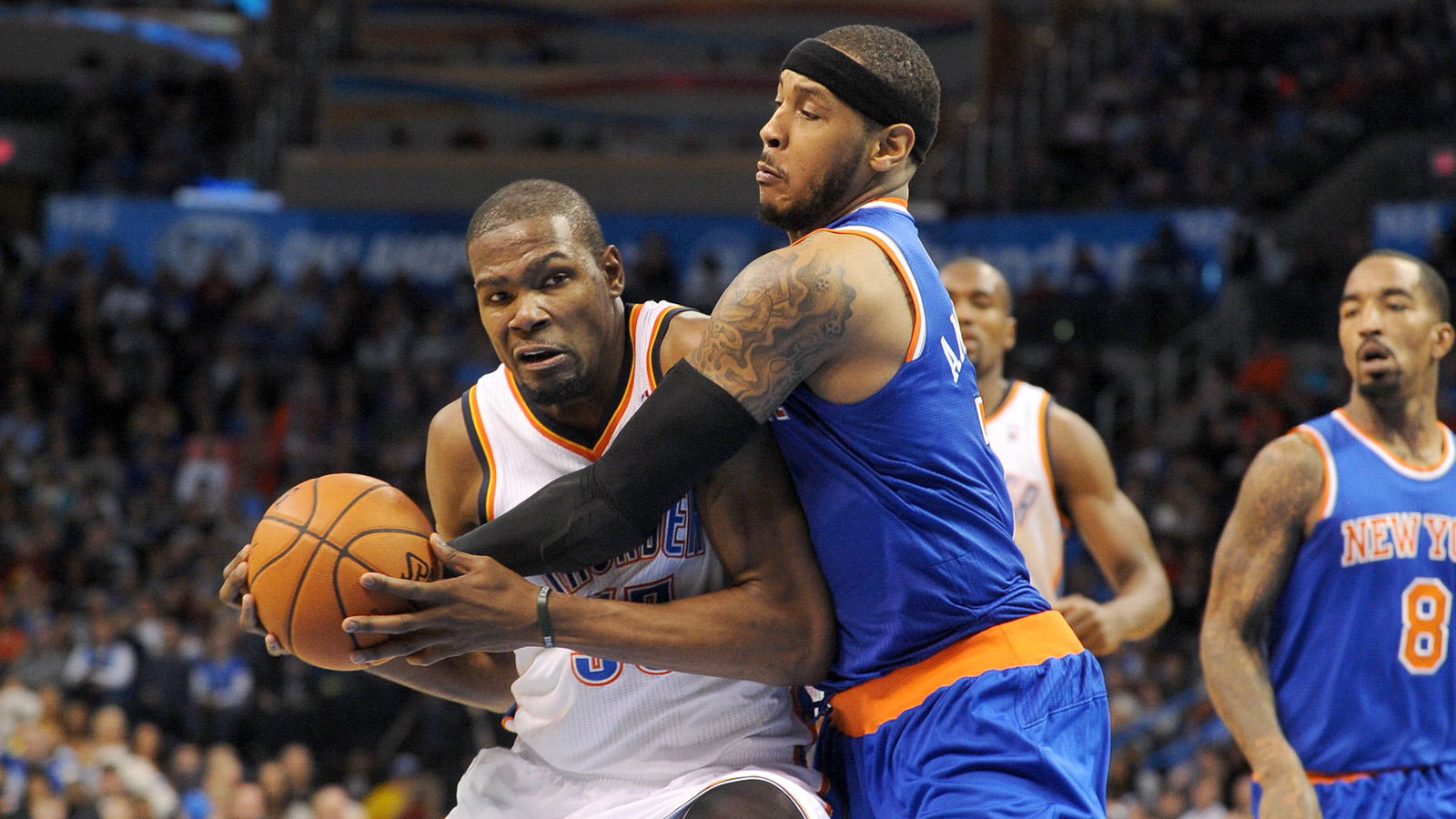 A move to New York is about more than just the current roster, though. The Knicks famously haven't won a title in over 40 years. Bringing a championship to the Big Apple would make Durant a basketball god. He'd be the man who restored basketball's Mecca to its rightful place atop the hardwood universe.
It'd be an extraordinarily difficult task, to be sure, but that's part of the allure. Where dozens of players have failed before, Durant could prove that he alone had the right combination of skill, constitution and leadership to put all of the years of the Knicks' futility to bed.
No, this isn't trolling — although there's about a zero percent chance the Cavs could find the necessary cap room to sign Durant, and there's probably even less of a chance that he'd want to team up with LeBron James and form a superteam in Cleveland. Joining forces with the defending champion would make Durant look like a fair-weather bandwagon jumper just trying to get rings, and Durant remembers how we reacted to LeBron's "Decision." KD probably doesn't want that kind of vitriol in his life; it's the same reasoning that has the Warriors believing their Finals loss increased their chances of signing Durant this summer.
On the other hand, Durant has made it clear that basketball is his top priority this offseason. The Cavs would give him the best chance of winning a title, bar none. Furthermore, KD should try to set up a meeting in Cleveland regardless of whether he wants to join the Cavaliers. Gathering information is always valuable. So why not sit down with LeBron, David Griffin and the rest of the Cleveland braintrust, get a sense of what they're thinking, and use that knowledge for your own gain?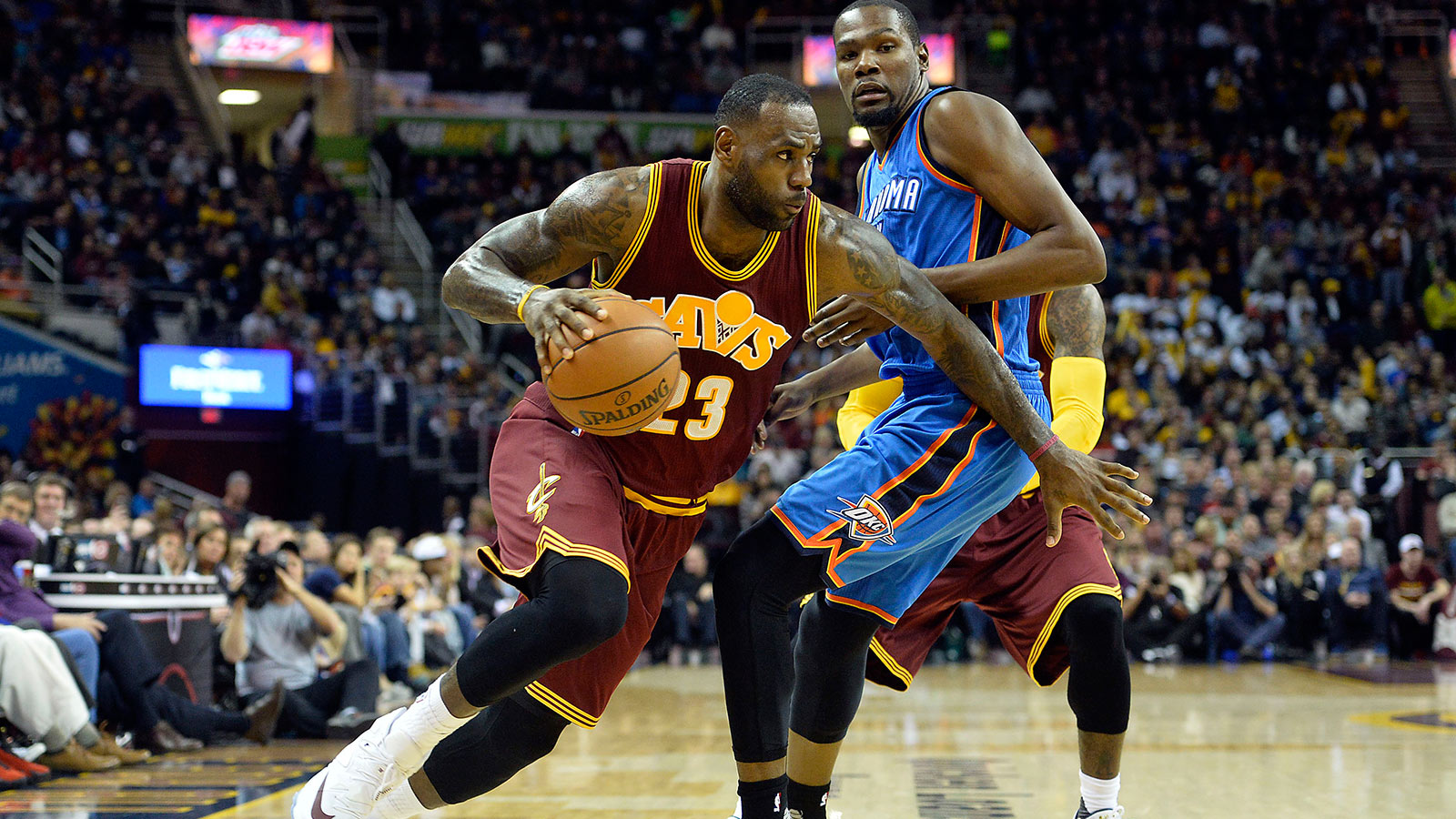 The NBA doesn't have enough sabotage, frankly. We demand more "Game of Thrones" in our basketball.
Portland would be the toughest sell for Durant. The Blazers aren't on the cusp of a championship. Portland isn't at all a big market. And staying in the Western Conference means trying to topple the likes of the Warriors, Spurs and whichever other contender rises for a shot at the Finals.
With all that said, the Blazers are a team on the rise with an All-Star point guard in Damian Lillard, who might be an even better fit alongside Durant than Russell Westbrook. Lillard's clearly the superior 3-point shooter, and while his assist numbers lag behind Westbrook's, most of that is by design. Portland's offense is predicated on the ball moving through all five players to find the best shot on each possession, thanks to Terry Stotts, who somehow continues to fly under the radar as one of the league's best coaches.
And more than any other team on this list, Portland is about Durant's opportunities off the court. He's one of Nike's prestige signature athletes, after all. Being close to corporate headquarters in Beaverton, Oregon, would be a wise move for Durant, at least from a business perspective.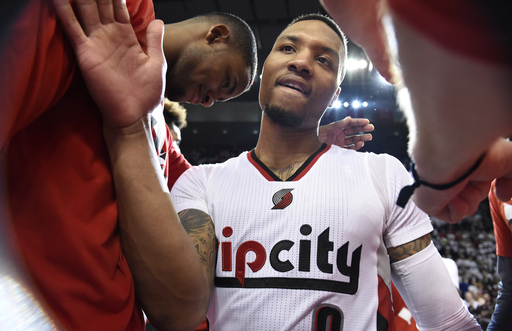 Championships are nice, for sure. But wealth is pretty cool, too.
Pump the brakes a little bit, Lakers fans. This isn't about the 2016-17 season. There's no reason for KD to sign with Los Angeles this summer.
What Durant should do, though, is take a brief meeting with the Lakers and let them know that anything is possible next summer (assuming he signs a deal to return to Oklahoma City for one-year, which still seems the likeliest outcome). The message from KD would be very clear: Don't screw this up.
Remember, Russell Westbrook can be a free agent next summer, too. And the Lakers can have enough cap space to sign both Durant and Westbrook to max deals next summer, if they're so inclined. Though it would mean not rushing out and signing two max players this summer — which in turn would mean another season of 25-30 wins, max.
But that's not a bad thing. The Lakers' pick in the next draft is once again top-three protected. Keeping that pick and showing some real development this year might be enough to entice Durant to come to Los Angeles, don the purple and gold, and restore one of the league's marquee franchises to its former glory.
"I grew up being a Kobe fan of course, before I was a Kevin Durant fan"-Lakers' No. 2 pick Brandon Ingram #NBADrafthttps://t.co/v3iWen1Gqm

— FOX Sports (@FOXSports) June 24, 2016
Durant wants to win a title as soon as possible. That's cool. He's entering his 10th year in the league, and you never know what will happen in the future.
A word of advice to KD, though: If you want to give yourself the chance to win as many titles as possible, Mr. Durant, then you need to take a long, hard look at the Wolves. With Andrew Wiggins, Kris Dunn, Zach LaVine, and especially Karl-Anthony Towns, Minnesota is flush with young talent that should blossom into a championship contender in the coming years. Add Tom Thibodeau's coaching resume, and you've got the makings of a potential dynasty.
Or you would, anyway, if Durant were to join the Wolves. The one thing they're missing right now is a go-to scorer on the wing; suffice it to say that Durant fits that bill rather perfectly. Put him next to Towns, and no team is scoring on Minnesota in the playoffs. And his presence would take the offensive burden off of Wiggins, allowing him to focus on trying to become Scottie Pippen instead of Tracy McGrady.
The problem with young teams is that they're often years away from contention. The Wolves are the rare squad built on potential that's on the verge of taking the next step at any moment. With Durant leading the pack, the rest of the NBA would be on notice.