Kentavious Caldwell-Pope's absence in loss shows his value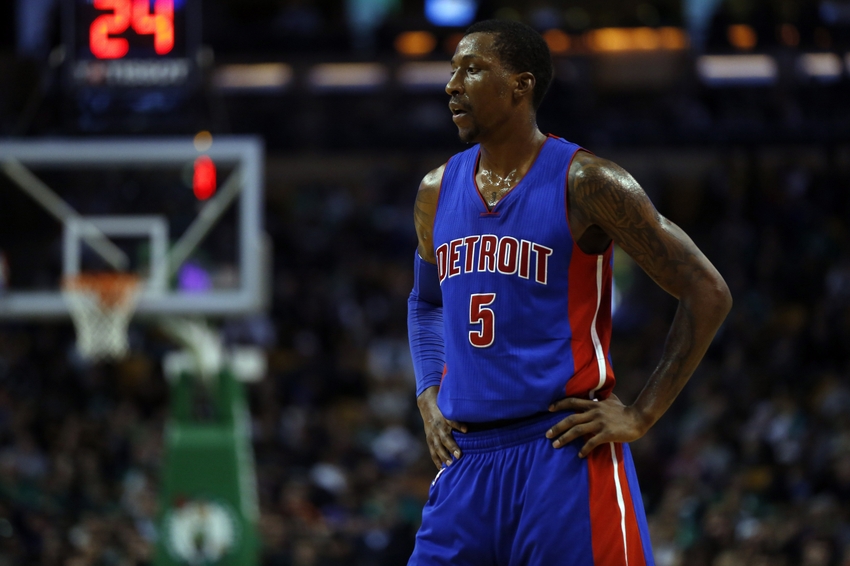 The Detroit Pistons were without Kentavious Caldwell-Pope Sunday night and took an ugly loss at the hands of the Philadelphia 76ers.
The shorthanded Detroit Pistons took a 97-79 beating at the hands of the Philadelphia 76ers on Sunday night. The Pistons were without Kentavious Caldwell-Pope due to a right knee contusion, and his absence was felt as his replacement Darrun Hilliard was ineffective in a spot start and Sixers guards ran roughshod over the perimeter defense.
While an 18-point loss can rarely be attributed to the absence of a single player, in this case it reveals some of how valuable KCP has been to the Pistons this season. While most of the focus on Caldwell-Pope has been on his surprising offensive output (14.3 points per game on 41 percent shooting and 37.3 percent shooting from long-range), basic offensive stats aren't the most revealing metric for his value to this team.
The most eye-opening metric associated with Kentavious Caldwell-Pope are his on/off splits. Thanks in no small part to Sunday's debacle against the Sixers, the Pistons are getting outscored 101.8 to a dreadful 96.2 points per 100 possessions for a net rating of -5.6 when KCP is off the floor. When he's on the floor, the Pistons are outscoring their opponents by a 105.7 to 100 margin, providing a +5.6 net rating.
That means that there is an 11.2 point swing between KCP's on/off splits. The next biggest swing on the Pistons roster is all the way down at +6.7, courtest of Jon Leuer.
No other starter has a bigger differential than Marcus Morris' +2.1 differential.
While KCP doesn't put up superstar numbers (and likely never will as the fourth scoring option when Ish Smith plays with the starters and fifth scoring option with Reggie Jackson on the floor), he may be proving himself to be the Pistons' most irreplaceable player in the light of these differentials.
KCP is expected to return to the lineup on Wednesday against the Dallas Mavericks, and the Pistons will need him back healthy as soon as possible.
This article originally appeared on