Kentavious Caldwell-Pope catches some eyes in the annual GM survey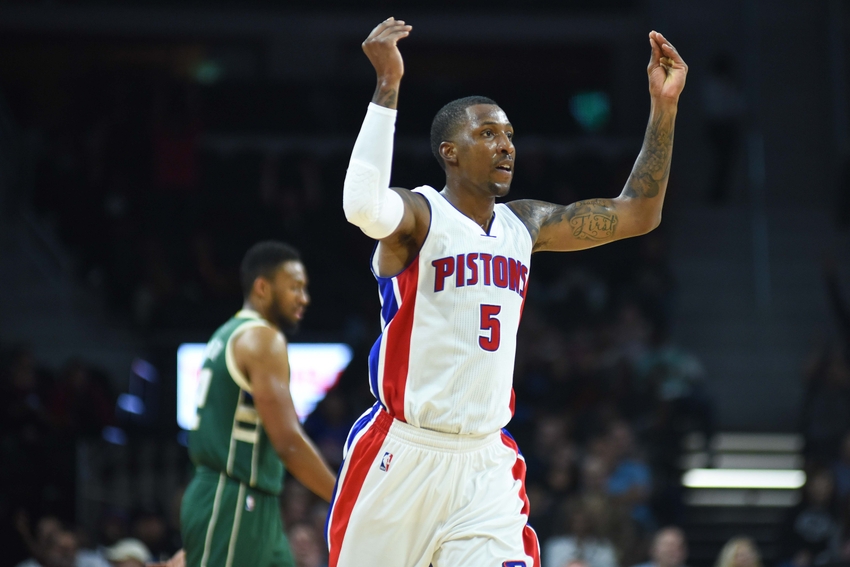 The Detroit Pistons appeared repeatedly in the annual NBA GM survey, but nobody made from the team made more waves than Kentavious Caldwell-Pope.
The Detroit Pistons appeared in multiple categories in the annual GM survey which was released Tuesday morning. While Henry Ellenson, Ish Smith and Stan Van Gundy were all mentioned, no Piston turned more GM heads than Kentavious Caldwell-Pope.
KCP received votes in two categories, being named as a "Player most likely to have a breakout season in 2016-17" and "Best perimeter defender in the NBA."
As KCP is entering a contract year and nearing the rookie contract extension deadline of October 31st, he's playing for a max contract.
That's a motivating factor that could help Caldwell-Pope put up the best season of his career. After regressing from three-point range last season and recording a career-worst 30.9 percent from long range, a bounce back to league-average from outside might be enough to qualify the coming season as a breakout.
His defense is widely touted and the NBA's GMs didn't miss that fact.
He's been called a "Curry-stopper", in reference to his ability to hold Stephen Curry of the Golden State Warriors to some of his lowest efficiency numbers of the regular season in their two meetings. While a "Curry-stopper" may be an overstatement, he's given the elite wings of the NBA absolute fits when he gets matched up with them on the perimeter.
As for the top vote-getters in those two categories, there should be no surprise. Devin Booker of the Phoenix Suns (and Grand Rapids native) took 31 percent of the vote for 2016-17 breakout, and Kawhi Leonard took 66.7 percent of the vote for best perimeter defender.
Other Pistons earning mentions: Henry Ellenson (Rookie who was the biggest steal where he was selected in the draft), Stan Van Gundy (Head coach who makes the best in-game adjustments, and head coach who has the best defensive schemes), and Ish Smith (fastest player with the ball).
The Pistons also came in fifth in the GMs' forecast of the Eastern Conference standings. 10 percent of GMs picked them to finish third in the east, 14.3 percent picked them to finish fourth, and the corresponding total score ranked them fifth in the conference with 3.4 percent of the total voting points.
What do you guys think of these results?
This article originally appeared on