Kentavious Caldwell-Pope and Reggie Bullock unlikely for extensions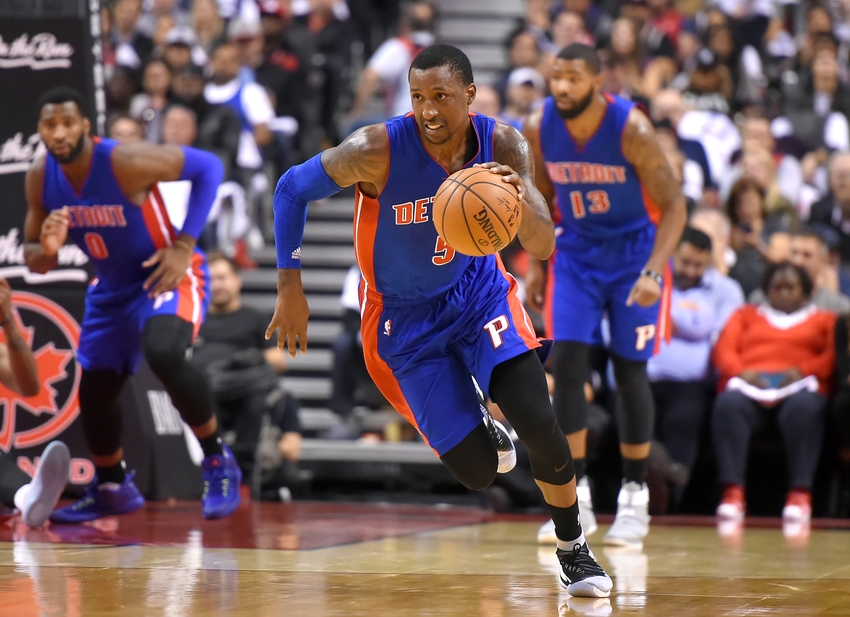 The Detroit Pistons are unlikely to sign Kentavious Caldwell-Pope and Reggie Bullock to contract extensions as the signing deadline nears.
The deadline for rooke contract extensions is quickly approaching and there remains no deal between the Detroit Pistons and either Kentavious Caldwell-Pope or Reggie Bullock.
If no deal is reached by 11:59 p.m. EST on Monday, both players will become restricted free agents at the end of the season. That means the Pistons will have matching rights, so the Pistons will retain both if they simply match any offer sheet extended to the players.
KCP be hoopin' pay that man!!!!

— Brandon Jennings (@brandonjennings) October 30, 2016
Head coach and president of basketball operations Stan Van Gundy spoke on the topic with MLive's Aaron McMann before Sunday's 98-83 win over the Milwaukee Bucks.
"We haven't been able to reach an agreement with either guy right now," Van Gundy said before the Pistons hosted the Milwaukee Bucks.

"We'll see what happens. We don't think it's a make-or-break thing for us."
Caldwell-Pope got off to a rough start to the season on the offensive side of the ball but had a breakout performance on Sunday against the Bucks. After scoring nine points total in the first two games of the year, he scored 21 points on 7-of-13 shooting from the floor and added six rebounds, two assists and two steals.
KCP is reportedly seeking upwards of $20 million per season on his next contract which seems warranted based on an exploding cap and the value he provides given his skillset. In the current salary climate, an average NBA starter can expect to make about $15 million per season. The salary cap goes up from this season's $94 million to $102 million next year, meaning an average starter can expect closer to $17 million.
Like it or not, KCP is a better than average NBA starter and with the kind of perimeter defensive ability he brings to the table, he's irreplaceable for the Pistons. If he can give his shooting a boost this season, $20 million might be a bargain.
A contract of that size will push the Pistons over the projected $122 million luxury tax, but owner Tom Gores has indicated he is more than willing to exceed it to keep Caldwell-Pope.
Considering the fact KCP is seeking near-max money, there is essentially no reason to extend him for an amount like that until the offseason. The only reason to extend him before the deadline is if the Pistons could get some savings in exchange for the kind of security KCP could garner by getting that guaranteed money sooner rather than later. Considering there appears to be no forthcoming hometown discount (and giving a hometown discount at the age of 23 in an exploding salary cap climate would be beyond absurd), the Pistons might as well wait until the offseason to deal with it.
Similarly, there also appears to be no deal forthcoming for Reggie Bullock. While KCP seeks the max, Bullock's next contract will be a much more affordable number.
While this is expected to be a possible breakout season for Bullock, he has yet to play a game so far in 2016-17 due to back spasms.
Keep an eye on Piston Powered over the course of the day and we'll have any new developments on this topic for you as soon as it happens.
This article originally appeared on