Kenny Atkinson Is Cultivating a Gritty, Unselfish Nets Team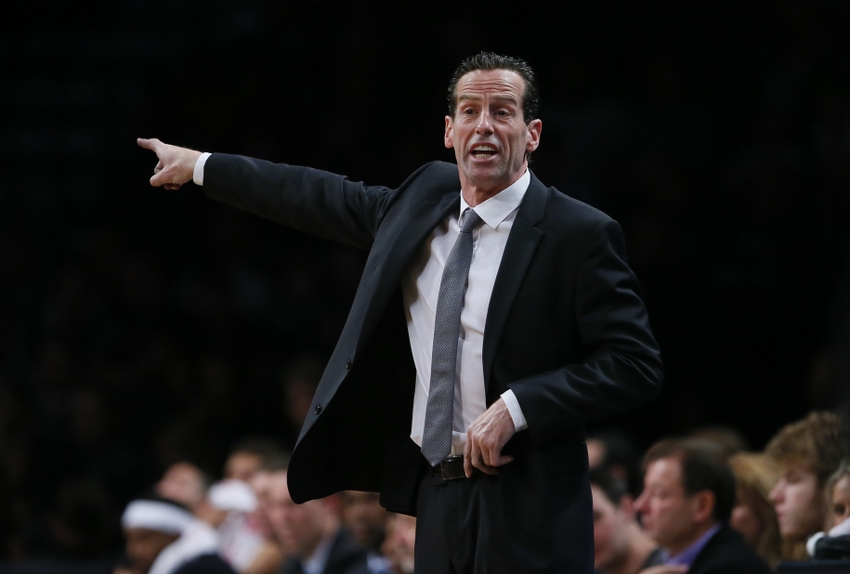 With such a young team, it's paramount that Kenny Atkinson establishes an identity with his Brooklyn Nets roster.
Making themselves at home in Brooklyn, there is a certain attitude the Brooklyn Nets must adopt. Manhattan is the city that never sleeps — there is a constant hustle and bustle, and competitiveness that extends to sports. Think about how the New York Knicks teams in the 1990s embodied the spirits of New Yorkers, a team with a blue-collar work ethic, who didn't back down from any challenge.
Want your voice heard? Join the Nothin' But Nets team!
The Nets are in a separate borough, but the thesis remains. This team is far from the most talented, but they're shockingly competitive because Kenny Atkinson has been branding them since the summer.
Brooklyn grit is now more than just a hashtag. What the Nets lack in talent, they make up for in effort.
It starts with defense. Atkinson, who's learned from some of the NBA's best coaches, has extracted so much energy from his squad and they compete relentlessly on that end of the floor. The numbers don't back it up — third in points allowed (110.9), second in field goal allowed (41.5) — but that's because most of their rotational players are getting acclimated to the NBA.
More from Nothin' But Nets
Last postseason, the NBA started tracking hustle stats, a way of tracking a player's impact on the game by recording values that don't get tallied in box scores. Team stats are accounted for as well. One metric is total contested shots, the number of times a player closes out and gets a hand up on an opponent's shot. This season, Brooklyn ranks first in contested shots per game with 70.8, according to NBA.com.  There's nothing fancy that needs to get done to put a hand up — it's all hustle; it comes down to a player not wanting to give up open looks.
It's a reflection of how players fight over screens and how much pressure they apply on the perimeter. If they're able to recover after leaving their man, it speaks to their athleticism as well.
The offense has received a major overhaul as well — and I mean major. You know how Mario is much more formidable when he eats the mushroom? Imagine Atkinson is the mushroom.
Last season, the Nets were dreadful and nearly finished as the NBA's worst offensive team. This year, there's promise. Brooklyn's scoring is up almost eight points per game, mainly due to Atkinson's pass-heavy motion offense.
The NBA only has data for the Brooklyn Nets' first seven games, but they average 313 passes a night. Their play style hasn't changed, so it's safe to say they're around that number.
If that stat remains the same, Brooklyn is passing the ball an additional 21 times when compared to last year. It's evident it's working, too.
More passes lead to open shots, and the Nets are shooting significantly more threes because of the extra passes.
Often times, young teams who aren't good struggle to find themselves. Some of the worst teams in the league — New Orleans Pelicans, Philadelphia 76ers, Phoenix Suns — all lack an identity; a way of playing that works for them. Thanks to head coach Kenny Atkinson, the Nets already have an identity, despite being such a young team.
This article originally appeared on