Kemba Walker Shines in the Charlotte Hornets Close Loss to San Antonio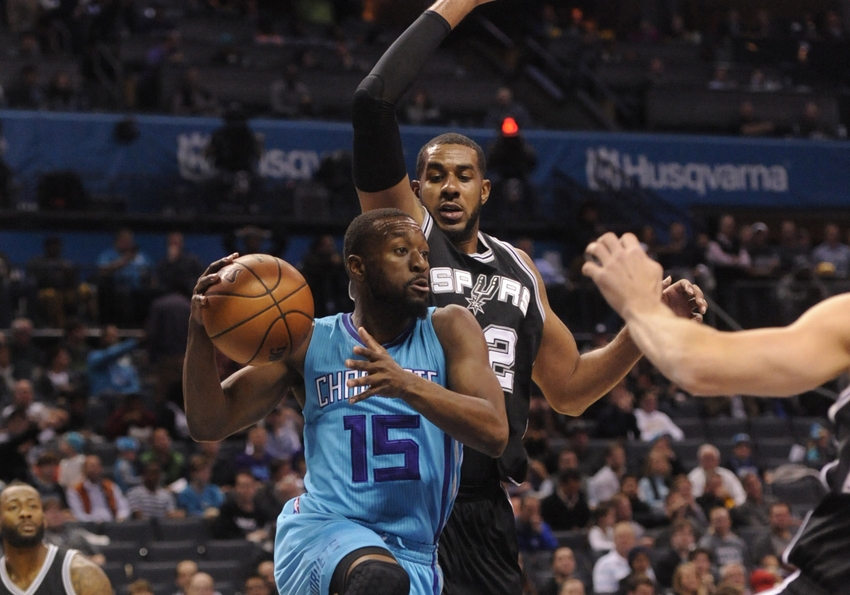 In the Charlotte Hornets' first national TV appearance of the season, they fell to the San Antonio Spurs at home, 119-114. The loss drops Charlotte to 8-6 on the season, and just 4-4 at home. It was also their third straight loss.
Despite losing the game, the Hornets had a number of players who had outstanding performances. While the bench came up big, some of the starters had somewhat of a rough game. Kemba Walker and his near triple-double led the way.
Player of the Game
Kemba
Walker
PG,
Charlotte Hornets
A+
At this point, it should come as no surprise that Kemba Walker has yet again earned player of the game honors for the Hornets. Walker's line was impressive: 26 points on 9/16 shooting including 4/4 from three, 9 rebounds, and 7 assists. Kemba also turned the ball over just twice. The Eastern Conference is going to have to make room for a new All Star on its roster if this keeps up.
Nicolas
Batum
SG,
Charlotte Hornets
B+
Batum turned in the versatile sort of performance we have come to expect from him over the years with 13 points, 7 boards, and 5 assists. While Batum shot the ball well, he uncharacteristically turned the ball over 5 times, mostly unforced.
Marvin
Williams
PF,
Charlotte Hornets
B
Marvin did a little bit of everything in this one, scoring ten points, grabbing five rebounds, and notching one assist, steal, and block. He also had two turnovers, but went 2-3 from three-point range.
Michael
Kidd-Gilchrist
SF,
Charlotte Hornets
B
Kidd-Gilchrist was tasked with guarding Kawhi Leonard most of the night, and was fully occupied as a result. Kidd-Gilchrist racked up four fouls as Leonard hummed along to the tune of 30 points. MKG had a down rebounding night by his standards, pulling down just three although he did add 10 points. Kidd-Gilchrist was also the only Hornets starter in the positive last night, as Charlotte was +2 with him on the floor.
Roy
Hibbert
C,
Charlotte Hornets
B-
Starting in place of the injured Cody Zeller again, Hibbert scored 10 points on 4-8 shooting and grabbed just 2 rebounds in 17 minutes of action. Roy also managed to commit three fouls during his time on the floor. Hibbert has played well in a backup role this season, but the Hornets have sorely missed Zeller during his time out.
Frank
Kaminsky
C,
Charlotte Hornets
B+
Kaminsky has been up and down so far this season, but he has now strung together three straight good performances with Cody Zeller out of the lineup. Frank scored 13 points, grabbed 8 rebounds, and had 5 assists in Wednesday's loss. If Kaminsky can continue to play like this, he may be a solid rotation player for the Hornets going forward, or perhaps a decent trade asset.
Spencer
Hawes
PF,
Charlotte Hornets
B
Hawes tallied 11 points, while shooting just 4-10 from the floor with only one of those attempts being a three. Hawes also pulled down 3 rebounds, dished out 3 assists, and added a steal and a block. The Hornets were also +3 with him in the game. He did his job of holding up the second unit offense along with Kaminsky until the starters could return.
Ramon
Sessions
PG,
Charlotte Hornets
B
Ramon saw just 16 minutes of action, but pitched in 7 points and 4 assists during his time. Sessions is a tough player to gauge. The eye test typically seems to say that Sessions has had it, but he turns in not so terrible numbers night to night. In any event, the Hornets were +2 during his time, and that counts for something.
Jeremy
Lamb
SG,
Charlotte Hornets
INC
Lamb played just 6 minutes Wednesday night.
Overall, everybody in a Hornets uniform contributed to the cause. This is a tough loss for Charlotte, but they should take solace in the fact that they played well, and were competitive despite missing Cody Zeller. The Hornets will look to snap their three game losing streak on Friday, when they take on the Knicks at Madison Square Garden.
More from Swarm and Sting
This article originally appeared on