Kemba Walker is the Steph Curry of the Eastern Conference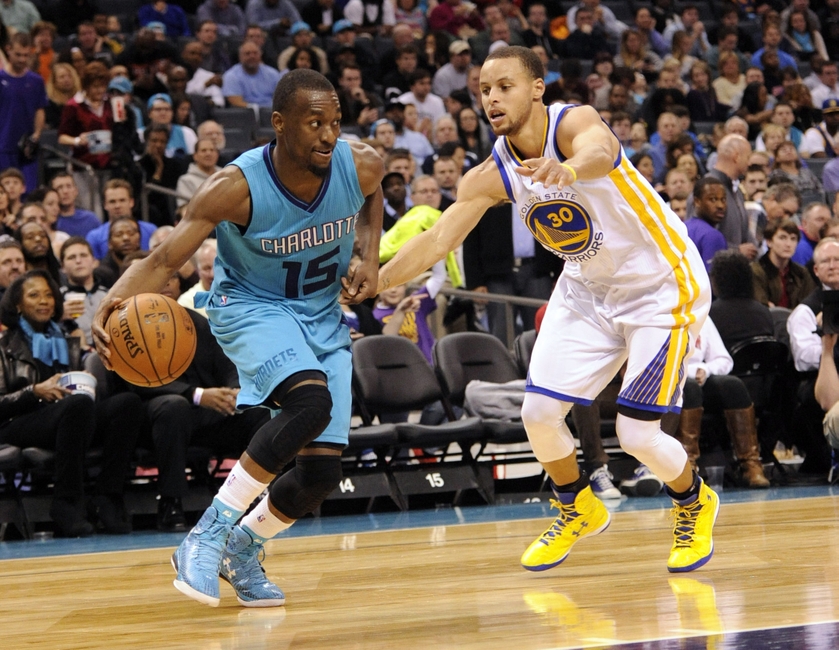 With Kemba Walker's improvement to his outside shooting and all-around game, he is drawing comparisons to Stephen Curry's play style.
Kemba Walker is finally getting the respect he deserves. After year's of under-achieving with a sub-par jump shot and a sub-par team in Charlotte, the Hornets are now viable contenders in the Eastern Conference and Kemba has become the East's Steph Curry. The national media is finally starting to take notice of both the Charlotte Hornets and their point guard.
To the average fan or media member, the team has seemingly burst onto the scene out of nowhere but to the fans of Charlotte, Kemba's steady improvement to stardom has been taking place for years now. Comparing Walker to Curry may be a bit of a stretch and truthfully, they are quite a ways apart. Kemba isn't going to win the league MVP but he could have yet another career season while leading the Hornets to their first playoff series win in over a decade.
The comparison is more about the Hornets' point guards' great three-point shooting ability that has developed in only a matter of years. In a recent article from The Ringer, Jonathan Tjark dubbed Kemba, "Steph Curry East" and then compared the similarity of the two players. I think many would be surprised by the incredible numbers that Walker is putting up so far this season.
More from Swarm and Sting
Here's the full quote from Jonathan Tjarks' article:
"Kemba has been playing like a miniature version of Charlotte's native son, Steph Curry. Walker is knocking down 3-pointers off the dribble as if they were layups, and pulling up with confidence from anywhere on the floor. He is averaging 25.8 points and 5.5 assists a game on 49.1 percent shooting, and shooting 47.8 percent from 3 on almost seven attempts a game from beyond the arc. Steph is the only player who has had a season like that in NBA history. Walker's shooting numbers will certainly go down as the season goes on, but a huge part of playing like Steph is operating in an environment similar to the one Steph has in Golden State, and the Hornets have turned themselves into a streamlined version of the Warriors. They don't have nearly the same amount of individual talent, but the Hornets play better than the sum of their parts would indicate because their key players fit into roles that get the most out of their abilities."
Only Steph (48) has made more three-pointers than Kemba (33) this season and Walker is also tied for second in three-pointers made per game (Channing Frye) with 3.3 while Curry is averaging 4.8. Of players who have attempted more than 50 three-point shots this season, Kemba ranks third in shooting percentage at 47.8% which means that he is nearly hitting half of the three's that he shoots.
That stat that is the most surprising is that Walker has only committed 20 turnovers on the season which is incredible for a starting point guard in the NBA. That ranks him 39th in the league in total turnovers among gaurds. After years of being turnover prone and taking bad shots, Kemba is taking care of the ball better than many top point guards and he is taking makeable shots that aren't being forced outside of Steve CLifford's offensive gameplan/system.
Want your voice heard? Join the Swarm and Sting team!
As I said before, their numbers are ways apart but the simple fact that Kemba is being uttered in the same breath as the first unanimous MVP in NBA history is something within itself. The comparison speaks volumes to Walker's all-around  improvement, especially his outside shooting, tireless worth ethic, and his natural talent.
With the comparison, something can also be said about the similarity in both Steph and Kemba's late bloom in the NBA. Curry was always a great shooter throughout college and in the NBA but he didn't break out completely until about his sixth season in the league. Similarly, Walker's outstanding scoring ability, and now improved three-point shot, hasn't been recognized by the masses until his fifth or sixth professional season.
Here's a quick look at Kemba's all-star level play:
Yes, that was Kemba Walker scoring 40 points and making seven three's in one NBA game. Crazy for some to realize but he has arguably had the most growth out of any point guard in the league over the past few years. Just watching him play reminds you a bit of Step Curry's style and it captivates fans when he catches fire.
The Brooklyn native's growth in the association goes far beyond just an improved three-point shot. Kemba has taken the next step in his career because of his rise in efficiency, good shot selection, and taking better care of the ball.
Not many would have ever expected Walker to draw comparisons to Stephen Curry but with his tight handle, ability to create his own shot as well as for others, and to have a shooting touch that rivals that of the greatest shooter in NBA history, the Hornets' point guard's stardom parallels that of his development.
It's time that Kemba Walker is crowned the star that he is in the NBA. He isn't close to being a superstar just yet but he has reached all-star levels. The 26-year old is the star of the Charlotte Hornets and by receiving comparisons to Steph Curry, he has reached heights that many other guards haven't. It's fair to say that he is in contention for a top-five point guard spot in the league.
This article originally appeared on