Kemba Walker Continues to Shine Even in Charlotte Hornets Loss to Toronto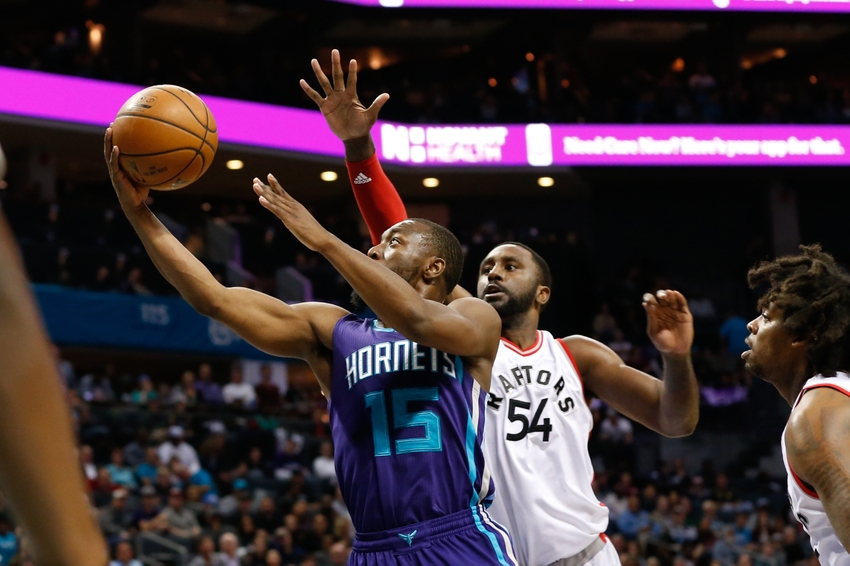 The Charlotte Hornets may have lost to the Toronto Raptors at home but Kemba Walker played out of his mind in a losing effort.
The Charlotte Hornets were defeated by the Toronto Raptors at the Spectrum Center. Despite the loss, Kemba Walker continues to have an all-star caliber season. The captain wasn't the only one to have a good game, a number of teammates also chipped in with their performances.
Player of the Game:
Kemba
Walker
PG,
Charlotte Hornets
A++
I know right this is becoming a habit of the team captain getting this honor but what can I say? He is by far the team's best player, and in an effort to mitigate the loss of Michael Kidd-Gilchrist, Kemba has a monster game. 40 points, six assists, and 10 rebounds!
Treveon
Graham
SF,
Charlotte Hornets
C
You might be asking why am I being so hard on Treveon? Actually, I'm not. He may have only scored two points, but he held the league's most dynamic scorer this season to his season average. That gives the rook his street cred in my book.
Cody
Zeller
C,
Charlotte Hornets
B
Once again, Cody's athleticism was on display. This included an awesome rim-rattling dunk on Patrick Patterson. Zeller chipped in a near double-double with 12 points and seven rebounds.
Nicolas
Batum
SG,
Charlotte Hornets
B+
Nic got off to a slow start. His first quarter struggles seem to be continuing. However, the struggles did not carry over into the second half. He helped Kemba fuel a 38 point third quarter and he finished the game with 18 points, 10 rebounds, and six assists.
Roy
Hibbert
Back-up C,
Charlotte Hornets
B
Big Roy made his return from a knee injury that kept him out of the previous fives games. Even though he was not allowed to play major minutes, Hibbert succeeded in making his presence felt in limited playing time. 10 points for the big man in only 13 minutes.
Marco
Belinelli
Back-up SG,
Charlotte Hornets
C-
Unfortunately, Marco kind of struggled in this one. He only hit two of his nine shot attempts, and one of five from the three-point line. Belinelli finishes the game with only six points.
Frank
Kaminsky
Back-up PF,
Charlotte Hornets
C
Frank kind of struggled in this game. The tank only shot 33% from the field, but he di provide the team with two timely three-pointers late in the game. Eight points for Mr. M1 Abrams.
Spencer
Hawes
Back-up PF/C,
Charlotte Hornets
INC
With the return of Roy, Spencer saw only six minutes of action. Therefore, I don't feel it would be fair to critique him for such little time. Hopefully, he doesn't lose major minutes with Hibbert's return because Hawes has been great for Charlotte so far this season.
Ramon
Sessions
Back-up PG,
Charlotte Hornets
C-
Ramon did not play horribly. He was just unproductive. In his 15 minutes on the floor, he only managed three points, two rebounds, and one assist. Sessions needs to be better going forward.
The Charlotte Hornets will look to bounce back in their next game against the Cleveland Cavaliers. It will be a tough match-up but they've proven they can play with the better teams in the NBA.
More from Swarm and Sting
This article originally appeared on