Kemba Continues to Impress as Schedule Catches up to the Charlotte Hornets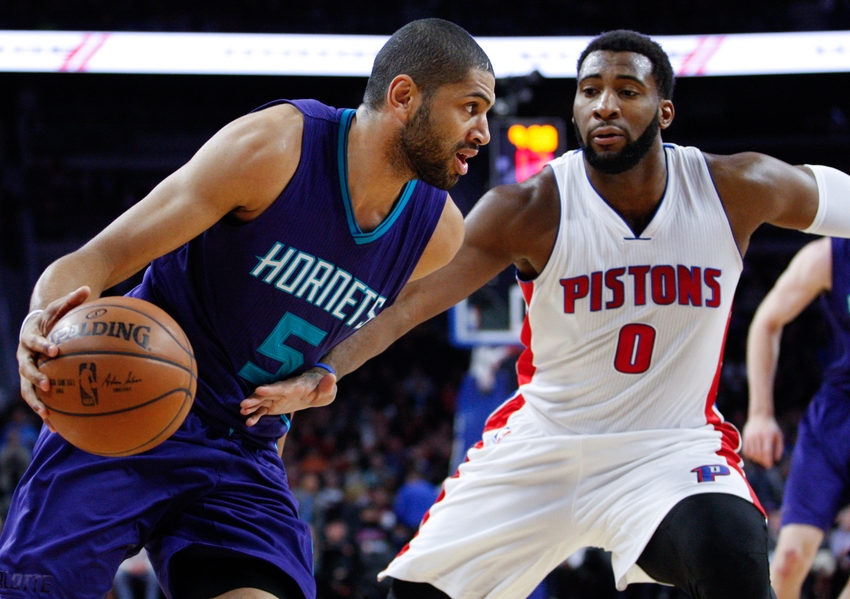 Kemba Walker continued to impress in the Charlotte Hornets' blowout loss to the Detroit Pistons as the rest of the team looked dead tired.
The Charlotte Hornets played a furious game Friday night in New York falling to the Knicks 111 to 113 in overtime. Then the next night, they defeated the same Knicks in Charlotte, 107 to 102. They Hornets dominated the Memphis Grizzlies 104-85 just a few days later. So after such a busy week they were understandably tired against the Detroit Pistons.
The Hornets fell, 112 to 89, to the Detroit Pistons. It was a game that the Hornets might have won normally but was lost most likely due to fatigue. The Hornets played Friday night, Saturday night, and then Monday night, and this was the second night of a back to back. Yet due to this packed schedule, Kemba Walker still continues to play like an all-star. So not surprising as I give these player grades the player of the game is Kemba Walker.
Player of the Game:
Kemba
Walker
PG,
Charlotte Hornets
A
Kemba continued to make his case for the 2017 All-Star Game. He made 4 of 7 shots from the three-point line. Kemba only tallied four assists in this one, but he finished with 23 points. Not a bad night considering the numbers his teammates put up.
Michael
Kidd-Gilchrist
SF,
Charlotte Hornets
B-
Micheal Kidd-Gilchrist had  a so-so game. Usually, he dominates on the boards but not this time. He is currently leading the team with 7.4 rebounds per game. Unfortunately though, he only managed to pull down four against Detroit. He did score 10 points, though.
Frank
Kaminsky
PF,
Charlotte Hornets
D
Frank arguably had his worst game of the season in this one.  It may have been his worst game as a Hornet. He only shot 1-11 from the field and 0-6 from three tallying only two total points. Plus, he was constantly beaten on defense. Shake it off Frank. Shake it off.
Nicolas
Batum
SG,
Charlotte Hornets
C+
Nic did what vets do. Like Fran,k his shot was not falling. So what did he do? He found other ways to contribute. Even though he only scored eight points, he pulled down 11 boards, and dished out five assists.
Cody
Zeller
C,
Charlotte Hornets
B-
Cody continues to show that his game is maturing. Like Nic, Cody flirted with a double-double. He finished the game with eight points and 10 rebounds. However, unlike Nic, his eight points came on 66%  shooting.
Marco
Belinelli
Back-up SG,
Charlotte Hornets
C+
Belinelli continued to display his value off the bench. Even though he struggled slightly from three, he still continued to prove that he was a threat beyond the arc and money from the free throw line.
Spencer
Hawes
Back-up C,
Charlotte Hornets
C
Spencer continues to give good minutes off the bench. Eight points for the veteran.
Jeremy
Lamb
Back-up SF,
Charlotte Hornets
C-
The hot start Jeremy was off to this season has seemed to have ran into a cool spot. After posting 17 points and at least nine rebounds in the last couple games, Lamb slowed down a lot. He only managed to record only four points, one rebound, and one assist. One bright spot, he drained both his free throws.
Roy
HIbbert
Back-up C,
Charlotte Hornets
C-
Not a great outing for Mr. Hibert, but he did continue to impress at the free throw line. He drained 2 out of 3.
Ramon
Sessions
Back-up PG,
Charlotte Hornets
C
As usual, Ramon gave decent minutes off the bench.
After this tough loss, the Charlotte Hornets will be looking to bounce back in their next game against the Dallas Mavericks. After winning two consecutive games, Steve Clifford's team came out flat and they will need to regain their momentum in their next outing.
More from Swarm and Sting
This article originally appeared on