Kay Felder Back In As Backup Point Guard?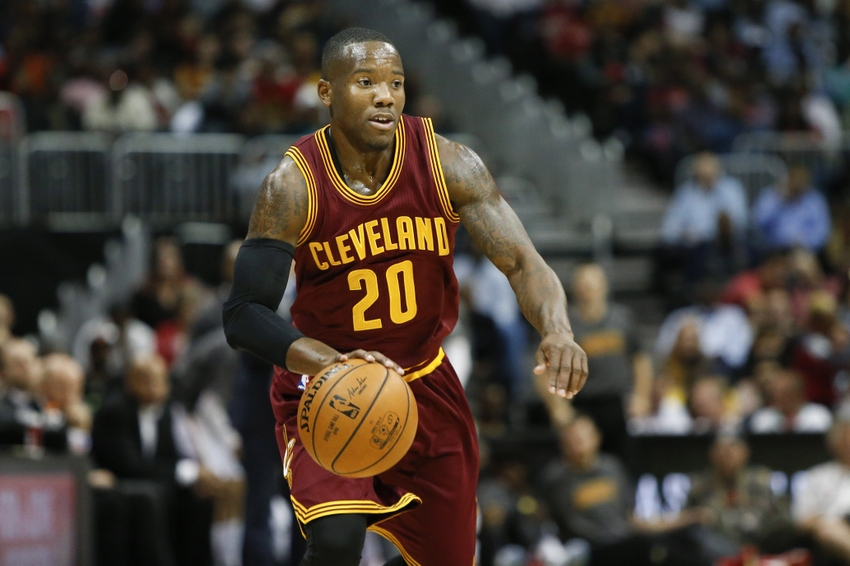 Last night, Cleveland Cavaliers point guard Kay Felder hit the court for the second time this season.
Cleveland Cavaliers rookie point guard Kay Felder was selected in the second round (54th overall) of the 2016 NBA Draft. However, he's not your ordinary second-round pick. Or rookie.
In his final season at Oakland University, Felder was a finalist for the NCAA's Wooden Award after averaging 24.4 points, 9.3 assists, 4.3 rebounds and 2.0 steals per game. That entire 2015-2016 campaign, Felder had performances that couldn't be ignored. During game breaks of marquee matchups, Felder received glowing appraisal from college analysts.
Had he been half a foot taller, it's very likely Felder would have been a lottery pick.
At 5-foot-8, Felder still received a first round grade from Cleveland's brain trust. Even LeBron James approved of the Napoleonic floor general.
Who was a proponent of Cleveland's pick of Kay Felder? LeBron James.

— Shams Charania (@ShamsCharania) June 24, 2016
It's the reason why the Cavs were aggressive in the draft and ecstatic when he fell out of the first round.
Felder, who definitely showed his explosiveness in college, has a 44-inch vertical leap and a solidly built frame that looks like Jameer Nelson's. While uses his explosiveness, and a tight handle on the ball, to get to the rim and finish over the Sequoias, he can hit shots from all over the court. So far, he's been especially proficient from the midrange area in NBA action.
Felder also has great offensive awareness and "pure point guard" ability. He racks up the assists while operating off the pick-and-roll, on drives, in transition and by simply making smart and simple passes.
Defensively, Felder is at an automatic disadvantage. Yet, his athletic ability combined with his defensive awareness and an active body will allow him to be a solid point guard on the defensive end.
In the Las Vegas Summer League circuit, Felder showed the Cavs that he was light years ahead of the bulk of his class with intelligent offense and a genuine desire to effect the game on defense. In the preseason, Felder's scoring average dipped as he shared point guard duties with veterans who Tyronn Lue wanted to put ahead of Felder on the depth chart. Nonetheless, he was named Kyrie Irving's backup ahead of the Cavs season opener.
It makes sense. Both players were electrifying offensive players with a knack for making big defensive plays even if they aren't the best individual defenders in the league.
Yet, Felder's opportunity to be the backup point guard has been derailed by an inadvertent elbow to the head by Chris "Birdman" Andersen during practice. Felder wasn't even cleared to play in the Cavs first contest as he entered the league's concussion protocol and while he was out, Iman Shumpert became the team's backup point guard.
Though he isn't a natural point guard, Shumpert has played well to start this season. Shumpert did a great job of making sure teammates got involved when he did have the ball. Shumpert also seemed to play with more control and displayed a consistent jump shot to start the season as well.
Felder's first NBA action would come in the Cavs third game of the season. His first bucket? A drive and finish over Bismack Biyombo, an athletic center who was an elite rim-protector in the 2016 Eastern Conference Finals.
Strangely, Felder was an inactive for the next two games and received a "DNP – Coach's Decision" for the two games after that. It seemed like for all the preseason hype, Cavs fans may as well accept Shumpert being the team's backup point guard for the foreseeable future. Especially with no answer as to why the Cavs weren't putting him in games.
Then, last night, Felder re-emerged. At a point in the game where the Cavs would usually turn to Shumpert, James or Irving to be the primary point guard, Lue called on Felder. From the end of the first quarter to about halfway through the second quarter, Felder was the Cavs sole point guard and was even sharing the court with Shumpert.
While this play will serve as his highlight of the game, Felder kept his teammates involved offensively. Defensively, Felder held Trey Burke to four points after Burke dropped 18 points on the Boston Celtics the game before. If the Cavs didn't have to put Shumpert on John Wall to keep him from scoring, Felder likely would have played more.
Still, it's a wonder what Lue's plan is for his young and talented guards.
Shooting guard Jordan McRae, who received more hype than Felder, has yet to play meaningful minutes this season. His only significant playing time came in a blowout victory over the New York Knicks in the season opener.
With that, Lue could just be reluctant to play his young guys.
Then again, McRae seems like he's a necessary component in any Mo Williams trade. The Cavs could be avoiding McRae injuring himself in-game and their chances of trading Williams.
Felder, on the other hand, isn't being mentioned in any trade talks. Once again, he's shown he can play in the NBA. While the drop-off between Irving and Felder is notable, Felder is no slouch.
In fact, he's actual pretty good.
Cavs fans can only hope to see more of Felder. The Cleveland Cavaliers face off against Kemba Walker and the Charlotte Hornets on Sunday night. One of the keys to victory could be making the Hornets' point guards work on the defensive end.
Felder will definitely make a point guard work to guard him.
Do you think Kay Felder is back in as the Cleveland Cavaliers backup point guard? Do you think he should be? Let us know in the comments section or Twitter @KJG_NBA.
More from King James Gospel
This article originally appeared on