Jusuf Nurkic Could Win Comeback Player Of The Year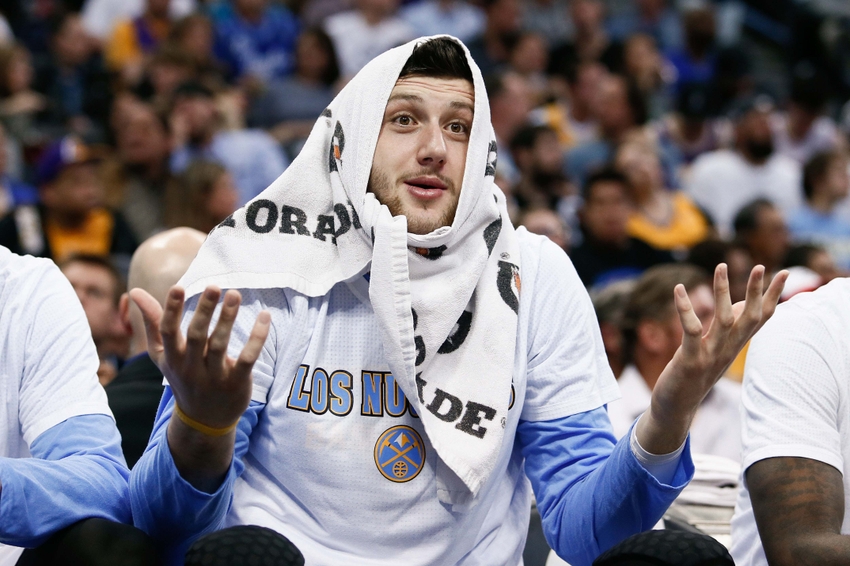 The Denver Nuggets are in for a bounce-back season as a team, but could Jusuf Nurkic lead the charge and possibly even take home Comeback Player of the Year honors?
Jusuf Nurkic looked like one of the Denver Nuggets brightest young players during the 2014-15 season. He played in 62 games, started 27 of them, and averaged 6.9 points and 6.2 rebounds despite playing just 17.8 minutes per game. Those numbers won't blow anybody away, but they indicated Denver might just have something in the rookie. Nurkic finished the year sixth in NBA Rookie of the Year voting and also earned a spot on the All-Rookie Second Team.
But Nurkic wasn't able to build on this rookie campaign as effectively as he would have hoped. Injuries derailed his sophomore season with the biggest blow coming in the form of a partially torn patella tendon. The big man required surgery and was out of action for the first 33 games of 2015-16. On top of that, various other minor injuries prevented him from playing in 17 other contests following his return midway through the season.
Now Nurkic will be heading into his third NBA season, and the pieces are in place for it to go much more smoothly. As it stands, the Bosnian Beast is healthy and will be able to start the season with no issues. This could be partially attributed to some drastic weight loss that was reported by Chris Dempsey of the Denver Post back in June.
Jusuf Nurkic is putting in major work this offseason. The center has lost 35 pounds already, and says he's still feeling strong. #Nuggets

— Chris Dempsey (@chrisadempsey) June 29, 2016
Thirty-five pounds is an awful lot of weight to lose, but for Nurkic it will be nothing but a good thing. Less weight means less pressure on the knees, ankles, and feet, all of which are typically the body parts that give big men the most trouble. Now that he's a bit lighter, the Nuggets' center can focus on his game rather than rehab. And with the preseason underway, he's already showing what the effects of that can be.
Through three preseason games, Nurkic is averaging 18 points, 13.3 rebounds, and one block in 26 minutes per game. He's also shooting 86 percent from the free throw line and 48 percent from the field. Those are some eye-popping numbers from someone who averaged just 8.2 points and 5.5 rebounds per game a season ago. Not only is Nurkic proving he can still be a difference maker despite some injury hiccups early in his career, he may just be playing his way into the Nuggets' starting lineup.
Despite Nikola Jokic finishing third in Rookie of the Year voting last season and Kenneth Faried arguably being the face of the franchise, Chris Dempsey believes there's a legitimate chance Nurkic could start over one of them. And it's not really hard to see why based on what a healthy Nurkic is proving he can do. The problem is this puts Head Coach Michael Malone in a tough spot, because all three of Jokic, Faried, and Nurkic really do deserve a starting role. But the fact of the matter is only two of them will actually get one.
With some newfound health and potentially incredible production in store for Nurkic in 2016-17, there's no telling what his ceiling really is. But one conversation he's certain to find himself in is that of this season's Comeback Player of the Year. He fits the bill perfectly. He's coming fresh off an underwhelming, injury-plagued season and has a ton of potential to put together a really impressive campaign. So not only will Nurkic's presence on the team help the Nuggets immensely, it could also lead the Bosnian Beast taking home some hardware at the end of the season.
This article originally appeared on