Just how much have the Detroit Pistons missed Reggie Jackson?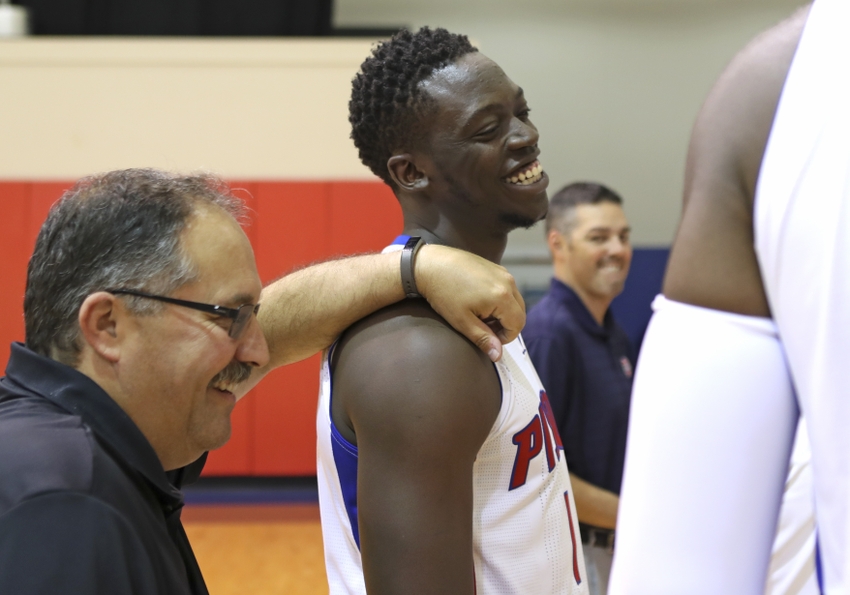 The Detroit Pistons started the season with Reggie Jackson sidelined due to knee tendinitis, but his return is near. How much have the Pistons missed him?
The Detroit Pistons came into training camp with a great deal of optimism, picked by many pundits to finish as high as fourth in the Eastern Conference playoff race. The optimism was quickly tempered when the organization announced that starting point guard Reggie Jackson would be out for the first 15-20 games of the regular season due to knee tendinitis.
The Pistons have hung tough over this stretch, going 5-5 thus far with four home wins but a dismal 1-5 record on the road. Fortunately, we're at least halfway through this timetable, and maybe have as few as five games left before Jackson will be able to get back on the floor.
Ish Smith has been valiant in relief, but the Pistons signed him in free agency to back Jackson up, not run the team. With that in mind, there is a ceiling on what can be expected of Smith. He's likely one of the better backup point guards in the NBA, but he's at a disadvantage in most matchups with opposing starting point guards.
So as we near Reggie Jackson's return, just how much have the Detroit Pistons missed him, and in what areas can they expect to see improvement when he's back?
First off, it's no secret that the Pistons had a vaunted pick-and-roll attack with Jackson and Andre Drummond on the floor together. Drummond's size and athleticism forced teams to pack the paint and compromise their defense in order to keep the Pistons from pounding with it at will. That attack is left wanting when Smith is the ball handler in the pick-and-roll.
According to Synergy, the Pistons are scoring just .615 points per possession when Ish Smith is the ball handler in the pick-and-roll, which is in just the 17th percentile across the NBA. Last season with Jackson as the ball handler, they scored .876 points per possession which was in the 77th percentile league-wide.
Notably, Tobias Harris is in the 84th percentile this year and was in the 92nd percentile last year after coming to the Pistons as the pick-and-roll ball handler, creating 1 point per possession. This is something you can expect head coach Stan Van Gundy to utilize at key points this season.
The Pistons have also badly missed Reggie Jackson's shooting ability. Smith has no ability to stretch the floor from the outside, having hit just one three-pointer and attempting 11 this season. He's hitting 36.7 percent of his field goal attempts which is well below his 39.9 percent clip. That's a mark you just can't have out of your starting point guard if you want to be a playoff contender.
Smith has scored just 13 points in 19 spot-up shots this season. That's dreadful, in the 18th percentile. Conversely, last season Jackson scored 153 points on 131 spot-up shots. That's an elite clip, placing him in the 92nd percentile. Jackson can make defenses pay for going under Drummond's screen with efficient long-range shooting, and teams will have to pick their poison between going over screens to challenge the shot or going under the screen to close Drummond off from the paint.
When Smith is the ball handler, teams don't have to pick. They can go under with impunity, closing Drummond off from easy rolls to the interior, and simply beg Smith to fire away.
Ish Smith is a great change-of-pace point guard, a lightning-quick slasher who can create offense against second units, and he's light-years better than Steve Blake, last year's backup. Make no mistake, though, he's no replacement for Reggie Jackson.
The sooner Jackson makes his healthy return to the Pistons' lineup, the better the chances they'll make waves in the Eastern Conference playoff picture.
This article originally appeared on