Josh Richardson injures MCL, return to be determined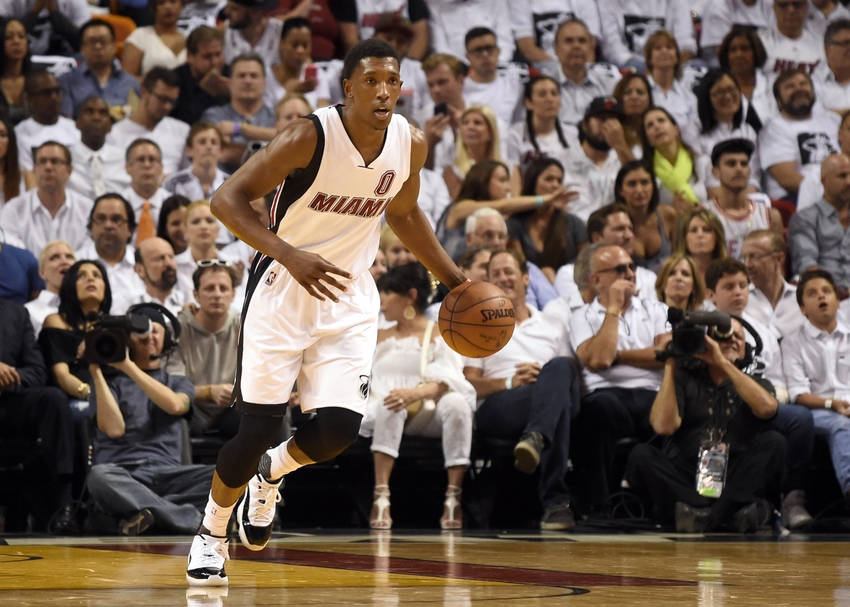 It's a big blow to the Miami Heat, who are still evaluating options to replace Dwyane Wade.
In a massive blow to the Miami Heat, Josh Richardson has suffered a partially torn MCL in his right knee, according to Shams Charina of the Vertical. His return will depend on his rehab, but it looks to be a long road back for the sophomore guard.
Miami guard Josh Richardson has sustained a partially torn MCL in right knee, league sources tell The Vertical. Return time based on rehab.

— Shams Charania (@ShamsCharania) September 9, 2016
According to Charina, Richardson sustained the injury during workouts on Friday.
While the Heat remained non-committal on who would replace Dwyane Wade as the team's starting shooting guard, Richardson was a strong favorite. His defense and three-point shooting made him idea to start alongside Goran Dragic in the backcourt.
However after the injury, it's unlikely Richardson will be with the team for opening night and for a while after.
After being picked 40th overall in the 2015 NBA Draft, Richardson, 22, blossomed for the Heat after the All-Star break, shooting 53 percent from three-point range and showing an ability to guard multiple positions at the NBA level. He averaged 10.2 points, 2.8 rebounds and 1.9 assists in his final 29 games of his rookie season.
This is a tough setback for a player who was among the biggest steals in last year's draft. Depending on the grade of the MCL tear–which shouldn't be too bad since it was only "partially" torn–we'll know more about how long his recovery could take.
For now, the Heat need to figure out how they will approach the season without Richardson. Miami re-signed Tyler Johnson and signed Dion Waiters this summer. They also signed sharp-shooter Wayne Ellington. Waiters seemed poised to take a role as a sixth man, while Johnson worked as a utility combo forward. While Johnson and Waiters are proven three-point shooting threats and capable defenders, neither offers the length and versatility quite like Richardson.
MCL tears can vary in severity, but are not to be confused with the much more serious ACL tear. Derrick Rose tore his ACL and was never the same. Russell Westbrook has had surgery on his MCL at least three times, and he's just fine. Obviously every injury is a little bit different, as is how players bounce back from them. But if history is a guide, Richardson should make a full recovery.
This article originally appeared on