Joel Embiid Looks Like A Star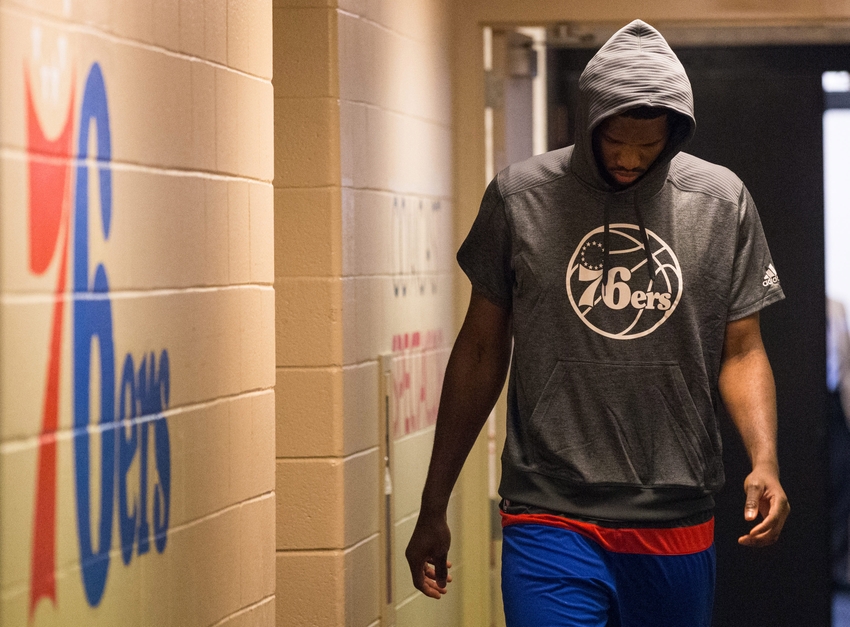 With the league seemingly trending away from dominant big men, Joel Embiid's rare skill set on both sides of the basketball gives him the potential to be among the best talents in the league down low.
We're a mere four games into Joel Embiid's NBA career, with his first two seasons as a member of the Philadelphia 76ers being spent on the bench due to injury. There has been little certainty with Embiid throughout his tenure as a basketball player, dating all the way back to his sole campaign with Kansas during college. He was never the most consistent offensive player, nor has he been able to avoid serious injury yet. One thing, however, does seem certain — when healthy, Joel Embiid is a flat-out stud.
The Sixers nabbed Embiid with the third overall pick back in 2014, well aware that he would miss his first season, in return gambling on the long-term upside of the lengthy big men who had showcased immense defensive potential during spurts at Kansas. He wasn't the most polished product, and foot injuries are always a major red flag in regards to 7-footers, but the upside was enough to earn a gamble from Sam Hinkie in the midst of Philly's explosive rebuild.
His foot injury, as we all are well aware of at this point, ended up taking a handful of setbacks en route to that infamous two-year stint on the sidelines. That, however, has appeared to be more of a blessing than a hindrance in some aspects. He was given two-years to polish off the technique of his incredibly-raw offensive repertoire, and his ability to bulk up from the lanky teenager he was with the Jayhawks was clearly evident over the course of his progressions with the trainer.
Embiid, when he was medically cleared this offseason, was an entirely different player than the one the Sixers drafted. The coaching staff knew it, the front office knew it, and with an extreme since of confidence displayed thus far, Joel Embiid most definitely knew it.
He comes into 2016 as one of the most physically dominant presences in the league, and now has a level of offensive polish many didn't see possible entering the draft a couple years back. He has completely revolutionized his game, from his body to his style, taking the star upside many saw in 2014 and building on that with unforeseen proficiency during his time off. If anybody on this roster is prepared to be a bona fide NBA star, it's Embiid.
As somebody who has self-dubbed himself "The Process," Embiid has quickly evolved into the personification of Sam Hinkie's radical plan as general manager. He was a risky asset, placed to the side in hopes of future production once the team was able to accumulate a number of future assets to put alongside him. The Sixers will now have Ben Simmons joining the fold midseason, and Jahlil Okafor and Nerlens Noel at the team's disposal alongside a solid slate of picks during a loaded 2017 NBA Draft class.
Embiid is quickly becoming the cornerstone for a rebuilding process that has spent years in the making, providing the first sign of real, tangible improvement for a team that has been treading water at the bottom of the league for a few years now.
From a talent perspective, Joel Embiid has a set of tools that few — if any — five men in the league can legitimately match. Standing at 7-foot-2 with a 7-5 wingspan and an unreal amount of muscle compacted onto his frame, Embiid has found himself physically superior to just about everyone he's faced so far.
Steven Adams, a legitimate All-NBA level defender, was unable to hold him in check whatsoever, and his defensive stature held the likes of Dwight Howard in check while making Nikola Vucevic look woefully undersized on some occasions. Vucevic, all knocks on his physicality aside, is listed at 7-feet tall.
There are imperfections, as there always will be with players getting their first taste of professional basketball, but Embiid has looked almost unstoppable at times. Offensively, he has the speed required to run the court, coupled with the strength and footwork that is needed to get off shots from nearly any angle in the paint.
He's capable of taking smaller, quicker defenders off the dribble — just ask Paul Millsap — and had the aforementioned Adams reeling around the basket at times during the team's opening night matchup with Oklahoma City. He still has some work to do in regards to finishing off some of his shots around the rim, but his the sheer overwhelming nature of his stature and athleticism has made him an offense force already, even with some efficiency issues that will likely subside as the season progresses.
Embiid has also shown he can legitimately space the floor with his shooting, from a handful of midrange jumpers off the dribble to 3-point shooting that actually requires attention from the opposing defense. We haven't seen too many versatile offensive bigs add outside shooting as a major part of their arsenal, with DeMarcus Cousins and Anthony Davis being the only other names that really come to mind.
While there are always going to be stretch bigs who can step out to the perimeter a knock down shots, players with Embiid's strength and presence underneath the rim simply don't have that type of versatility on a game by game basis. If Embiid is able to approach anywhere within the realm of that DeMarcus Cousins or Anthony Davis-level versatility on the offensive end, while still retaining elite defensive upside, those are the types of names he has the potential to be associated with.
Embiid is among the league's more intimidating offensive threats at the center position, and we're still only three games into the first real action of his career. His defensive dominance is difficult to ignore at this point, as he appears to dwarf his opponents at times on that side of the ball. He has the foot speed to chase down blocks in transition, and the leaping ability to cover shots from almost anywhere near the painted area.
He's a highly aggressive player, and as a result, is already en route to establishing himself as a consistently dominant focal point of the Sixers' game plan. His confidence has been evident ever since the Sixers got a taste of his personality, and now he's on the court showcasing just how determined he is to overcome the hindrances that've been thrown at him.
Embiid has sought out possessions offensively, not looked away from them — a rarity among most rookies in general. On a team that doesn't necessarily have a lot of ball-dominant scorers, they can afford to feed Embiid the ball consistency, and he has taken those opportunities to go directly at defenses en route to the impressive start we've witnessed.
This is what "The Process" was about. The sacrifices that Sixers made to take on the likes of Embiid, as well as several other projects, were fairly obvious in the form of the dreadful campaigns we've seen in recent years. All that, however, did have a purpose. That purpose was to find young pieces they could build around, and unearth an affordable, long term core to their rotation, rather than flailing in the midst of the pool of mediocrity that they found themselves in during the Jrue Holiday and the Andre Iguodala days.
Sam Hinkie was sacrificing immediate success in favor of finding somebody who could take them to the next level down the road. Someone who could, in the future, take the team from good to highly competitive.
And, while it has still been just a three-game sample, there has been so much more building up to the recent success of Embiid. He has been working as hard as anybody over the past couple of seasons to get his body in shape, as well as mold his game into what it currently is — a near seamless model of versatility at the five.
It may be too early to make any grand assumptions, but this simply feels different that what we've seen from the likes of the youngsters that have cycled through Philly over the course of the past few years. Joel Embiid might be the star that Sam Hinkie was aiming for, and after years of patiently waiting through "The Process," this could finally be what gets the proverbial snowball rolling. Joel "The Process" Embiid could be the player that finally puts an end to the very cylce that he has embodied.
Simply stated — Joel Embiid, if healthy, is going to be a star.
More from The Sixer Sense
This article originally appeared on