Joel Embiid Isn't Ready To Be Superman For The Philadelphia 76ers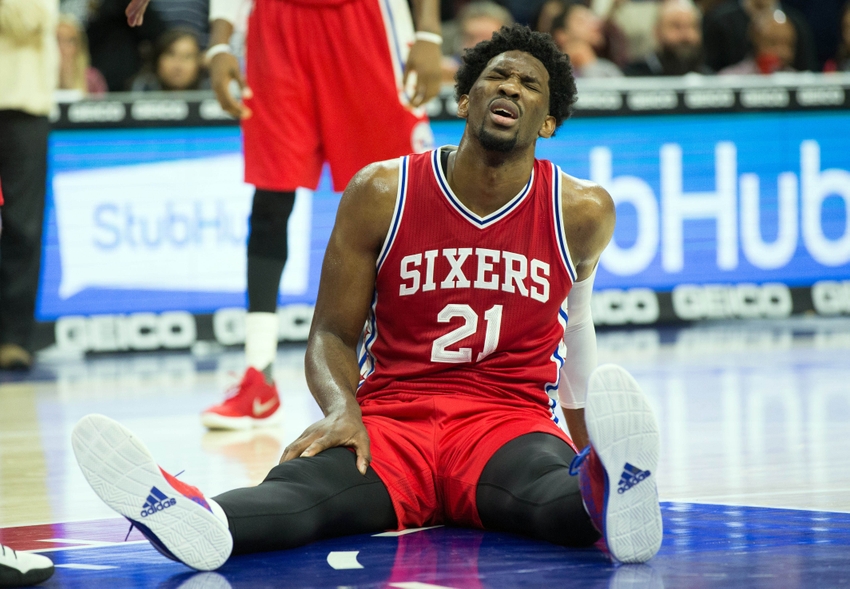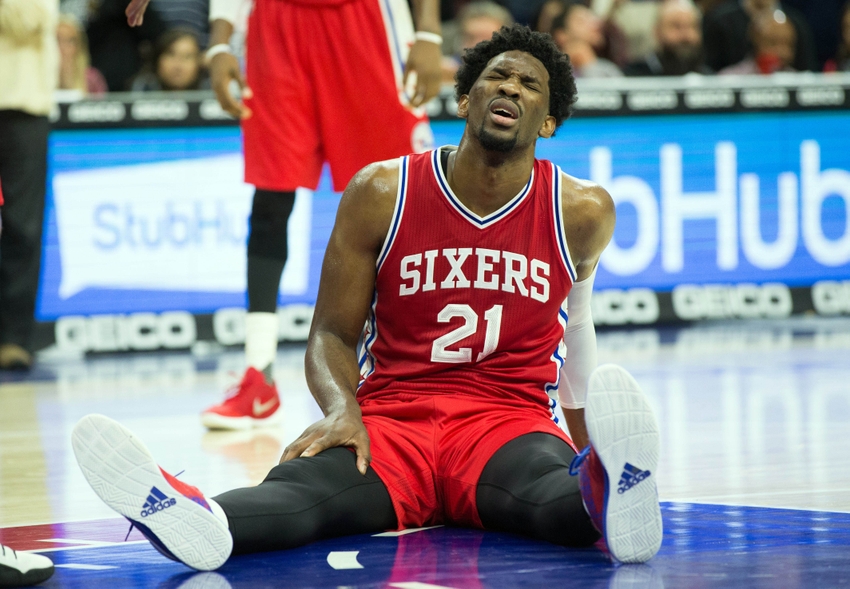 In his first season Joel Embiid has proved he was worth the wait. There are god like aspects to his game, however there areas where he isn't bullet proof.
Joel Embiid has been praised repetitively in the last month or so. I have even written about the well deserved praises he receives. Other fellow The Sixer Sense writers have given Embiid his due and even an NBA legend has as well. No hero starts out perfect and that includes the one for the City of Brotherly Love. Let me make it crystal clear that the intention of the post is not to tear down Embiid, but rather show areas of his game that still need to be improved in order for him to be a super star.
One other thing Embiid will need to do to cement himself as a super star is to be able to stay on the court. It has been reported that Embiid will not play against the Indian Pacers in the first match up of the season. Granted the Sixers are being cautious with the big man who missed the first two season of his career due to reoccurring foot ailments. Embiid, along with the Philadelphia 76ers training staff, must do everything in their power to prioritize the longevity of his foot health. His first year Embiid did not do everything right, but as of late he is showing improvement in his self-health.
There will be several areas that will be reviews when analyzing what areas of Embiid's game can be improved. Shooting, rebounding, assists, turnovers and fouls are areas of Embiid's game that need to improve in order for him to take the next step into super stardom.
Shooting and Rebounding
In these stats it will be clear as day what Joel Embiid is great at and areas that needs to be improve upon.
Per Game Table

| Season | MP | FG | FGA | FG% | 3P | 3PA | 3P% | 2P | 2PA | 2P% | eFG% | FT | FTA | FT% | ORB | DRB | TRB | AST | STL | BLK | TOV | PF | PTS |
| --- | --- | --- | --- | --- | --- | --- | --- | --- | --- | --- | --- | --- | --- | --- | --- | --- | --- | --- | --- | --- | --- | --- | --- |
| 2016-17 | 21.4 | 5.6 | 11.6 | .483 | 1.2 | 1.8 | .667 | 4.4 | 9.8 | .449 | .534 | 5.2 | 6.8 | .765 | 1.8 | 5.0 | 6.8 | 1.2 | 0.6 | 2.6 | 4.4 | 3.4 | 17.6 |
| Career | 21.4 | 5.6 | 11.6 | .483 | 1.2 | 1.8 | .667 | 4.4 | 9.8 | .449 | .534 | 5.2 | 6.8 | .765 | 1.8 | 5.0 | 6.8 | 1.2 | 0.6 | 2.6 | 4.4 | 3.4 | 17.6 |
Before I get into the areas of improvement let me just say that most of the stats are great for any player, especially a 7 foot 2 inches center.Now there are some parts of Joel Embiid's game that must improve.
First is his shooting percentage from 2-point land. With a overall field goal percentage of 48 and a 2-point percentage at 45 this is extremely inefficient for any center and would usually land them on the bench. The interestingly enough, in the two games I have see Embiid had a much harder time finishing closer to the basket. Some of those shots where highly contested with a lot of traffic in the lane. The point being is that Embiid must be smarter in his shot selection in order to improve his shooting percentages.
Part of his woos shooting has to do with the two years of rust that he must knock off. Teams also are focusing on him knowing his is the only real threat to score.
Rebounding is another area that Embiid must improve upon. For a player of his build and athleticism it is mind blowing that he is not averaging close to double digit rebounds. However, this lack of rebounds is not completely on Embiid. He is only averaging 21 minutes per game at the moment and that will cause any player's  rebound totals not to be great. Once he gets off his minutes restrictions his rebound totals should increase. Still it would be nice to see him average more than just a notch under 7 rebounds per game.
Assists, Turnovers, and Fouls
Joel Embiid only averages 1.6 assists per game. Now some of that maybe do to his lack of minutes however, there are two main reasons why his assists numbers are so low. The first being that he is forcing his offense a little bit too much and not passing the ball when he doesn't have the best shot.
The second being is when he does pass his teammates do not convert at a high rate. As a whole the Sixers rank 27th in the league with a field goal percentage of .422. He could pass the ball all he wants but if his teammates can't make shots then it is pointless. Once Embiid stops forcing his offense and he gets more offensively consistent teammates around him there should be an increase to his assists totally.
Upcoming

Schedule

11/11

Indiana Pacers
11/12
at

Atlanta Hawks
11/14
at

Houston Rockets
11/16

Washington Wizards
11/17
at

Minnesota Timberwolves
Embiids leads the team averaging 4.4 turnovers per game. That turnover rate is way to high for any player to be considered elite. Embiid is still considered a rookie so it is not all that surprising that he has a hard time protecting the ball.
He also does force his offense and that sometimes ends in a turnover. Opposing teams know that Embiid is the focal point of the Sixers offense so it is not surprising that they would double time him and try to force turnovers.
Fouls is another problem Embiid must fix, especially once he gets off his minutes restrictions. He averages 3.4 fouls per game which is also a team high. Embiid also is second in the league only behind Anthony Davis averaging 2.6 blocks per game. Having such high blocks average in such a short minutes would have to result in a high foul average. His foul problems could stem from his massive size and the fact that his is a rookie still learning the league. It will be interesting to see if Embiid can keep up the block average and decrease his foul rate once he is off minutes restriction.
Most of the flaws in Embiid's game is based in either his minutes restriction or his lack of experience. Either way these flaws will most likely be resolved with more minutes and experience. Every hero has trials by fire, but they also come out stronger afterwards.
More from The Sixer Sense
This article originally appeared on