Joel Embiid Doesn't Even Know How He's Doing So Well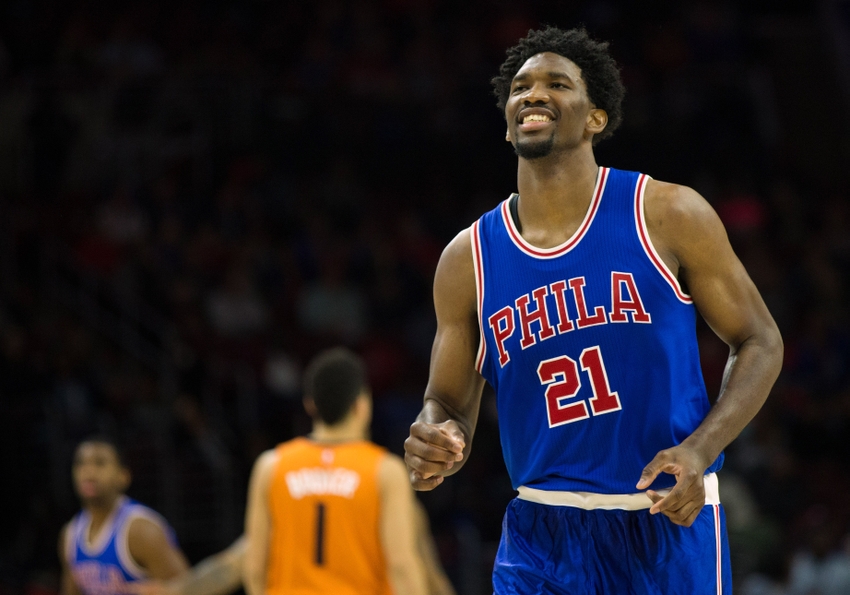 Philadelphia 76ers' rookie center Joel Embiid is just as unsure as the rest of us as to how he's doing so well despite missing two full seasons.
Coming into the 2016-17 season, Philadelphia 76ers fans had high expectations for Joel Embiid, their rookie center. Embiid would be playing his first games as a Sixers player after being drafted in 2014 and missing all of his first two seasons due to injury complications.
Other people around the league that weren't involved with the Sixers franchise had a bit more of a rational approach regarding Embiid. They felt as if he would have a very slow start to the year since he had in fact not played competitive basketball — especially not on a pro level — in over two and a half years.
When Embiid debuted, however, he was everything Sixers fans had hoped for and more. He scored 20 points, pulled in 7 rebounds, and blocked 2 shots in front of a sell-out crowd and a national TV audience. Okay, he had the hype of the beginning of the season on ESPN behind him, so maybe that was a fluke, right?
More from The Sixer Sense
Wrong.
Embiid has yet to appear in a game and not score double-digit points. He has proven that he can be a solid offensive component, and is skilled incredibly well in areas like 3-point shooting and ball handling for such a large fella. A high usage rate from how the Sixers offense has been structured has helped him out.
So, how does he do it?
Well, not even Embiid himself knows.
Talking to Derek Bodner after a huge home win over the Phoenix Suns, Embiid say, "honestly I don't know how I'm able to do it. I'm still trying to figure it out."
That was after he scored 26 points, pulled in 7 rebounds, and blocked 2 shots.He hit three of his five shots from beyond the arc, and was a massive reason the Sixers won against the Pacers.
Okay, what now? As if the mystery of how Embiid is doing the things he's doing wasn't already confusing, now not even he knows what's going on? The jokes about Jahlil Okafor averaging 20 and 10 in his sleep are one thing, but Embiid genuinely makes it sound like that's what he's doing — averaging 17, 7, and 2, and still not having a clue what is going on out there.
Although it's funny to hear him say that not even he knows what's up, it speaks to how much Embiid has to learn about the game, and that can be scary. If he's this good with minimal NBA experience and knowledge, where is the ceiling for Embiid?
Only time will tell.
This article originally appeared on