Jodie Meeks returns to Orlando Magic practice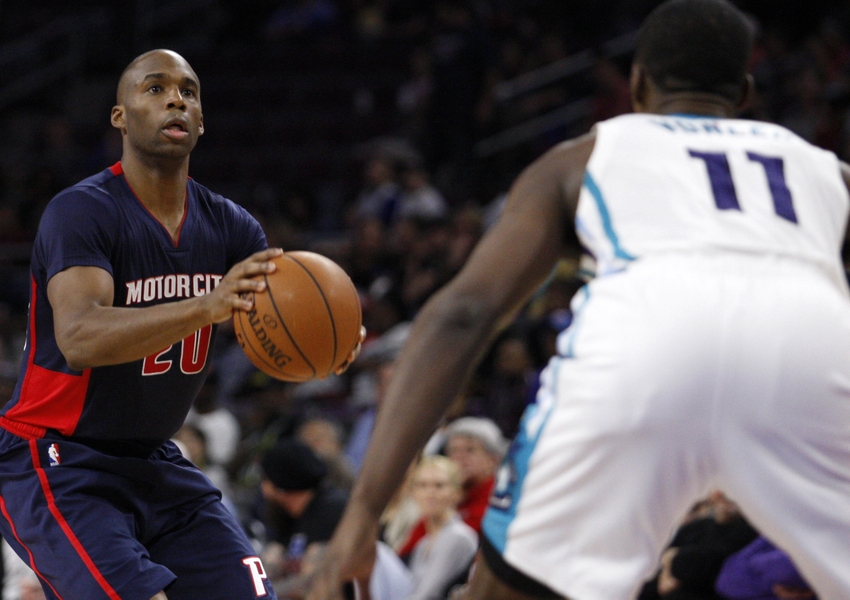 Orlando Magic got some good news Friday as Jodie Meeks returned to full-contact practice. But the veteran guard is still a ways away from an on-court return
Jodie Meeks returned to the practice court for contact drills Friday for the first time since surgery to his right foot, coach Frank Vogel said and Meeks later confirmed.
Meeks missed all but three games last year with a fracture of the fifth metatarsal in his right foot. He returned late in the season and seemed healthy and ready to play for the Magic after they acquired him from the Detroit Pistons this summer.
A setback in July though revealed the injury had not healed properly and would require surgery to repair. That would knock him out until the end of November.
With Thanksgiving upcoming, Meeks had slowly made his way back into the fold — graduating from shooting set shots to individual work to Friday's milestone.
"It's going to take some time," Meeks said. "That's why I'm excited to be here in practice. The only way you can really get into game shape is to play the game. All the line drills and conditioning is good, but it's not the same."
There is still no firm timetable for Meeks' return. Meeks said he was excited and happy to be back in practice and going through drills with his teammates. He still has to get his conditioning, wind and timing down before he can step into a game. It may still be a while.
As for his first practice, players said he was active and caught on quickly to what the Magic were working on. His shooting is still a big asset for the team and the main reason why the team acquired him this summer.
But, again, this was just a first step in his return to the court. He is not set to return to game action quite yet.
"He's still got some time to get his legs under him, his conditioning, his rhythm and timing," coach Frank Vogel said. "I'm not going to put him out there when he is not ready to go. We are still a ways away."
Undoubtedly though the Magic could use a player like Meeks.
Meeks said he knows Vogel appreciates shooters. Shooters, such as C.J. Miles, have thrived in his offense. Meeks said he hopes to bring that to the team when he is ready to rejoin them.
Meeks averaged 11.1 points per game and shot 34.9 percent from beyond the arc for the Detroit Pistons in 2015. For his career, he has shot 37.3 percent from beyond the arc.
Last year was difficult as he fractured the bone in his foot after two games. He returned for the final game and the Pistons' Playoff series against the Cleveland Cavaliers.
The setback this summer was disappointing. Meeks said this time last year he was much more down as he dealt with an injury for the first time in his career. He took a much more positive and determined approach to his recovery which helped him get through it.
Getting back to practice is a big step forward for the veteran forward, but he does not plan to return to the court for games until he feels 100 percent. That may still be a while longer.
"I think you have to make sure you are 100 percent," Meeks said. "When you are out there people are going to judge you like you are 100 percent. In this league and in life, there are no excuses. I'm not 100 percent ye as far as conditioning-wise, but I am getting there. When I am, I'll be back."
More from Orlando Magic Daily
This article originally appeared on