Jimmy Butler Stars in Nike/Jordan's Space Jam-Theme Commercial with Blake Griffin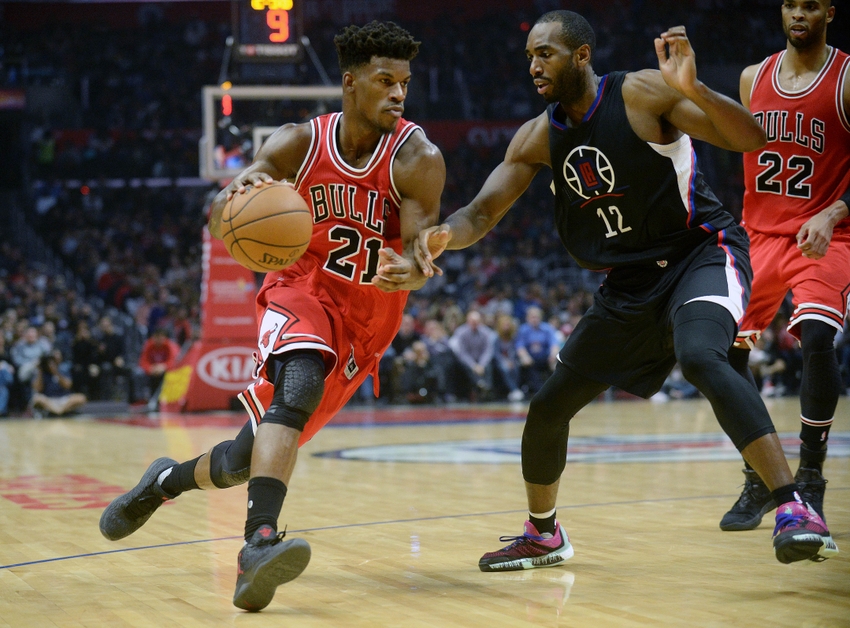 To celebrate the 20th anniversary of the film Space Jam, Nike and the Jordan Brand have put together the "DEFY" collection, starring Los Angeles Clippers big man Blake Griffin and the Bulls' own Jimmy Butler.
If you watch basketball on a frequent basis, you've probably heard of Michael Jordan.
If you watch Chicago Bulls basketball on a frequent basis over the years, you probably have not only seen Space Jam once or twice … or 31 times … and you probably have enjoyed watching Jimmy Butler grow into a (Mon)star in his own right.
On Thursday, Nike and the Jordan Brand released their "DEFY" collection, which celebrates the 20th anniversary of the film that Jordan and the Looney Tunes made famous.
They also released a short film, starring Butler and Los Angeles Clippers superstar Blake Griffin, prepping to take on the Monstars 20 years later. (Well, Griffin anyway. Butler's got the style game on lock in the ad.)
Here's Nike with more on the collection and explanation of the short film:
The film envisions a world in which the Monstars return to Earth demanding compliance with their brand of basketball. This time around, the Monstars wear the Air Jordan XI, in hope that some of the magic that inspired their own glorious defeat will reverse fortune.

But the Jordan family is now equipped with a new secret tool: the Air Jordan XXXI. These anti-Gravity Machines are poised to upend the Monstars' soulless game. Led by Blake Griffin and Jimmy Butler, the Jordan squad celebrates the elements of the defiant ballers — the ones who work hard, play hard and love the game.
Jordan Brand also showed some more peeks of the "DEFY" collection on their official Snapchat account on Thursday.
It's a pretty cool concept from Nike and Jordan Brand to bring back a classic film in the eyes of many who grew up watching the film on a day-to-day basis.
For Butler, it's another opportunity for one of the NBA's best players to bring in some more dough and look good doing it.
More from Pippen Ain't Easy
This article originally appeared on