Jeremy Lin is quietly dominating the NBA playoffs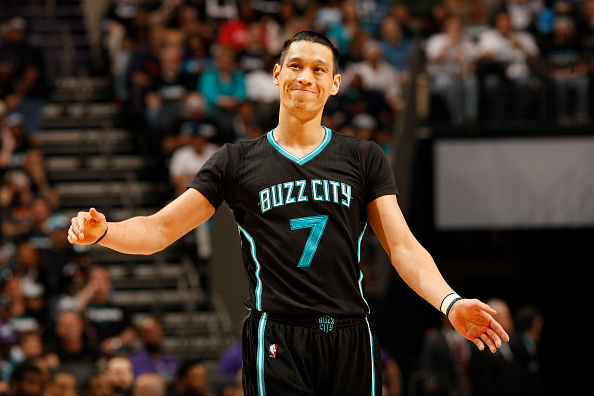 On Monday night, with his team's season essentially on the line, Charlotte Hornets backup point guard Jeremy Lin played with the sort of frenetic relentlessness that's only found in the NBA's most confident scorers.
He finished with 21 points on 10 shots, going 8-for-9 from the charity stripe and refusing to take his foot off the pedal for 34 fearless minutes. For one night, the 27-year-old free-agent-to-be looked like a legitimate star, even though a more accurate description would probably tag him as a role player smashing through his natural ability's ceiling.
In four playoff games, he's averaging 19.1 points per 36 minutes and shooting 50 percent inside the three-point line.
Lin isn't a prototypical point guard. He doesn't involve teammates so much as he uses their screens and space to needle his way into the paint. Once there, he happily invites confrontation from a much larger player, and typically wins the battle.
Clearly, Miami Heat center Hassan Whiteside agrees:
You heard Heat yell "stay with him" as Lin snaked around Whiteside. He was unable to.

— Nate Duncan (@NateDuncanNBA) April 25, 2016
Wade completely checked out on defense. Whiteside understandably not himself. CHA has gradually found ways to challenge Heat PNR defense.

— Zach Lowe (@ZachLowe_NBA) April 26, 2016
Lin forces the defense to rotate, seemingly never runs out of gas and gives the Hornets the jolt they need off the bench. (Right now, they're the most efficient pick-and-roll team in the postseason because he won't stop attacking.) In this series, Charlotte scores 14.7 more points per 100 possessions when Lin is on the court—roughly the same gap that sits between the Golden State Warriors and Los Angeles Lakers' offensive units during the regular season. They're outscored by a brain-melting 32.5 points per 100 possessions when he sits.
Jeremy Lin has drawn 24 fouls in the series — as many as LeBron James and James Harden in the playoffs.

— Manny Navarro (@Manny_Navarro) April 26, 2016
Lin isn't perfect. His outside shot isn't much of a threat and he isn't efficient enough to start. Consistency wafts. But in this series he's the best version of his skill-set: a sly battering rim who forces the issue over and over again without ever picking up his dribble.
Lin's 11.5 drives per game ranks fourth overall in the playoffs, behind Isaiah Thomas, Jeff Teague and teammate Kemba Walker. That's pretty good, but gets better when you consider Lin's only averaging 27.7 minutes per game (about 10 fewer than Walker, who only has four more total drives).
Lin's played 69 fewer minutes than Russell Westbrook, but they both have 46 drives; his 22 free-throw attempts in such situations lead the entire playoffs and Miami doesn't really have much of an answer.
Drawing fouls is a skill, and Lin is using every minute he has to show why very few in the world are better at it than him.