Jeff Teague Turned Things Around in November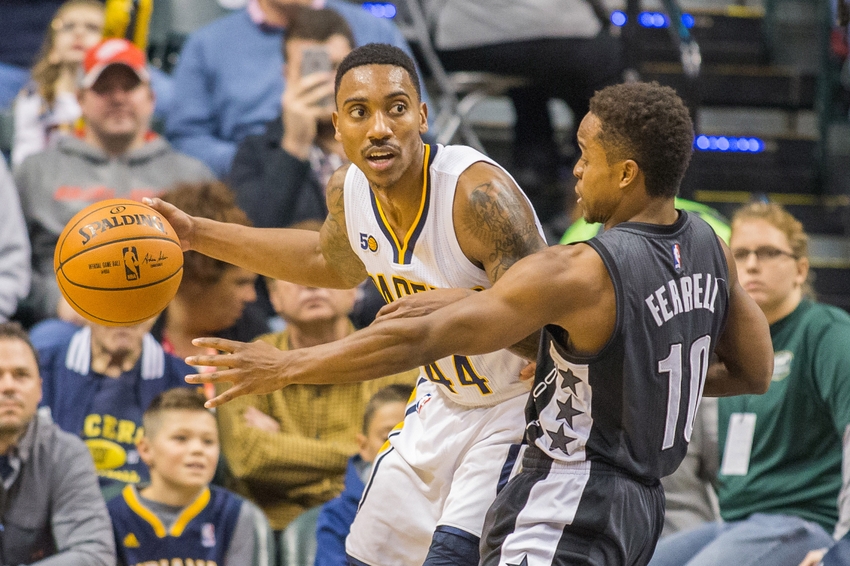 After worrying countless Pacers fans with his lackluster performance in the first few games of the season, Jeff Teague turned it around by punching in a stellar November. Can we expect his production to continue?
Blessed be the Pacers fan who doesn't jump to conclusions after one or two games. After an ugly start to Jeff Teague's tenure as a Pacer, the Twitter world was ready to call the offseason trade to acquire him a horrible deal — even though those same people had been calling for George Hill's absence for the last three years.
The concern was reasonable, though. Teague did not look like he fit into Nate McMillan's offense. His shooting was putrid, he couldn't get anything going from behind the arc, and he even registered a zero-point game early on in the season.
Then November came, and in beautiful holiday tradition, Teague showed us all why we should be thankful for him at the point guard position. His official stat line for the month: 16.4 PPG, 6.7 APG, and 4.1 RPG. He finally started making some threes, too, but still finished with a less-than-stellar 30.4% from behind the line.
What changed? There are a few possibilities, and it's likely a summation of all of them: adjusting to a new team, adjusting to a new NBA season, having spotlight time with C.J. Miles and Paul George inactive, and some good ol' regression to the mean.
The most important question here is where that mean exactly lies, and if Teague is now on pace to stay there, fall back, or rise above it in December and beyond. Let's use his numbers from November in comparison to last year to investigate.
The main thing to note is consistency: Teague pulled in double-digit scoring in 12 of 16 games in November (with three 9-point games). He did this in 63 of 79 contests last season, which puts his November about on par percentage-wise (75% vs 79.8%).
He has also been extremely consistent in the passing game; despite only reaching 10 assists once all month, he only had three games with less than 5.  This is a slight improvement from last season, where he netted less than 5 assists 27 times (18.8% in November vs 34.2% in 2015-16).
It's worth reminding that despite his poor scoring start to the season, his assist totals for the three October games this year were 8, 7 and 8. He's been distributing it well — perhaps even better than he did in Atlanta.
The problem? 3-point shooting.
While Teague has improved in the sense that making any threes is better than making none, his shooting percentage still isn't that great — especially in comparison to last year. Teague put up an amazing 40% clip from behind the arc last season, somewhat of an anomaly from his normal production (his second highest season percentage is 37.5), and even though his volume of three-point attempts hasn't changed, his three-point makes have- significantly. His 30.4% November clip is certainly better than his 0% October clip, but ideally, a player taking three 3-point attempts a game shouldn't be hitting at such a poor rate.
Breaking down the way he's getting his shots doesn't lend to a clear answer to the problem. Last season, only 63.6% of Teague's threes came from an assist; that number has improved to 77.8% so far this year. The shots should, in theory, be easier for Teague. He doesn't have to create on his own as much, and typically NBA players fare far better catching and shooting than off of a dribble.
An explanation that might make a little more sense is the quality of shots Teague has been receiving. Last year, Teague got a large amount of wide open 3-point attempts (attempts with no defender within 6+ feet) as part of the spacey, tons of 3-point shooting talent, Hawks. He averaged 2.1 wide open threes a game, good for 20th in the league, and shot 46.7% on those attempts.
More from 8 Points, 9 Seconds
This year, with almost no change in total 3-point attempts, his wide-open attempts have dipped to 1.4 a game. In an effort to be aggressive and a leader on the offense, Teague has sacrificed quality for quantity, as his volume of shots has remained the same but volume of good shots has gone down. The good news is, though, he's shooting 42.3% on such attempts this year. It's slightly down from last season, but at least we know he doesn't just suck at shooting now.
Whether or not he'll be able to change that tendency is up in the air, though with almost a quarter of the season in the books it may be time to start hoping that he'll improve rather than expecting it to happen.
Although he isn't the deadeye shooter he was last year as a Hawk, he's still finding a way to put up points for the Pacers, and has been the definitive "true offensive point guard" that Pacers fans have idealized for some time now. Whether it be driving and scoring or racking up assists, finding a way to get to the foul line (he's already had five games where he reached the charity strike 10 or more times), or grabbing an abnormal amount of rebounds (he came just short of his first triple-double against Brooklyn a couple weeks ago with 9 points, 8 assists and 9 boards), Teague has produced for this team all November, and by the looks of his first game in December, he should be on that level from now on.
Staying in the holiday spirit, as we gave thanks to Teague for turning things around in November, let's hope we're approaching The Most Wonderful Teague of the Year in December and beyond. Despite the good fit George Hill has found with the Utah Jazz, it's hard to argue that Hill would be doing quite as well on these current Pacers. He definitely wouldn't be putting up 30-9 games, which Teague has already done twice this season.
Teague is finding his way with this team. Time will tell how far he can make it, but the prognosis is optimistic.
This article originally appeared on