Jeff Teague Is Finally Healthy: Why He Is Set for a Bounce-Back Season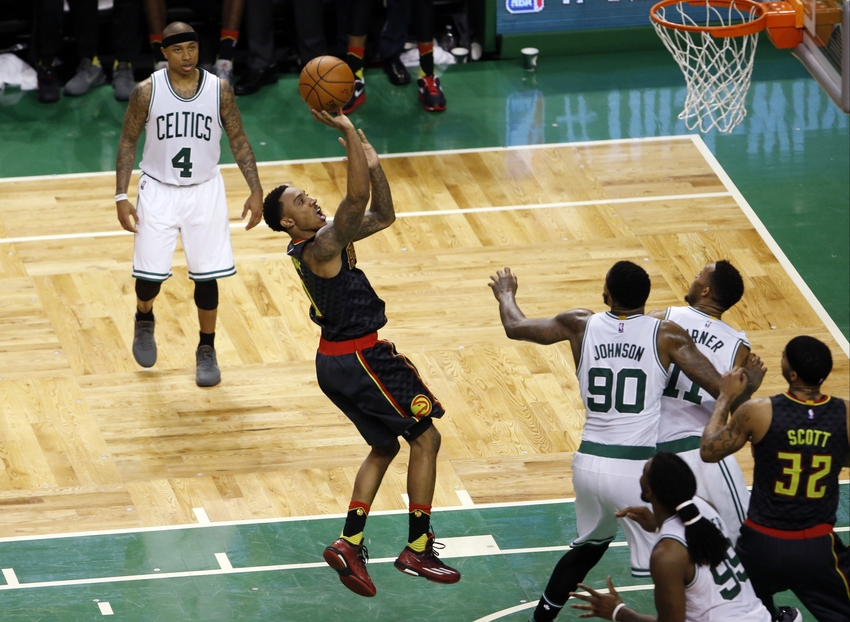 Indiana Pacers point guard Jeff Teague is finally getting over what he says is a torn patella tendon injury that slowed him down last season.
Jeff Teague's final season with the Atlanta Hawks wasn't his best in the NBA, and that may have been thanks to the fact the new Indiana Pacers point guard says he was dealing with a torn patella tendon.
With the Hawks last season, his points, assists, and field-goal percentage were all down. For a player of his pedigree, it seems likely that his injury was at least partially is responsible for that decline.
Though it wasn't widely reported, Teague himself told the world that, during a season that he had to deal with trade rumors, he was also struggling with a knee issue.
Whle he quickly deleted his public message, an Instagram post from Teague sounded like he was sick of hearing from critics and was eager to show everyone that his skills had not deteriorated.
"They won't tell ya'll but I played with a tear in my patella the whole year and could barely jump or stop but it's coo got that taken care," posted Teague, according to Wendy Adams of 92.9 The Game, who took a screenshot of the message before it was deleted. (h/t Bleacher Report)
In short, Teague feels like he has a lot to prove now that he has been traded to his home state.
And this summer, the Indianapolis native is looking to get up to speed as quickly as he can with the Pacers. According to Pacers.com's Mark Montieth, Teague and Paul George started practicing together recently in an effort to build chemistry.
Teague only began playing last week, the torn patella tendon that hampered him all of last season having healed sufficiently. George was in The Fieldhouse on Tuesday, and talked with Teague some in the locker room, but Wednesday was their first day together on the court.

So far, so good.

"I'm a really reserved guy; I don't really talk much unless I'm on the court," Teague said Wednesday afternoon, when he paid a visit to his alma mater, Pike High School. "But I'm a competitor, so I like to compete and trash talk and do all that. In the locker room I might be a little reserved and don't say much, but on the court I'm more outgoing and a leader. Yesterday in the locker room I was a little reserved, and it probably was a little weird because we were both just sitting there … our lockers are kind of by each other, so it was a little awkward. But today we played and you could see the relationship growing.

"When you get on the floor and you start competing and you want to win, you start talking on the floor. You start opening up and start talking about what's going on, and then you make conversation off of that. It kind of worked out like that today.

"We're going to work well together."
If Teague has gotten healthy, he'll get back those points and assists he was missing out on in 2015-16 while falling out of favor in Atlanta due to the emergence of Dennis Schroder. He should also be able to improve his finishing ability a the rim.
A healthy knee should allow him a better chance of getting back to the 61.9% he shot at the rim two years ago, unlike the 56.3% he shot from there this season.
Then there is his long-range shooting — the one thing that actually got better last season.
Teague took a career-high 275 triples, making 40%. This was nearly 5% better than his career average from beyond the arc, and on catch-and-shoot 3-pointers, he led the league at 49.6%. (Among those who at least hit 41 treys and played 500 minutes.)
More from 8 Points, 9 Seconds
Even if Teague drops down a few percentage points from deep, he would remain above the league average on 3-pointers, something the 28-year-old has rarely done  in his career.
So if Teague's shooting is for real and he's now healthy (and closer to the version of himself that made the All-Star Game), what does that mean for the Pacers?
It means they'll have a point guard handing out 7+ assists a game and scoring 16+ points while knocking down a significant number of 3-pointers. That's something the Indiana Pacers haven't had at the point guard position since Mark Jackson in the late 90s.
At 100%, Teague can bounce back this season, but that also depends on how well he blends in with the rest of the team. As long as Jeff Teague and Monta Ellis find a way to co-exist, that shouldn't be a problem.
A healthy Jeff Teague and a talented Indiana Pacers roster can be a force to reckon with in the Eastern Conference, especially if they still play defense at a high level.
He may be ranked one spot behind George Hill now, but he has the chance to catapult himself with a healthy knee this season.
This article originally appeared on