Jeff Teague Breaks His 3-Game Slump and the Indiana Pacers Actually Played Defense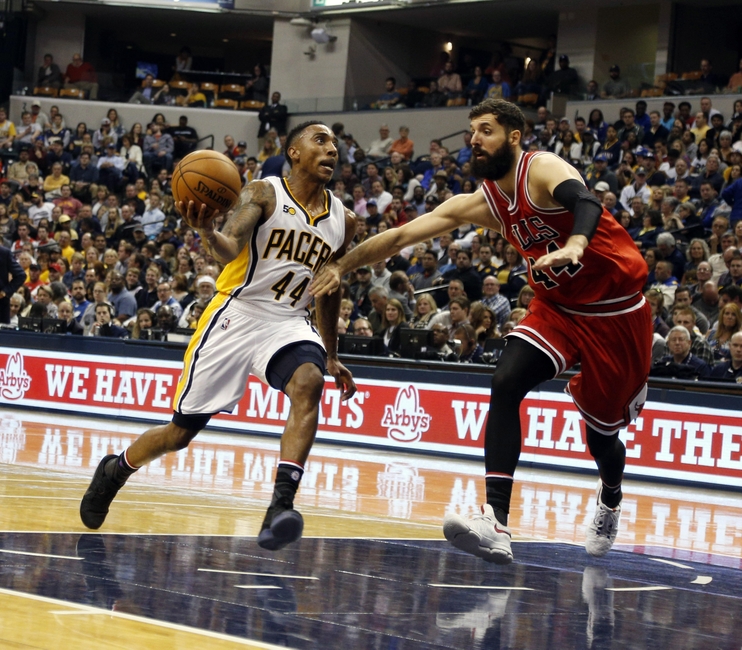 Jeff Teague struggled to find his shot over the past four games, but against the Chicago Bulls on Saturday broke out with 21 points and 6 assists.
It wasn't the sort of game you'll remember from Jeff Teague in a few weeks, but it was the sort of game where you remembered Teague is actually a very good basketball player.
Teague racked up 21 points, 6 assists, and a steal as the Indiana Pacers cruised past the same Chicago Bulls team that hammered them a week ago.
The difference between the Teague we saw Saturday and the one we saw in the season opener where he scored 20 points against the Dallas Mavericks— or his 16 in a loss to the Milwaukee Bucks — is this time Teague didn't waste his shots. In those previous games, he relied on free throws to boost his point total while making around a third of his attempts.
This time against the Bulls he was efficient with his best shooting night of the season. Teague went 9 of 14 from the field and 3 of 5 from beyond the arc and he didn't need free throws to pad his point total either.
More from 8 Points, 9 Seconds
His offense didn't come at the expense of the team's offense, either. Monta Ellis had to take a step back in this game as he only took scored one bucket while handing out 8 assists, but that's not a problem when the team as a whole shoots 53.5% from the field and posts an 116.5 offensive rating. The ball was moving and just about everyone was making shots.
As long as Teague and Ellis can defer to each other when one of them has the hot hand and let the offense flow, some of the concerns about fit will fade.
It wasn't just Teague that impressed on Saturday, either.
C.J. Miles continues to show off his shot selection and playmaking ability as he dropped 20 points on 8 of 14 shooting, going 4 of 7 from 3-point range.
His similarly named teammate Myles Turner was next on the list with 16 points and though he was 5 of 13 shooting, he made up for it was a 6 of 8 performance from the foul line.
Paul George scored 13 points, but this game will be remembered for how he got ejected.
The Pacers finally showed what they can do when the defense shows up along with their faster and higher scoring offense, something Pacers fans can get excited about going forward.
This article originally appeared on