Jeff Hornacek – The Shooting Guard who Steadied the Phoenix Suns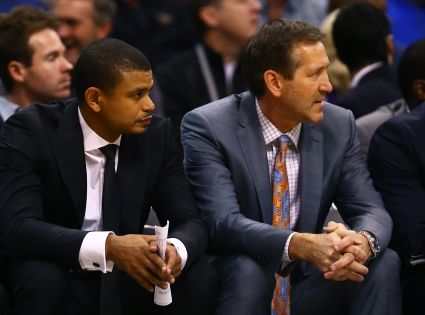 Jeff Hornacek was the shooting guard on one of the best Suns' teams the franchise has ever known.  And he's been a part of nearly every Suns' Ring of Honor career.
Hornacek was the second round pick (46th overall) of the Suns in the 1986 NBA draft and played his first year for a mediocre Phoenix team.  But after the Suns traded away Larry Nance in February, 1988 for Mark West, Tyrone Corbin, and Kevin Johnson, the Suns started to look like something.
Then in June, 1988, Phoenix signed free agent forward Tom Chambers, and the team really took off.
Hornacek became the third option on a team that featured a freakishly gifted point guard in Kevin Johnson and a slashing, slam-dunking wing in Tom Chambers.  Hornacek was the glue that held it all together with steady play and shooting that came from a man who lived basketball his whole life.
Suns Dominate Lakers in Playoffs
The highlight for this team was its almost complete dominance of the Pat Riley coached Los Angeles Lakers in the second round of the 1990 NBA playoffs.  Phoenix toppled Los Angeles 4 games to 1 in a series remembered for what LA Times columnist Mike Downey said about the Suns, predicting Phoenix would "fold like a tortilla."
Instead, it was the Lakers who folded.  Hornacek shot .511 from the field and was second on the team with 73 assists (Only behind KJ's 170) for the entire playoffs that year.
We'll never forget the sight of KJ, Chambers and Hornacek bounding off the Lakers' court after the game five clinching win.
Who would have thought it possible?    It turned out to be Pat Riley's last game as a Lakers head coach, and the end of an era for Los Angeles.  And Jeff was a huge part of it.
Unfortunately, the Suns went on to lose the NBA Western Conference Finals to the Portland Trailblazers that year.
When they were eliminated by Portland again two years later, the Suns had to make a move.  They traded Hornacek to Philadelphia in a blockbuster deal that brought Charles Barkley to the Valley of the Sun.
Hornacek's Last Year as a Sun
But his last year with Phoenix was Hornacek's best.  He scored a career-high 20.1 points in his final season as a Sun before being traded. Overall in Phoenix, Hornacek played 468 games in a Phoenix Suns jersey, from 1986-1992, averaging 13.7 points.
In six seasons in Phoenix, Hornacek totaled 2,523 assists.  Not bad for a shooting guard.  He totaled more than 5,000 assists in his 15 seasons in the NBA.
A gym rat and a basketball lifer, Hornacek was the son of a basketball coach.  He lived and breathed hoops his entire life, and will continue to do so as the new head coach of the New York Knicks.
It's just a shame that it didn't work out for him here.  It would have been great to have someone like Hornacek coaching up the young team Phoenix has assembled.  But sometimes it just doesn't work out, and Jeff will most likely be very successful in New York, if he gets front office support.
Hornacek's Biggest Off-Court Contribution
One more off-court Hornacek contribution to the Suns may be his most overlooked accomplishment.  According to Arizona Republic Columnist Bob Young, Hornacek once gave the team a recommendation on who should replace original Suns head trainer Joe Proski.  On the advice of Hornacek, the team hired Aaron Nelson as his replacement.
Nelson and his warlocks would later gain national notoriety for their miracle healing work on Steve Nash, Shaquille O'Neal and Grant Hill, reviving their late-stage careers in the NBA.   So thanks for that one, Jeff.
Hornacek also has a connection to 11 of the 13 inductees to the Suns ring of honor.
Bob Young also pointed that out, reporting Hornacek played for head coaches John MacLeod and Cotton Fitzsimmons.  He also played for Paul Westphal, an assistant coach for Cotton at the time.   And all three are in the ring.  As are his teammates, Walter Davis, Alvan Adams, Kevin Johnson, Tom Chambers and Dan Majerle.
Should Jeff be on the ring of Honor?
Maybe he should be there, too.   What do you think – should Jeff Hornacek, clearly one of the best shooting guards in Suns History, be on the Ring of Honor too?  Share your thoughts and memories of Jeff Hornacek, the player, below.
More from Valley of the Suns
This article originally appeared on