Jaylen Bond: Continuing Basketball Life Close To Home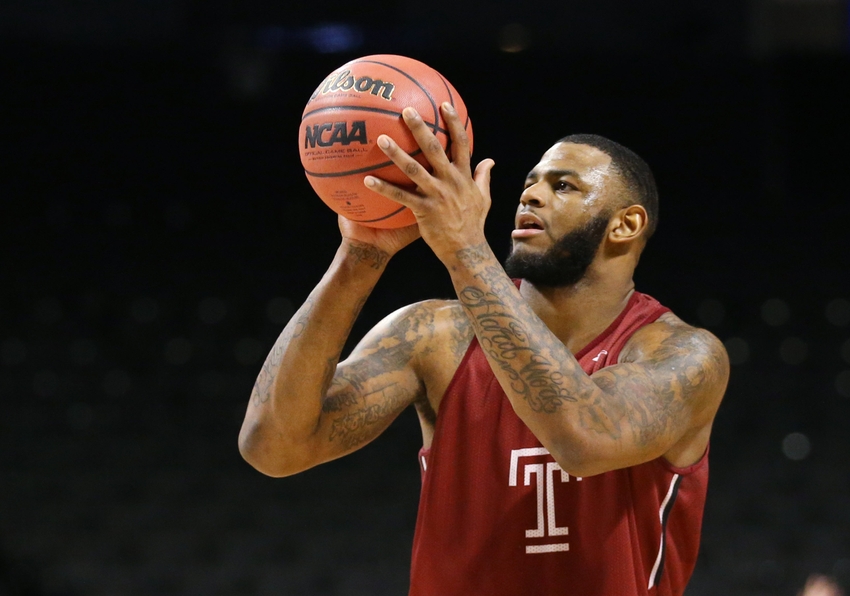 After four years in college, big man Jaylen Bond is looking to be establish himself as a contributor on the Westchester Knicks.
---
Over the course of a career, an athlete can spend their life in many different locations. An athlete starts their journey towards their dream in high school and then works their way up through the collegiate ranks. Following college, an athlete may call many cities home.
So far, Jaylen Bond hasn't had an experience like that. Outside of spending two years at the University of Texas, Bond has spent most of his basketball career in his home state of Pennsylvania.
The Norristown, Pennsylvania native spent his high school years at Plymouth-Whitemarsh and competed with Temple University for the final two years of his collegiate career.
Temple had a successful 2015-16 season by finishing No.1 in the American Athletic Conference. Along with that, the Owls advanced to the NCAA Tournament, which was their first appearance in the Tournament since the 2012-13 season. Though Temple suffered a nail-biting loss to Iowa, the 6'8″ Bond totaled 14 points, 15 rebounds, and one block.
After averaging 10.3 points and 8.5 rebounds in 29.2 minutes per game in his senior season, he went undrafted in 2016. Four months later, he made an NBA D-League roster through a team tryout.
While he is outside of his home state, Bond still has the opportunity to accomplish his goal close to home.
"Just having that family support as many games as they try to come to. It's great," Jaylen Bond told Daily Knicks. "I look forward to every game just noticing my family in the stands and some games is an addition to."
One of his talents in college was his aggressiveness on the glass. Bond would fight hard to pick up rebounds, especially on the offensive end. That kind of aggressiveness is huge since it gives the team an opportunity score more frequently.
The most important thing the Westchester Knicks may need is for the Temple product to be aggressive on the glass and to establish good positioning to secure the boards, which was something he displayed against South Florida and Memphis.
Before the start of the season, Westchester Knicks head coach Mike Miller pointed out that the Knicks will need a collective group of guys to step up in the rebounding department.
"We're looking at a couple of the other guys that are going to have to rebound well," Miller said. "Jaylen Bond, young guy from Temple is a rookie, averaged double figure rebounds a year ago at Temple, so we think with that combination of guys, we can fill that void."
Along with averaging 7.8 rebounds per contest through the first five games, Bond has picked up an impressive 3.6 offensive rebounds per game, which is 9th in the D-League.
Giving this team, which ranks 7th in the D-League in points per game, many second opportunities will eventually catch up. This team has many players who can shoot and put the ball in the basket, which makes it more lethal.
The Knicks have players who can do both. Chasson Randle, along with a few assignment players, have shot the ball well from deep so far this season. Jordon Crawford showed he can drain some shots from deep, which he showed last season during a stretch of games where he started. And let's not forget about the athletic forwards in Bond, Damien Inglis, and Keith Wright who are versatile and can score.
While the forwards aren't shot-blockers or rim protectors, their skills greatly benefit the team. These players not only defend multiple positions, but they can get it done on the offensive end as well.
"It makes us more versatile and I feel like we have bigs like myself and Keith [Wright] and Damien [Inglis]," Bond said. "We can guard multiple positions, so it helps us a lot."
"Offensively, we get the rebounds and try to look to score again," Bond said. "Defense, it stops the other team from scoring, so we take great pride in getting our rebounds."
His impact on the glass was crucial in Westchester's win over the Iowa Energy. He was able to grab 10 rebounds, including seven on the offensive end. When the team has players who can score, giving a team like this that many second opportunities isn't good.
Head coach Mike Miller was pleased with what he saw in that area.
"I was pleased with our rebounding tonight," Miller said. "I think we went a segment in the first half until the end of the half, I thought we were really sharp with our rebounds and then they started getting to us a little bit on a few of the others and we were able to get enough down the stretch."
Jaylen Bond has displayed his talents and skills early on in the season, but there are some things he's looking to improve on during the season.
"Every game I try to improve my total aspect of the game, if it's defense [or] offense, I just try to improve every game; shooting, rebounding, [and] defense," Bond said. "Anything I can do to help my team win."
Even though Westchester ranks in the middle of the pack in rebounds—11th in the league with 45.4 rebounds per game—the team has won four in a row. And the team is getting a collective effort from their forwards.
As the Knicks gets more accustomed to each other's play, they could be intriguing to watch as the season goes on. During his collegiate years, Jaylen Bond showed he can score down low and also knock down perimeter shots. If Bond can get opportunities like that, he will be an important contributor off the bench.
This article originally appeared on