James Jones: I'll be back in Cleveland for sure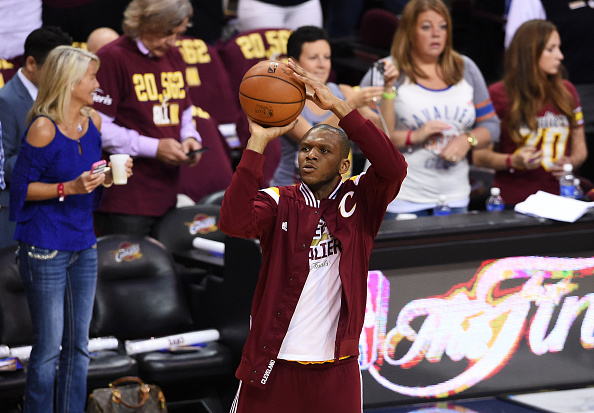 On the red carpet of the first Players' Awards show in Las Vegas on Sunday, Cleveland Cavaliers forward and three-point specialist James Jones told Joe Vardon of Cleveland.com that he will be a Cavalier next season.
"I'll be back in Cleveland for sure," Jones said.
A 34-year old free agent, it was unclear if Jones would return to the Cavaliers. Signing a one-year deal with the Cavaliers in the summer of 2014, Jones became an unrestricted free agent following the season.
Ever since Cavaliers point-forward LeBron James left Cleveland (the first time) and has since returned, Jones has been a mainstay in every James' lineup. Jones, who is a 12-year veteran, qualifies for the veteran's minimum, $1.5 million this season. In comparison, he made the league minimum of $1.45 million last season. As a three-point shooter off the bench, James averaged 4.4 points in 11.7 minutes last season.
While obviously wanting to contribute on the court, Jones also made it known that he wants to help change the culture of the Cavaliers, build a championship team, and bring a championship back to the city of Cleveland.
"I've made it well known last year when I told them I was coming to help change the culture and do something special," Jones said. "It wasn't a situation where I was looking for a platform to move on. I was looking to be a part of something, to build something. And so I'm still in."
According to Jones, he has worked on his game and has already gotten better during the off-season.
"Last year was big for me in establishing who I am and defining myself," Jones said. "So, I'm excited about the things I've worked on this summer, and they'll see a different James Jones next year for sure."
While saying that he would re-sign with the Cavaliers, Jones also gave some input on the contract extension talks of Tristan Thompson and JR Smith.
"Those are conversations that are always tough to have," Jones said, speaking about Smith and Thompson. "This is the part of the business that requires a lot of thought and requires a lot of work. I'm hopeful we'll get it done. They're a big part of what we've done and we'll continue to do."
Jones may not bring that "it" factor, but he is a solid offensive threat off the bench that the wine and gold could always use off the bench.
More from Waiting For Next Year: