James Johnson's Miami Heat resurgence matters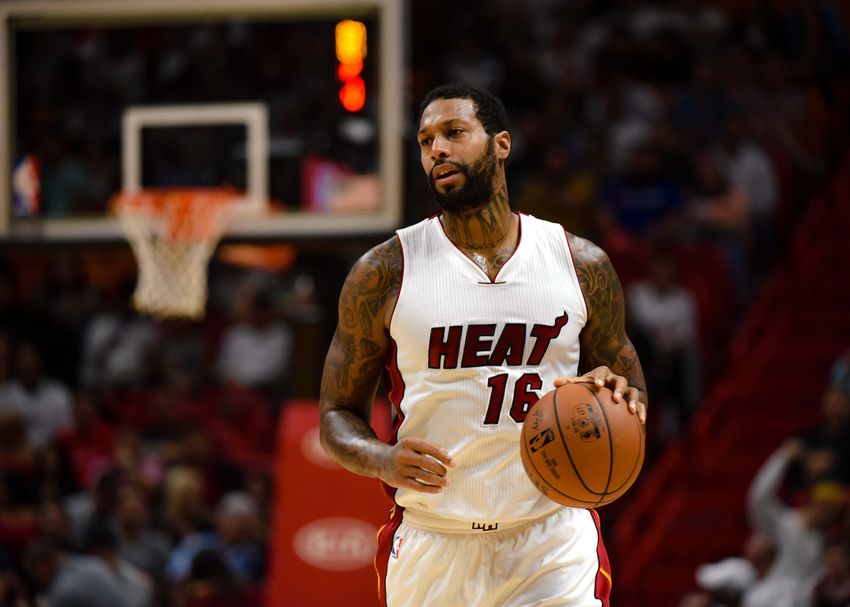 A glimpse into why James Johnson playing well for the Miami Heat is so important, and how it is indicative of the organization's culture.
Over the last five years or so, the Miami Heat organization has served as a place where basketball careers had come for a chance at rejuvenation. Eddy Curry, Michael Beasley, Greg Oden, to name a few. Whether it comes from bad luck with injuries or disciplinary issues, there have been plenty chances. For this current season, the Heat have a couple players who fit that bill. The most intriguing of them all may be James Johnson.
The twisted reality of the NBA is that when a player doesn't work out, 95 percent of the time it's about fit more than talent. The NBA is an exclusive boys club where close to 450 men get to call themselves an NBA player. However, not all of them are a good fit on their current team and it gives the illusion that they aren't immensely talented. Johnson happens to be a really good example of this.
Read More: Grading the Heat so far this season
Selected with the 16th overall pick in the 2009 draft by the Chicago Bulls, Johnson was once looked at as an intriguing prospect for numerous reasons. His size (6'9, 250 lbs) and his production (14.8 points and 8.3 rebounds) stood out amongst scouts and led to his star trending upward.
What followed can be best described as unrealized potential. He's struggled to find a home, as he's been a member of 5 teams. He's also never averaged more than 9.2 points and still has yet to crack the 5 rebound per game plateau, disappointing for a guy who was a good rebounder at the college level.
He's found a bit of a resurgence in a Heat uniform during this 2016-17 season, however. If he is able to keep pace with his current 9.9 points per game average, it will be a new career high. He's also currently tied for his career high with 4.7 rebounds per game as well. In addition, he's hitting 34.4 percent of his three-pointers, which would be a career high as well.
More than what his actual basketball skill, he has also given the Heat more toughness, both on and off the court. Johnson, who is a second-degree black belt, also has experience in MMA fighting and kickboxing. Those accolades make him one of the more fearsome men in the league and when combined with Udonis Haslem, it's certain to make teams trying to bully the Heat think twice.
Though it's recently been a hot button topic for sure, the Heat have long been viewed as a close knit, family unit. The organization has taken an undying pride in making all that join the team feel at home. It has resulted in being one of the more successful organizations over the past decade plus. Johnson seems to have blended in rather well despite the journeyman tag that has been placed on him.
While it's still early in the season and plenty time remains for things to change, it's nice seeing Johnson remind the fans that although talent is really important, sometimes it's about finding the right fit.
This article originally appeared on