James Harden's Case For 2016-17 MVP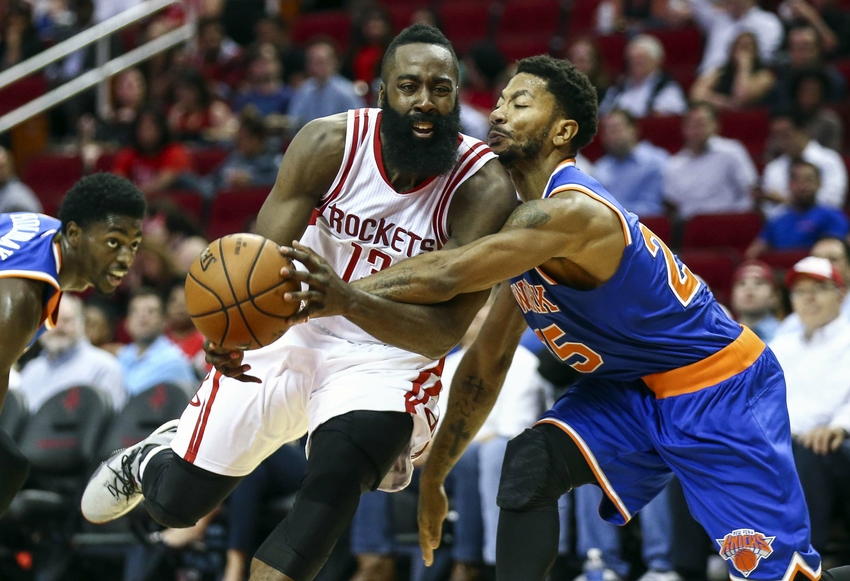 Few NBA players are as polarizing in public opinion as James Harden of the Houston Rockets. Coming off a disappointing season, can he make a run at MVP?
Everybody has an opinion on James Harden of the Houston Rockets. Some are nuanced and well-founded, like this excellent piece by Matt Moore of CBS Sports.
Other opinions belong to people who like to point almost exclusively to his infamous defensive breakdowns captured in vine form. There's no arguing the fact that his occasional and well-documented meltdowns occur, but there's more to James Harden than what the masses seem to think.
The bar is set high for Harden going into this season. By most accounts, he's coming off a down season in 2015-16. From a statistical point of view, Harden may have had the best "down season" of anybody in NBA history.
Let's look at the raw numbers.
Harden averaged 29 points, 7.5 assists and 6.1 rebounds per game last season. He led the league in minutes played, averaging 38.1 per game. He shot 43.9 percent from the floor, down a touch from the 44 percent in his MVP-runner-up campaign a year earlier, but his effective field goal percentage was slightly higher in 2015-16 at 51.2 percent versus the 51.1 of 2014-15.
He was one of just five regularly contributing Houston Rockets to have a positive net rating last season.  The Rockets outscored their opponents 115 to 108 per 100 possessions when he was on the floor.
His per 100 numbers were stellar, as he averaged 37.4 points, 9.6 assists and 7.9 rebounds per 100 possessions.
Harden was also just shy of the 60 percent true shooting mark, checking in at 59.8 percent.
So if last season was the disappointment, where might we find Harden's ceiling in 2016-17? For that matter, what has changed that might allow this ceiling to be hit? Finally, can he make a legitimate run at that elusive MVP award?
As of October 11th, Harden is fifth on the board at 5Dimes in MVP odds, trailing Russell Westbrook, Stephen Curry, LeBron James and Kevin Durant. Harden is currently +950 to win, meaning every $100 wagered earns $950 if he wins MVP.
The first and most important change in the equation is the installation of Mike D'Antoni as head coach, and his subsequent declaration that Harden will be moved to point guard. While Harden has been the primary facilitator on offense since coming to the Houston Rockets in 2012, there's a difference between running Kevin McHale's offense (or J.B. Bickerstaff, for that matter) and D'Antoni's offense.
While McHale's offense was largely effective primarily simply because he had Harden (and to a lesser degree, Dwight Howard) to rely on, Mike D'Antoni revolutionized the game in the mid-2000's with the "Seven Seconds or Less" Phoenix Suns. Playing point guard in his offense is a whole different story than anything Harden has ever experienced.
Harden has always been essentially a point guard, so the alleged position change won't amount to much, but running MDA's offense will make a big difference. Mind you, the rest of the NBA has adopted and adapted MDA's schemes and his style is now largely de rigueur, but Harden is the element he has now, and that the rest of the NBA does not have.
Harden is not just one of the best scorers in the NBA, but he's an elite play-maker as well. In fact, he may be a top-three or top-four playmaker in the league.
His 7.5 assists per game ranked sixth in the NBA last season, and while carrying the offense on a team without skilled scorers or shooters, he averaged 9.6 assists per 100 possessions. His assist numbers should climb this year with Ryan Anderson and Eric Gordon now in town. While you can't take much from the preseason, it's worth noting that with them around, he's averaging an NBA-leading 11 assists through four games.
Anderson is a long-range sharpshooter who shoots almost 38 percent from three-point range in his career and averaged 17 points per game last year. Gordon is even better from long range, shooting 38.4 percent from three-point range last year, and shot as well as 44.8 percent from outside in 2014-15.
Finally, numbers alone won't be enough for Harden to win MVP. Harden is going to get his points, his teammates and improved scheme will help him get his assists. There remains one element that we haven't covered, and that's wins. As Zach Lowe mentions in his "30 Crazy Predictions" post, there's a certain threshold of wins and standing that is required of an MVP.
Right or wrong (note: wrong), there is very little history of MVPs coming from teams that finish outside the top two in their conference.
The Houston Rockets may be hard-pressed to finish in the top four of the Western Conference, let alone the top two. The Golden State Warriors, San Antonio Spurs and Los Angeles Clippers are heavy favorites to comprise the top three of the conference. A jumble of teams behind them are likely to battle it out for the four-through-eight seeds. However, if Harden can elevate this Rockets' squad into the top three or so, he'll force himself into the conversation.
Harden entered training camp with an edge we haven't seen from him in some time. He's in shape and looks prepared. A determined and prepared James Harden is a dangerous sight indeed for the Western Conference and the rest of the NBA.
This article originally appeared on