James Harden outshines Kyrie Irving in Houston Rockets Loss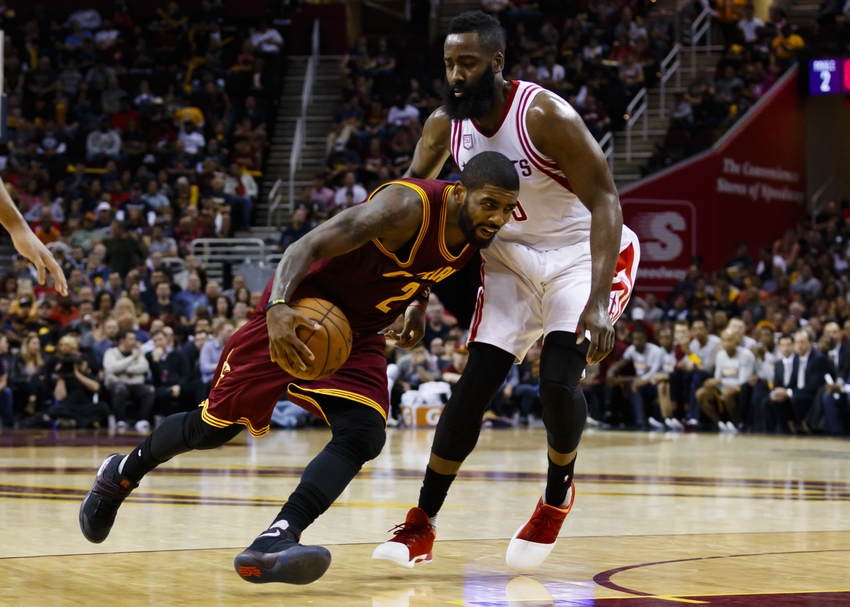 The Houston Rockets may have lost to the Cavaliers, but SCS player grades reflect how close the game was.
After defeating the Dallas Mavericks in their home opener, the Houston Rockets kicked off their five-game road trip, Tuesday, at Quicken Loans Arena. Despite rolling in on a two-game winning streak, the Rockets lost a hard fought battle against the defending champion Cleveland Cavaliers 128-120.

120
128
Behind James Harden's 13 first quarters points, Houston got off to an early 35-29 lead. However, after a 15 point second quarter by Kyrie Irving, the Cavaliers outscored the Rockets by 10. Their second quarter run put Cleveland ahead 63-59 by halftime.
The Cavaliers hot shooting continued in the third, but the Rockets were not to be outdone. As Cleveland led 85-84 heading into the fourth.
The Rockets saw their one-point deficit increase by 13 early in the fourth but refused to give up. A few clutch three-pointers by Trevor Ariza and Eric Gordon kept Houston in the game. Unfortunately, Houston's could not find a defensive answer to slow down the hot shooting Cavaliers.
In the end, it was too much Kyrie Irving late in the fourth. He hit a dagger that sealed the deal for the Cavaliers. The Rockets' 128-120 loss ended their four-game winning streak at Quicken Loans Arena.
Rockets Player Grades:
Clint
Capela
C,
Houston Rockets
D
Capela got off to a nice start scoring six first-quarter points. Unfortunately, he struggled through the rest of the game. Against a relentless rebounder in Tristan Thompson, Capela should have done a better job keeping him off the boards. Overall, not the best game for the Switzerland big man. 8 points, 4 rebounds 1 block
Ryan
Anderson
PF,
Houston Rockets
C+
Ryan Anderson is definitely having a tough start to his Rocket career. He played an average game in Cleveland, but again was yanked early due to defensive issues. Anderson made a few baskets here and there, which helped the Rockets stay within striking distance. Defensively, Anderson had a tough time slowing down Kevin Love. Love scored 10 first quarter point and had Anderson looking helpless. 12 points, 4 rebounds
Trevor
Ariza
SF,
Houston Rockets
B
With the task of guarding LeBron James, Trevor Ariza played one of his best defensive game of his career. While guarded by Ariza, James didn't make a single field goal. In fact, his physical play took away the aggression fans are used to seeing from LeBron. Despite taking a hard hit on the cheek early in the third, Ariza continued his brilliant play. This time on the offensive end. He scoring nine points in the second half. Overall, great game from Ariza. 11 points, 1 rebounds
Eric
Gordon
SG,
Houston Rockets
B
Not sure if it was the early start to the game, but Eric Gordon did not have a great start to the game. Offensively, Gordon struggled to put the ball in the basket. As well as having a tough time slowing JR Smith on the defensive end. Thankfully the second half was a different story. He scored nine points in the second half. Unfortunately, it was not enough to help the Rockets come out with a win. 16 points, 3 assists, 2 rebounds.
James
Harden
PG,
Houston Rockets
A+
As expected against the NBA's elite, James Harden had a phenomenal performance. Arguably one of his best performances of his career. He got off to a hot start with 13 points during the first quarter. By halftime, Harden led all scorers with 22 points. During the second half, Harden continued his hot scoring. However, it was his play making ability that stood out the most. He dished out 15 assists and after copious games of multiple turnovers he limited that area of his game to a single turnover. Considering Harden twisted his ankle in his last outing this was a superb game from The Beard. 41 points, 15 assists, 7 rebounds.
Nene
Hilario
C,
Houston Rockets
B+
I understand that Clint Capela is the heir to Dwight Howard, but Mike D'Antoni may need to make a change to his starting lineup. Nene is having a great start to his Rockets career, and it was the same story in 'The Land'. Not only did Nene provide Houston with a solid scorer on the offensive end, but made his presence known defensively. Overall, another great game. 13 points, 4 rebounds, 1 block.
Best Opponent:
Kyrie
Irving
PG,
Cleveland Cavaliers
A+
With Trevor Ariza containing LeBron James throughout the game, it opened the door for Kyrie Irving. He had a slow start to the game, but Irving quickly found his mojo. Led his Cavaliers to a 63-59 lead at the half, after scoring 15 points in the second quarter. During the first 24 minutes, Irving was the game's second-leading scorer with 21 points. It was more Irving in the second half, and the Rockets had no answer for him. Even though the Rockets refused to give up, Irving's fourth 3 pointer sealed the deal for the Cavs. 32 points, 4 assists.
Want your voice heard? Join the Space City Scoop team!
Keep up with Space City Scoop throughout the season as we fill you in on everything Houston Rockets.
More from Space City Scoop
This article originally appeared on