James Harden is set to have a season for the ages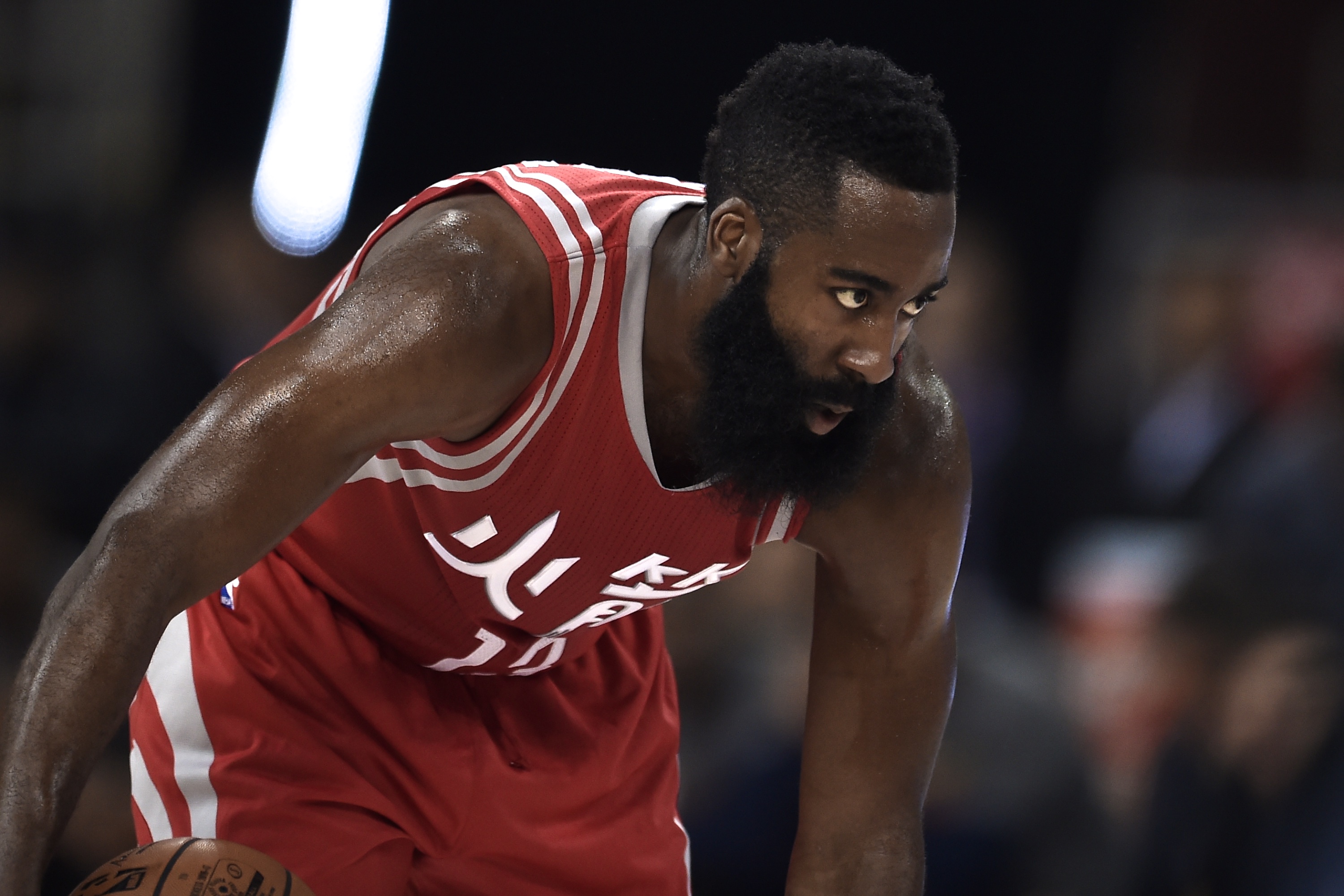 Let's start here: James Harden was already playing like a point guard before Houston Rockets coach Mike D'Antoni acknowledged in September that it would become Harden's full-time position this season.
"I've been [running the offense] since I've been here in Houston," Harden said Wednesday night, after his team blasted the New York Knicks in Madison Square Garden. And he's right. Harden initiated the action for the Rockets over the last few years, almost every trip down the floor. He had the ball in his hands more than any other player on the team, and more than almost any other player in the league.
Per NBA.com's SportVU player tracking data, Harden had the ball for an average of 6.0 minutes per game during the 2014-15 season, 21st in the league. The only player not listed as a point guard that had the ball more was LeBron James. The next-closest Rocket in time of possession per game was Patrick Beverley, at 3.9 minutes a night. And most of those 3.9 minutes were spent trying to get the ball into Harden's hands to let him initiate the offense.
Read More: Andre Drummond's putbacks are a legitimate weapon
The story was the same last season. Harden had the ball for 6.3 minutes per game, 13th in the league. All 12 players ahead of him were point guards. Beverley was again the next-closest Rocket in time of possession, averaging 3.1 minutes of possession per game. Again, a majority of that time was spent trying to get the ball to Harden.
All D'Antoni did this season was cut out the middle man.
"Normally, they would just bring it up, move it two times, then give it to him, then let him [initiate the offense]. And after he's struggled to get the ball or had to wrestle to get the ball," D'Antoni said. "We're just trying to make it easier for him. Why camouflage it? You know that's where it's going. You know he has to make plays. So why not do it?
"And it gives him a sense, also, of purpose for the team that he understands: to get everybody involved to a certain degree without losing his identity."
Five games into Houston's season, it'd be difficult to imagine the "transition" having gone any more smoothly.
"I was hoping for like 60 and 20. I'm only getting about 40 and 15. He's a little underperforming right now," D'Antoni joked, only halfway kidding about the ridiculous numbers Harden's putting up so far. "The good thing about him is he sees the game as a point guard. He understands where he wants players and he does a terrific job. His efficiency is — sometimes as a coach you look and go, 'Man, maybe I should come up with some novel idea instead of just letting him go down the middle every time.' And then his numbers are off the charts."
And off the charts they are.
Harden set a career-high with 17 assists in Houston's first game of the season. He nearly matched it a week later when he dished out 15 against the defending champion Cavaliers (in a game where he also scored 41 points on 20 shots, because he's still James Harden, after all), then dished out 15 more the next night against the Knicks. He's averaging 12.4 assists per game, easily a career-high (he's actually set a new career-high every season of his career, cresting at 7.5 last year), and the single best figure in the league.
He's assisted on at least 10 baskets in three of five games, putting him on pace for 49 double-digit dime nights this season. That would obliterate the career-high of 18 such games he registered in each of the last two years, and it would put him in some pretty exclusive company as well — only 12 players (all True Point Guard types like Magic, Stockton, Isaiah, Nash, Paul, etc.) have had as many as 49 double-digit assist games in the last 30 years. (He's also on pace for 49 games with 15 assists or more, which would pass Stockton's 44 for the most in a season in the last 30 years.)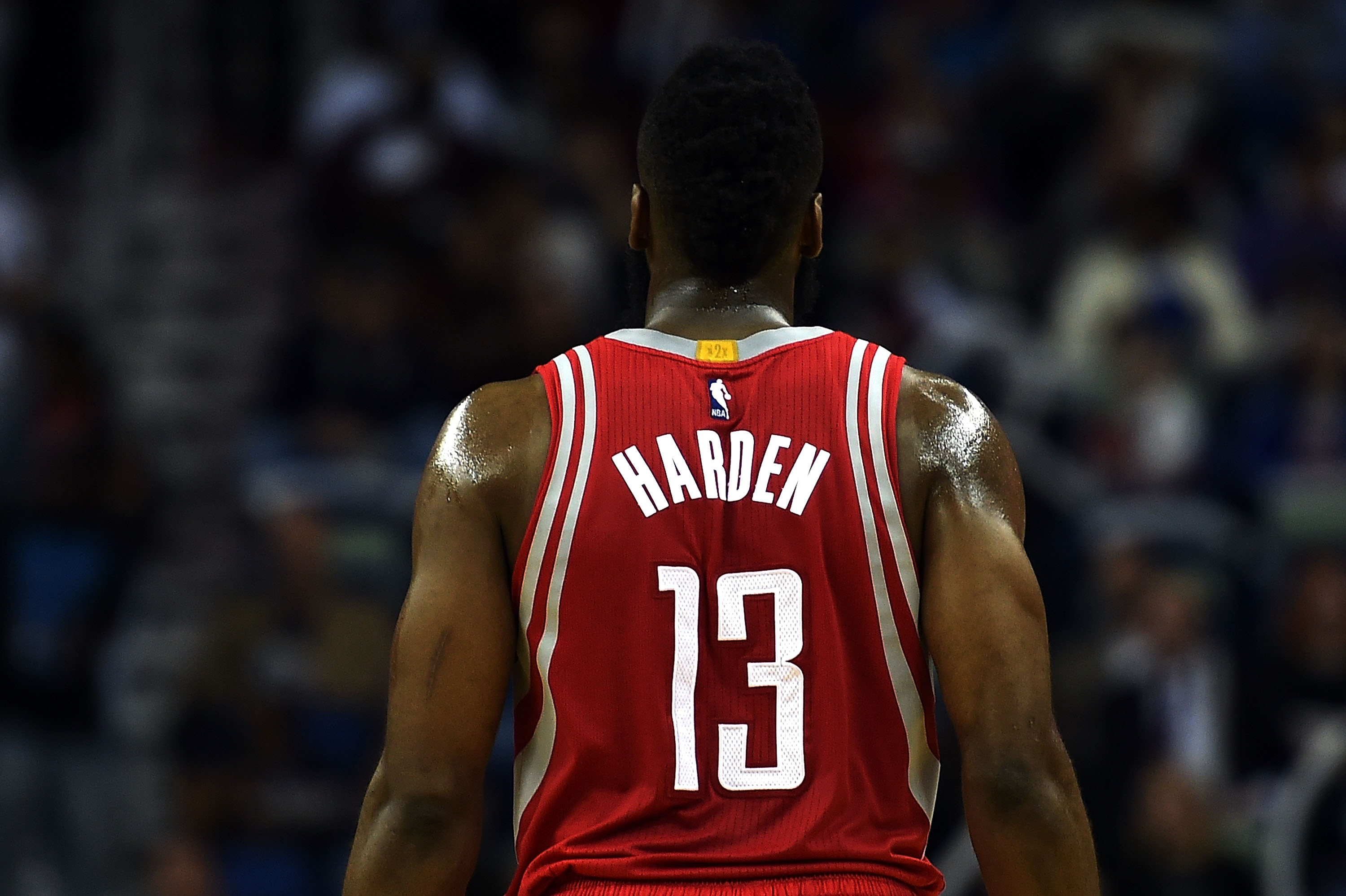 Of course, it's not just the passing. He's still putting up "those are video game numbers" scoring nights, even while pushing the assist numbers ever higher. Harden's averaging a cool 31.8 points per game, shooting 50 percent from the field and 39.1 percent from three on 9.2 3-point attempts attempts a night, and of course, he's getting to the line more than pretty much anybody else in the league (11 FTA per game), as usual. Needless to say, nobody has had a year quite like this before. Coming into this season, only two players had ever even averaged 30-plus points and 10-plus assists a game: Oscar Robertson and Tiny Archibald, who both obviously did so without hitting any threes.
The craziest part of all this might be that everything is happening entirely within the flow of Houston's offense. Harden isn't hunting assists, and he's not forcing more shots than usual. These bonkers numbers are just a natural extension of letting him run the show full-time.
"I'm able to control the game a lot more," Harden said. "[I'm making] advanced passes. We've got guys running out, guys willing to shoot the ball, guys rolling to the basket. There's a variety of things and when I can get the ball in my hands earlier, it makes everybody's job a lot easier."
Making everybody's job easier is basically the whole ballgame for a point guard, and Harden is doing that as well as or better than any lead man in basketball right now. Guys like Eric Gordon, Ryan Anderson, Trevor Ariza, Clint Capela, and Nene are finding themselves in a great position to score almost every time Harden finds them with the ball, and Harden's personal scoring exploits make it almost impossible for opposing teams to play him for the pass. If things keep going like this, Harden's inevitably going to nudge himself into the MVP conversation, whether the Rockets finish near the top of the conference or not.
Yes, 30 of the last 32 MVPs have come from teams that finished first or second in their conference and the other two came from teams that finished third. Yes, it's unlikely the Rockets will break into the top-three in the West, and that's been a disqualifying matter in the past. But we've also not seen anyone do what Harden's doing in about 40 years. Russell Westbrook got a lot of preseason MVP hype geared around the massive numbers he might put up on a Kevin Durant-less Thunder team. "He could average a triple-double" was a fairly common refrain, and it appears based on early returns that he actually might be able to get there, or come close. The only thing is, it looks like Harden might be in reach of that hallowed ground, too, and in all likelihood, he'll do it more efficiently than Russ. That's the nature of his game. In a field crowded with pairs of teammates and several other individual extraordinaires, that could be the difference.
This article originally appeared on