Jaleel Roberts Relishes Opportunity to Develop with Santa Cruz Warriors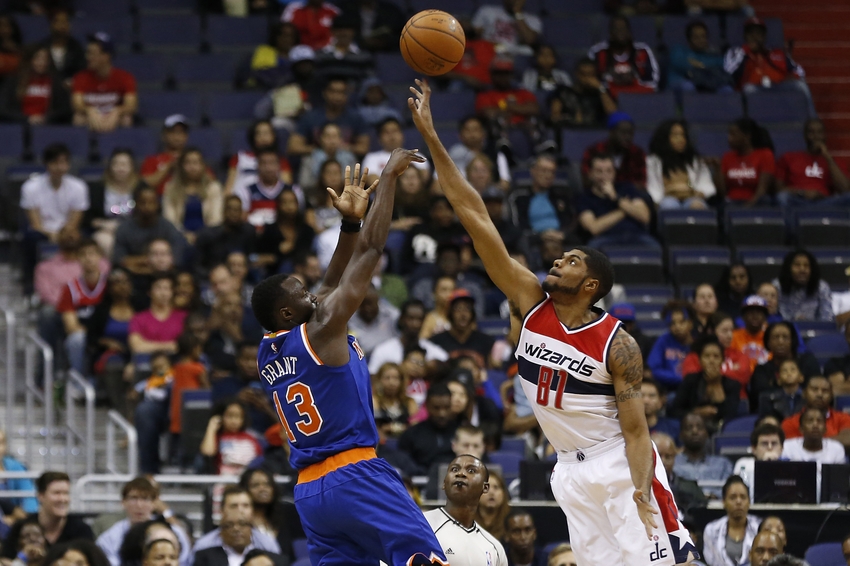 Jaleel Roberts looks to take advantage of the opportunity to develop his game with the Santa Cruz Warriors after being taken 2nd overall in the 2016 NBA D-League Draft.
With the 2nd overall pick in the 2016 NBA D-League Draft, the Santa Cruz Warriors selected 7-foot-1 center Jaleel Roberts.
Roberts, 24, played all four years at UNC Asheville before going undrafted in the 2015 NBA Draft. After an NBA Summer League stint and some preseason training camp time with the Washington Wizards in 2015, Roberts opted to go overseas to play with the Brisbane Spartans in Australia during the 2015-16 season. He returned stateside in 2016 for another Summer League stint with the Wizards before being waived by the Milwaukee Bucks in training camp.
While it may be of some concern that a player like Roberts hasn't been able to make any headway in terms of being a serviceable big man in the NBA, it's not every day a D-League team finds a legitimate 7-footer with NBA experience to take in the D-League draft, a sentiment with which new Santa Cruz Warriors general manager Kent Lacob can certainly agree.
"I think Jaleel is a really interesting prospect," said Lacob. "I've heard really good things from talking to the Milwaukee Bucks staff. They raved about him in terms of, one: his work ethic that he brought every day to the Bucks training camp; and two: just the consistent effort and drive to get better."

"From what we saw in the limited film, we saw the athleticism, we saw the size — which is obvious — and then we heard those good things — that he works hard, he's a good teammate, he really truly wants to get better, and he kind of gets all that."

"We were looking for a center potentially, but it was more transcending just filling a position. It was 'Alright, this is a guy that we think is the best prospect available.' So it was kind of an easy decision for us."
For Roberts, choosing to undergo the D-League process came after realizing how much he still needed to develop his game. While going overseas was (and probably always will be) an option, Roberts remained real with himself, understanding that the developing players isn't a top priority for most overseas teams.
"Last year, I played the overseas game, if you will, and it didn't necessarily work out the way I thought it would," said Roberts.

"I had some deals on the table coming out of training camp, and when those fell through, I was still optimistic. But really, after being in that situation, I really just told myself that I kind of wouldn't do that again unless something was more guaranteed or something like that. For someone like me who needs to develop, we were looking for overseas teams that would help develop me, (but) overseas teams aren't necessarily looking to develop players."
In order to get himself on the D-League radar, Roberts first secured an invitation to the D-League National tryout in August. Watching the D-League draft on a computer at one of his friend's houses, Roberts recalled how excited he was to be picked, surprised he ended up being selected by Santa Cruz with the 2nd overall pick.
"Santa Cruz is highly respected anywhere in the D-League. Everybody that I talked to had great things to say about the city, this program, how we're treated as players, everything of that nature," said Roberts.

"This is my first D-League experience, and I'm happy to do it somewhere where we're loved. As far as the atmosphere, from what I understand, we get great support, and it feels great."
Roberts isn't the only one excited he's in Santa Cruz. While it's expected that the front office and coaching staff be intrigued by what Roberts could possibly bring to the table, Roberts' willingness to buy into the Santa Cruz Warriors culture has proven a positive factor in building team chemistry, something to which returning player Terrence Drisdom can attest.
"I like his effort, he's really athletic, plays great defense, communicates out there and he can score. You want that out of a big man, you want that out of any of your teammates," said Drisdom.

"I'm excited for all of my teammates because in the short time that we have had together we've made great strides to be a good team. The chemistry is as good as any right now for what we have and how much time we've spent here so far and I'm looking forward to it. It can only get better from here. I'm excited to start playing so we can really feel out how each other are and how each other plays and we can play off each other. It's going to be a good season."
Santa Cruz Warriors Opening Night will be at Kaiser Permanente Arena on Saturday, Nov. 12 at 7:30 p.m. Pacific against the Los Angeles D-Fenders.
More from Blue Man Hoop
This article originally appeared on