Jahlil Okafor Still Exists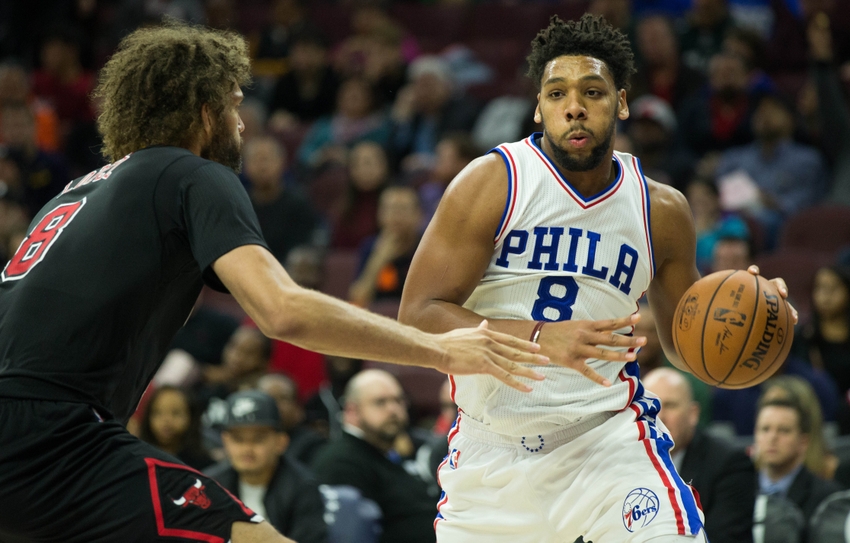 When Jahlil Okafor was taken second overall by the Philadelphia 76ers in 2014, he was supposed to be a big part of the future. Now he's a forgotten man. Will that remain his story for the rest of the season?
Joel Embiid has been the center of the conversation regarding the Philadelphia 76ers. His electrifying play has captivated Sixers' fans into truly believing in "Trust the Process."
But if there is one player who is not all romanticized with this new era of the Sixers, it would be Jahlil Okafor, the other big man (excluding Nerlens Noel, who has yet to play this season as he recovers from knee surgery) on the team.
After having his rookie season end abruptly due to a knee injury, this season seemed to be the one where Okafor would redeem himself. But instead, Okafor is in a slump this season. He is not making any significant improvement in his game.
In fact, he has become an afterthought in the wake of the way Embiid burst onto the NBA scene. Okafor is only averaging 10.5 points and 3.8 rebounds in about 21 minutes per game as a backup to Embiid.
It is Okafor's defense that inhibits the former No. 2 overall pick. He has been in a downward spiral ever since he swapped positions with Noel last season.
Okafor moved from center to power forward.
He is only averaging about three defensive rebounds per game this season. And that is not impressive to coach Brett Brown.
But Brown is still optimistic of Okafor's abilities, according to Bob Cooney of Philly.com:
"The thing that hurts Jahlil is that we may look at his defensive rebounding numbers, and it's true, they are not flattering. He needs to do better and he will. But just to look at the growth of him understanding what we're trying to get done, understanding better defensive schemes, applying more effort on a consistent basis, running back the other way."
In order for Okafor to truly resurface as that same powerful big man who was a college recruit in the eighth grade, he will need to significantly improve on his defense.
The modern NBA has put a premium on versatile bigs who can defend, which has skyrocketed the value of players such as Karl-Anthony Towns and Anthony Davis while at the same time making a classic, old-school big man like Okafor seem obsolete at times.
Thus, Okafor will have to learn to be dominant on both ends of the floor. His shooting statistics will not be enough for him to get ahead as they were in high school and college.
But Okafor is still young. He will be turning 21 next month, which means that time is at his advantage. Okafor should be adjusted into his role soon if he is improving like Brown says he is. Okafor will eventually figure everything out and be comfortable in his role.
Although the eager Sixers fans want to see that improvement right now, they–more than any other fans in the league–should know that nothing happens overnight with this franchise. The fans will have to simply "trust the process."
This article originally appeared on