It's Time To Temper Expectations For The Los Angeles Lakers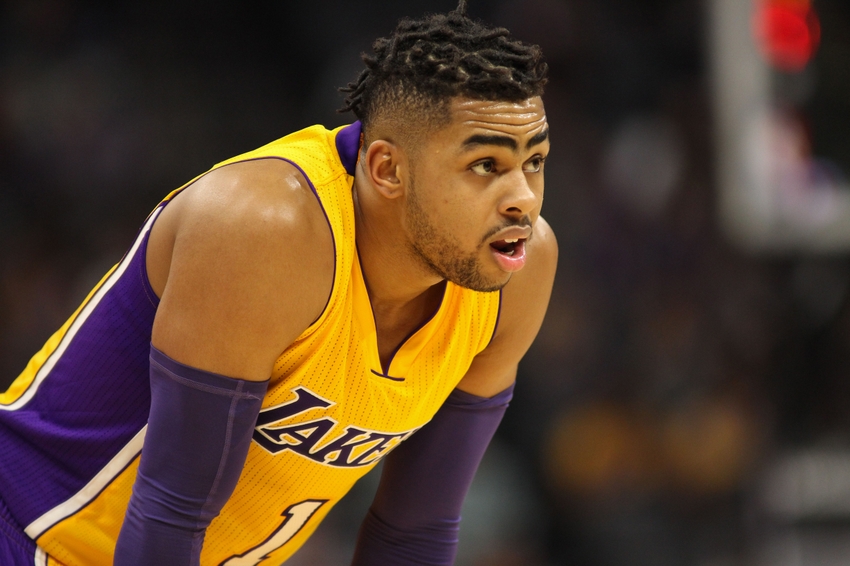 There's a lot of optimism regarding the Los Angeles Lakers right now. However, after two blowout losses, it may be time to temper expectations for this young team.
It's easy to see why a lot of Los Angeles Lakers fans are getting a little giddy about the 2016-17 season. It took them less than half the games to reach eight wins as it did a season ago. However, after two straight blowouts at the hands of the Golden State Warriors, it's time to pump the brakes.
Why, you ask? Well, for one, it's a bit naive to assume the Lakers can go straight from one of the worst years in franchise history to a postseason appearance.
Yes, there's plenty of talent on this roster. Yes, there's an exciting new head coach in town ready to mold said talent. The early returns have already shined a bright light on this franchise's future. However, there's still a lot more work to be done before the playoffs should even enter the discussion.
Why The Skepticism?
To start, let's look at the latest stretch of games for the Lakers.
In their last seven games, they've secured only two wins. One of those wins was a nail biter against a struggling Oklahoma City Thunder team. The other was against a Brooklyn Nets team that can't seem to get out of its own way. The two wins before that came against a couple of the NBA's other subpar clubs, the Sacramento Kings and New Orleans Pelicans.
It is worth mentioning that both D'Angelo Russell and Julius Randle, two of their top players, have recently been out with injuries. Obviously the absence of those two has played a part in the Lakers' latest losses.
Now I don't want to overlook the fact that Los Angeles has won some big games this year. The Lakers toppled the Warriors in their first contest, although Golden State seemed out of sorts against their former coach. They also secured a win against the Houston Rockets in the opener, and knocked off the Atlanta Hawks a few games after that.
That being said, it's the NBA. Realistically, any team can win on any given night. And the Lakers have the talent to live up to that assertion. Do they have the talent to win a series against a team like the Warriors? Or even win half their games in 2016-17? I'm not so sure the answer is yes to either of those questions.
Just Step Back And Breathe
Look–I'm not trying to discourage anyone or say the Lakers aren't a playoff-caliber team. I'm just saying that expectations need to be tempered right now. Clearly this team has some more growing up to do after the Warriors won by a combined 67 points in this week's back-to-back.
And sure, you can cite their impressive offense or league-leading bench (via HoopStats) as reasons for the premature playoff predictions. At the same time, you can also point out their lackluster defense and absence of a true superstar as reasons to take it down a notch.
For most average NBA fans, the season doesn't even start until Christmas. It's still so early in the year that there's really no telling how things will play out between now and the end of April. The Lakers could make some big trade to bolster the roster, or they could lose a couple more starters to injury and watch their stock plummet. That's life in the NBA — or professional sports, for that matter.
So just hold your horses for now. There's plenty of reason to be excited about the Lakers' prospects this season. However, there is also plenty of reason to be a bit reserved when it comes to predicting the outcome of their 2016-17 campaign.
Do the Lakers have the talent to earn a trip to the playoffs? Yes. Have they already earned a trip to the playoffs? No. Is it possible they fail to make the postseason? Absolutely. After Friday's loss, they own the ninth seed in the West, which would leave them on the outside looking in if the playoffs started today.
So let's stop talking about them like they've already completed the rebuild. There's a long way to go before they can stand toe-to-toe with the contenders, as we saw on Wednesday and Friday nights.
I love the optimism, though.
This article originally appeared on